Created by veteran buy now pay later provider FlexiGroup, which also owns the Humm payments platform, Bundll promises to allow customers to bundle all of their purchases together into a single, 'bite-sized' bill, which they can then pay off in instalments ala Afterpay and Zip Co.
Flexigroup CEO Rebecca James labels Bundll a "category killer" and likens it to "a debit card on steroids".
"Australians have not seen a product like Bundll before. By partnering with Mastercard we've created a new solution that will, for the first time, allow consumers to buy everything, everywhere, and pay later – interest-free," Ms James said.
"Bundll is for savvy shoppers who want control over how they pay and when, with the ability to use it absolutely everywhere."
The Bundll announcement came after FlexiGroup released its full-year results on Tuesday, and shares closed 12% higher that day after announcing an underlying cash profit of $76.2 million.
FlexiGroup is clearly trying to establish itself in the buy-now, pay-later market which grew 250% last year.
Rivals' Afterpay shares are up 100% year-to-date, while Zip Co's share price has recorded an astonishing 214% gain during this time.
Although it is still in its beta stage – there's a waiting list for when it officially launches later in the year – Bundll will use the Mastercard network to "dramatically expand the reach of interest-free shopping".
Rich Wormald, Division President for Mastercard Australasia, said Mastercard sees Bundll as a "truly unique product that will change how people buy, budget and repay with global potential."
It will also be offered to Raiz customers, allowing them to round up Bundll purchases to invest via the micro-investing app.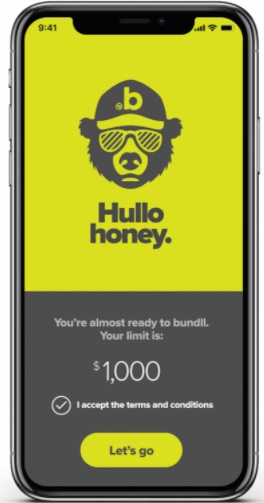 Source: Bundll.
How exactly will Bundll work?
Bundll will function slightly differently to the likes of Afterpay and Zip.
With Bundll, retailers don't need to register to use it, meaning customers can use Bundll anywhere.
After downloading and signing up via the app, customers get a digital Bundll Mastercard that can be used the same way any other card can.
All payments on Bundll can be bundled into one single purchase which can be paid off two weeks later.
Other key Bundll facts include:
No stains on your

credit history

(according to FlexiGroup)
It can facilitate up to $1,000 at any retailer that accepts Mastercard transactions
But perhaps most importantly, Bundll says there are no late fees or monthly fees attached.
Bundll told Savings.com.au that the only possible fees come from using 'superbundll' where larger purchases up to $3,000 can be combined with regular purchases and repaid over 12 weeks at a cost of 5% of the total balance.
"Instead of monthly fees or charging interest, we're making the banks pay," Ms James said.
"Bundll makes its money on the interchange fee – which banks charge each other for card-based transactions."
This is another point of difference from the likes of Afterpay, which can charge merchants up to 6% for its service.
Introducing the snooze economy
Another key feature Bundll offers is a 'snooze' button that allows customers to delay their payments for another two weeks for a $5 fee.
This is an optional fee people can pay if they want to kick the can down the road – otherwise, missed repayments are given an additional 24-hours with notifications before the card is locked, which according to Bundll is designed to prevent bill shock and spiralling fees.
Don't normalise your debts
While Bundll could have many positive uses, it could still have drawbacks, such as, according to Gateway Bank CEO Lexi Airey, normalising the concept of having debt.
"While competition in any market is ultimately a good thing for consumers, an increasing trend in credit reliance is worrying as it normalises debt – particularly when these buy now, pay later schemes encourage a behaviour of impulsive buying," Ms Airey said.
"Personally, I think it's important to rethink and take time when making purchases – give yourself a day or two to mull on the purchase and if you still can't live without it after that, then reconsider taking the plunge."
The $5 'snooze' system could potentially exacerbate this problem.
"Clearing yourself of debt, particularly bad debt, is a healthy priority to set, after all – financial freedom is the ultimate goal." Ms Airey said.
"While a $5 fee to pause repayments might seem like a nominal fee to clear yourself of the worry of debt repayments, it's important to remember that the debt still exists at the end of the day and the longer you leave it lying there, the more you'll end up paying in the long run."