As we begin to move out of coronavirus restrictions, new data shows just how significantly our spending was affected at the peak of the shutdowns.
New data from Up Bank, using the custom categories users can create in its app, shows just what people were and weren't spending their money on over the two weeks before Easter (March 23 to April 5).
The data, which was compared to two weeks of spending on the same categories in February, shows a massive surge in spending in apps and games (200%), home maintenance (97%) and hobbies (94%).
Other key categories to record increases were:
Appliances (85%)
Pets (69%)
Booze (67%)
Technology (58%)
Internet (50%)
Groceries (35%)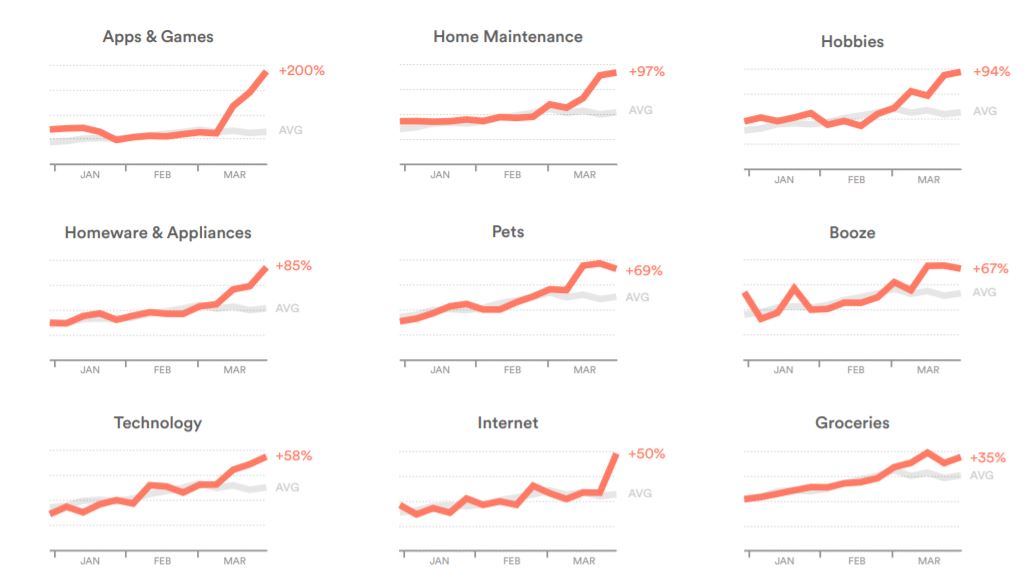 Source: Up
Meanwhile, the hospitality and entertainment sectors copped it the worst.
'Events and gigs' saw a 118% decline in spending, 'holidays and travel' a 97% decrease, and pubs and bars spending fell by 90%.
Other notable falls based on Up's data are:
Public transport (83%)
Fitness and wellbeing (74%)
Restaurants & cafes (62%)
Taxis and shared cars (56%)
Clothing and accessories (26%)
Interestingly, 'investments' also saw a 26% decline, perhaps indicating that a lack of confidence in the economy saw many instead pile money into high-interest savings accounts, to guarantee a return on investment, however small.
Need somewhere to store cash and earn interest? The table below features introductory savings accounts with some of the highest interest rates on the market.
Up Head of Product Anson Parker told Savings.com.au the trends they've noticed are generally in line with the ones reported in the media.
"With businesses such cafes, bars and restaurants closed (at least for dine-in business) spending is well down on those categories," Mr Parker said.
"In general, spending on what we call the "Good Life" has dropped substantially, with much of that drop picked up by the Personal and Home categories.
"People have put together home offices, upgraded their internet, or dived into their hobbies as, perhaps, a welcome distraction."
Since the snapshot was taken, Mr Parker said Up has noticed some categories like clothing and beauty bounce back, while others are still well-below pre-covid levels.
"We've also seen categories such as groceries return to normal," he said.
"In the last few weeks we've seen a big increase in spending on cycling despite going into winter. This may be from people finding ways to stay active or perhaps preparing for a return to commuting outside of public transport."
Up's data is based on spending by its customers. According to Bendigo and Adelaide Bank's half-year results, Up acquired 165,000 new customers in the six months to 31 December 2019, and in the two weeks following March's first rate cut, around 25,000 new Up Saver accounts were opened.
Up to lower age requirements for its savings account
In a note sent to customers, Up also announced it would be lowering the minimum age requirement on its Up Saver account (current maximum interest rate 1.85% p.a.) from 16 years to 14 years of age.
"We've teased this one out before, but some recent developments have meant a few more pieces have shifted into place. Over the second half of this year we'll be working hard to bring together updated identification processes and newer restrictions so we can lower the minimum age for opening an account to 14 years old," the bank said.
Mr Parker meanwhile told Savings.com.au that 14 is not too young to learn the basics of spending and saving.
"Providing transaction accounts to 14 and 15 year olds is common in Australia and supported by all major banks. It's important that these accounts are fee-free and have protections against purchases in certain categories such as gambling or tobacco," he said.
"With savings, we think the ability to have purchases round up to the nearest dollar and automatically deposit that money into a high-interest Saver will give young people a much easier path to building their savings than any of us had at that age."
Overall spending improving
Looking more towards the present, Commonwealth Bank data for the week ending 29 May shows spending momentum is steadying, although it's still running below where it was in early January before COVID-19 struck.
According to CBA's data, spending on things like personal care, clothing, recreation, transport and medical care - things that Up noted had declined - has started to move upwards, while spending on the likes of alcohol and household furnishings have started to slow.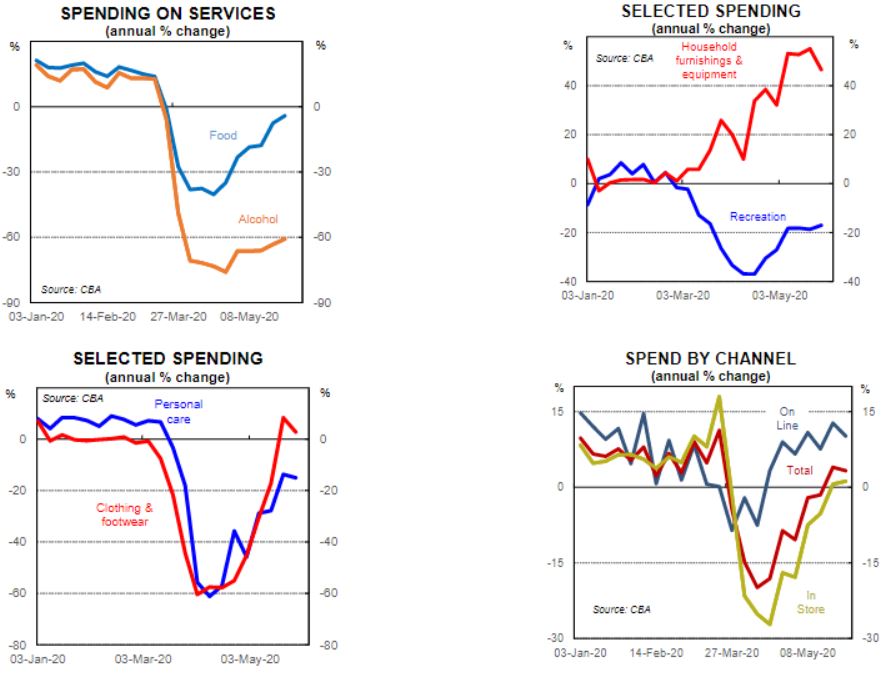 Source: CBA
"An easing of restrictions in the past week or so has not yet driven further momentum in spending activity," CBA Senior Economist Belinda Allen said in the report.
"Restrictions were eased again as of 1 June, so the data over the next two weeks will need to be closely watched to see if households have the confidence to move about more in society by eating out, going to the beauty salon and spending more on recreation items."
The research also shows a mammoth drop in the use of cash.
Household cash withdrawals (cash withdrawals made at ATMs, EFTPOS cash outs and branch withdrawals for less than $2,000) has fallen 35% compared to a year ago.
"Many stores are taking card payments only (no cash) because of the coronavirus, which has helped improve the annual growth rate in credit/debit card spending," Ms Allen said.
"The ability to use cash has also fallen with shutdowns and social distancing measures in place."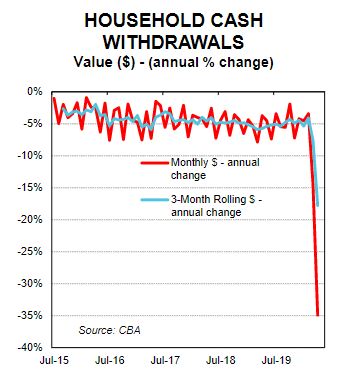 Source: CBA
86 400 to pay lucky customers' bills
In other neobank news, 86 400 announced last week it would be paying the recurring bills of nearly 2,000 customers over a 16-week 'Pay It Forward' campaign.
According to 86 400, 100 customers will have a recurring bill paid each week at random, ranging from Spotify subscriptions to health insurance and bills.
Chief Product and Marketing Officer Travis Tyler said this will hopefully give lucky customers some "much-needed bill delight" during a difficult time.
"Paying bills is an important but unenjoyable task for most of us, and with this campaign we wanted to use one our most popular and talked-about features, Coming Up bill prediction, to challenge that," Mr Tyler said.
What a bank #86400payitforward pic.twitter.com/P1RJGTIimz

— Samuel Parrott (@sjp123abc) May 25, 2020
To be eligible for this random draw, customers simply need to have bills appear in the 'Coming Up' tile on the home screen.
In 86 400's words, each bill between $5 and $100 that appears will be entered into the draw.
Need somewhere to store cash and earn interest? The table below features savings accounts with some of the highest non-introductory interest rates on the market.
---
Latest Articles