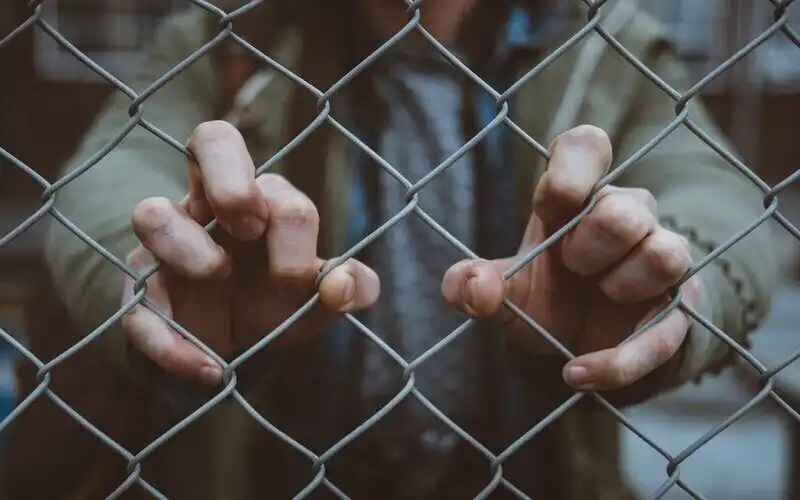 Photo by Mitchel Lensink on Unsplash
While those who currently own a home are satisfied with their housing situation, those who don't are still facing major barriers to ownership, new research shows.
This is according to the new AHURI report released today, The housing aspirations of Australians across the life-course: closing the 'housing aspirations gap'.
According to this report, a large majority (87%) of Australians across all age cohorts, income groups and housing tenures are currently housed well, ranging from 80% of young adults to 94% of older Australians.
Over 90% of all age groups who currently own their own home are satisfied that their home state meets their long-term aspirations, compared to just one in five renters.
"Indeed, the vast majority of renters (between 68% and 78%, depending on age group) wanted to become homeowners, demonstrating that private rental is still seen as a transitional tenure for most," the report said.
Buying a home or looking to refinance? The table below features home loans with some of the lowest variable interest rates on the market for owner occupiers.
Min 30% deposit
No monthly or ongoing fees, add 0.10% for offset
Unlimited redraws
'Safety and security' are the most important reasons to own a house, with 75% of respondents saying so.
"This attribute is most highly valued by older cohorts (86%), however it is also valued highly by large proportions of households in all age groups and across income groupings," the report said.
However, despite the desire to own a home and the importance of doing so for safety and security, many Australians are still struggling to break into the property market.
According to the report, between a quarter and a third of households across the different age groups experience considerable problems and costs in trying to achieve their housing aspirations.
Major barriers to finding appropriate housing include high-entry costs, lack of secure employment and an inability to meet the running costs of purchased or rented dwellings.
A lack of savings to build a deposit was the biggest barrier across every cohort:
Young - 67%, with lack of stable employment the next highest at 38%;
Mid-life - 64%, with lack of employment again the next highest at 36%;
Older - 53%, with health issues the next highest at 39%;
Very low income - 67% with lack of stable employment the next highest at 45%;
Low income - 65%, with meeting rent or mortgage repayments the next highest at 36%; and
Moderate income - the highest concern over deposit savings at 70%, with meeting repayments in second at 35%;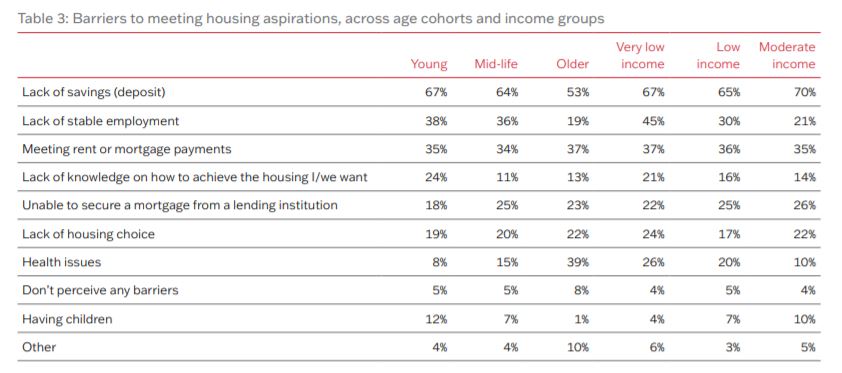 Source: AHURI
"Lack of choice in housing options is a third key barrier identified in this research, again consistent with emerging evidence about the lack of diversity within housing sub-markets that can cater to a range of life stage and household incomes," the report said.
"This includes young adults leaving home, families and 'right sizing' in later life.
"Housing affordability pressures play a significant role in the ability of households to meet their aspirations."
[Read: National property prices decline over the June quarter]
Saving for a home the biggest savings goal for Australians
Despite the difficulty in doing so, new ANZ data shows that saving for a home has become the number one goal for its customers, rising to 22% from 19% between February and August 2020.
It has replaced the previous number one goal of saving for a holiday, which naturally fell off during COVID with domestic and international border closures.
This goal fell from 22% in February to 13% in August, and 8.7% are continuing to save for a rainy day.
ANZ Lead of Savings & Deposits Shannon Peachey said the pandemic has shifted what people are saving for, but 12,000 ANZ customers still set savings goals across one week in July.
"Whether you're saving for a local holiday, a home or a car, effective goal setting is not always about struggling or sacrifice," Ms Peachey said.
"Instead it is about creating a realistic, healthy and sustainable plan that is achievable. We are encouraging everyone that is able to, to work towards positive savings habits to help increase their financial wellbeing."
Need somewhere to store cash and earn interest? The table below features savings accounts with some of the highest non-introductory and introductory interest rates on the market.
To help reach a savings goal, whether that's saving for a house deposit, holiday or something else, here are ANZ's six tips for successful saving.
Set SMART saving goals: "The best way to get a goal to work for you is to make it specific, measurable, achievable, realistic and timely. Doing this will help you feel focused."
Name your goal: "Have some fun and give your goal a name. After all, saving is easier when you know what you're saving for."
Visualise your goal: "Keep your goal front of mind with a visual reminder such as a photo, vision board or the wallpaper on your phone. Doing this makes you less likely to take money out."
Plan and track your progress: "Create a savings plan capturing how and when you will add to your savings. Then, track your progress regularly."
Enlist a money buddy: "Find someone who can support you and hold you accountable to your goal."
Celebrate your milestones: "Whether you've reached your first third of your goal, or the halfway point, don't forget to celebrate how far you've come."
---
---
Disclaimers
The entire market was not considered in selecting the above products. Rather, a cut-down portion of the market has been considered. Some providers' products may not be available in all states. To be considered, the product and rate must be clearly published on the product provider's web site. Savings.com.au, yourmortgage.com.au, yourinvestmentpropertymag.com.au, and Performance Drive are part of the Savings Media group. In the interests of full disclosure, the Savings Media Group are associated with the Firstmac Group. To read about how Savings Media Group manages potential conflicts of interest, along with how we get paid, please visit the web site links at the bottom of this page.
Latest Articles