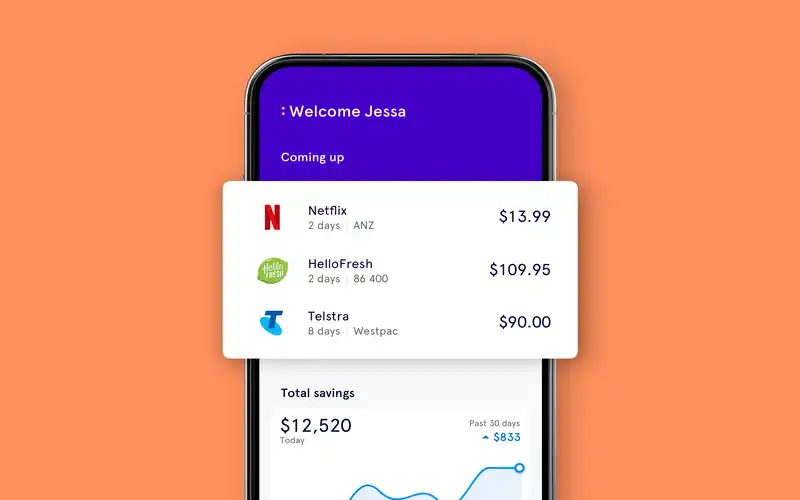 Image source: Supplied (86 400)
Celebrating its first anniversary as a bank this week, 86 400 has set itself ambitious targets for the near future.
Named after the number of seconds in a day, the neobank was granted a full banking license on 18 July last year, before launching its savings and transaction accounts in September and an all-digital mortgage in November.
86 400 has since funded $40 million in home loans ($30 million settled, $10 million approved), with most of these written in the past six to eight weeks.
Buying a home or looking to refinance? The table below features home loans with some of the lowest interest rates on the market for owner-occupiers.
Min 30% deposit
No monthly or ongoing fees, add 0.10% for offset
Unlimited redraws
CEO Robert Bell says it has a target of $2 billion in home loans by the end of 2021.
"It's obviously early days for home loans, but you know, $40 million in home loans with $30 million settled, $10 million approved, it's a pretty strong start for us," Mr Bell told Savings.com.au.
"Mortgages have always been a really important part of our proposition. We began building home loans at the same time we started building the bank going back three years now.
"So it's really exciting to ramp that up over the next 12 months."
When asked how 86 400 plans on achieving this lofty target, Mr Bell pointed to two things.
A focus on an entirely digital mortgage broking process, and a big focus on refinancing, which is at record high levels as borrowers take advantage of record-low interest rates.
Housing finance commitments for refinances have gone absolutely gang-busters over the past few months as people scramble for a better deal or look at ways to keep their homes pic.twitter.com/wyKQ1KeJuM

— Cameron Kusher (@cmkusher) July 9, 2020
"We're very much focused on refinancing, that that's an obvious place for a new bank like us to start. It also makes sense because we've got very competitive rates and we know that anyone who's been with a large bank for a number of years is paying way too much for their home loan," Mr Bell said.
"There's effectively a loyalty tax. The best deals only ever get offered to new customers at the big four banks. So it makes sense that we focus on that."
Mr Bell says customers can save a lot of money by switching to 86 400, and that this is easy to do thanks to its end-to-end digital mortgage.
"It's very easy to switch to us during COVID-19 - you don't need to go into a branch to be ID'd. You don't need to produce mountains of paperwork. Everything that we have to legally get you to sign is done digitally," he said.
"It's a really efficient process that we've built, which means we can turn around loan approvals in under 24 hours where it's taking the large banks multiples of weeks to do the same thing.
"This makes us really, really well-positioned to grow the loan book over the coming months."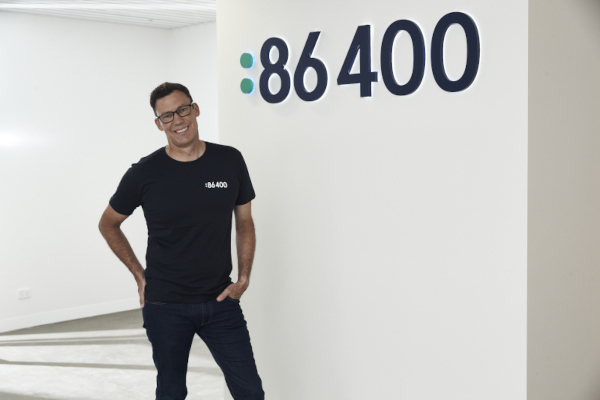 86 400 CEO Robert Bell. Photo supplied.
Still the only neobank currently offering home loans
There's been some talk in recent months about certain neobanks being under a bit of pressure.
Xinja, for example, was noted as being one of the few banks to apply for JobKeeper and attracted attention for ceasing the onboarding of new customers, while another neobank Volt is still in its beta phase, despite announcing it would launch last year.
Mr Bell said none of this is a concern for 86 400, as it has recorded consistent month-on-month increases in customer number across both deposits and mortgages.
"At the end of the financial year we were at over 300 million in total deposits, 40 million in home loans (settled and approved) and have over 225,000 accounts on our platform. That's an incredible amount of growth in a short period of time," Mr Bell said.
"The fact that we've got mortgages live means that we've got somewhere to deploy those deposits which is really important. We're not scrambling to play catch up: We've never considered closing or doing any of those things.
"Our ideal is incremental improvements to the business, steady growth, consistently good value to customers, not always the cheapest, but consistently good."
As it stands, 86 400 is the only Australian neobank to have any form of personal lending.
It's also looking for fresh investors in a new capital raise, after previously raising $34 million earlier in the year, to help boost its mortgage growth.
Not interested in the rate chasers
86 400 has high goals for its savings and transaction account, saying it plans to introduce a slew of new features in the coming months and years in order to continuously attract new features.
But as that old saying goes, money talks. On Tuesday 86 400 will be dropping its maximum interest rate by 15 basis points to 1.70% p.a, and just last week, major bank Westpac announced a 3.00% p.a. savings account rate for people aged under 30 (with balances up to $30,000).
86 400's total rate is still quite competitive, but overall it says it isn't overly interested in 'rate chasers', and that its customers can save big in other ways.
"We spend a lot of time on features that are not interest rates; Our upcoming bills feature helps predict people's upcoming bills, for example," Mr Bell said.
"We think that people can save more money by looking at their future bills and deciding whether they really need half the subscriptions they pay for. They'll save way more money there than they will chasing an extra five basis points in interest rates or if they use our energy switch product and switch energy providers.
"We've seen customers save $300 and $400 by switching energy providers."
[Read: 86 400 launches 'energy switch' tool]
When comparing 86 400's interest rate to that Westpac 3.00% p.a. interest rate on a savings balance of $10,000, over one year you'd miss out on around $130 in interest - less than the several hundred potentially saved by switching energy providers for example.
For those who don't qualify for that 3% rate, the difference between accounts is even smaller.
"You need to look at the whole package with 86,400. Right from the start you can download the app, take two minutes to join with no fees, no international charges on transactions, no fees on the transaction account, you get your card, you can provision Apple pay, Samsung pay or Google pay Garmin Pay etc," Mr Bell said.
"And then we have a great ongoing rate, so we're very confident that we continue to attract customers, and that we can continue to attract deposits."
Need somewhere to store cash and earn interest? The table below features savings accounts with some of the highest non-introductory interest rates on the market. Note that 86 400's rate is set to change.
Not interested in credit cards either
In early June, 86 400 announced a partnership with buy now, pay later giant Zip, allowing users to link and view all their Zip transactions and balances from within the neobank's app.
This is part of a growing trend among Australian banks to capitalise on the growth of buy now, pay later (BNPL), which is expected to double its market share by 2023.
Zip itself currently has 1.8 million customers in Australia and New Zealand, behind Afterpay which has 3.1 million.
"Buy now pay later has absolutely exploded in Australia," Mr Bell said.
"Our customers use it, they find it really helpful. We just wanted to give them visibility of what their balances are in the app alongside the balances of all the other banks they connect.
"So it's just a really neat way again of helping people take control of their money."
Buy now, pay later's rise has coincided with a rapid fall in the number of active credit card accounts, as many people, particularly younger people, become more debt-averse and look to payment tools that don't charge interest.
[Read: Why buy now, pay later is so popular with millennials]
Mr Bell said 86 400 is not looking to enter the credit card space based on these trends.
"We're a very database-driven business," he said.
"And if you look at the industry data, credit cards are in decline and buy now, pay later, which doesn't actually cost the consumers anything, is increasing.
"We follow the trends in the marketplace, and we don't have any intention to launch a credit card."
---
---
Disclaimers
The entire market was not considered in selecting the above products. Rather, a cut-down portion of the market has been considered. Some providers' products may not be available in all states. To be considered, the product and rate must be clearly published on the product provider's web site. Savings.com.au, yourmortgage.com.au, yourinvestmentpropertymag.com.au, and Performance Drive are part of the Savings Media group. In the interests of full disclosure, the Savings Media Group are associated with the Firstmac Group. To read about how Savings Media Group manages potential conflicts of interest, along with how we get paid, please visit the web site links at the bottom of this page.
Latest Articles