A new report by Worldpay from FIS has unveiled that the number of Australians using buy now, pay later (BNPL) products like Afterpay or Zip has more than doubled in the past year, to the point where nearly two million (or one in 10) now use such platforms.
And it's tipped to experience further growth, growing at 32% annually to be worth 17% of the global commerce market by 2023 - for reference, it currently accounts for 8% of eCommerce transactions.
By this point, it will have doubled its market share to over four million users, or one in five Australians.
Phil Pomford, Worldpay Merchant Solutions General Manager for Global eCommerce (APAC) says BNPL products have surged in popularity over the past year.
"With their unrivalled convenience, 'Buy Now, Pay Later' products have emerged as an attractive option for consumers seeking an alternative to traditional credit cards", he said.
"As advances in technology continue to influence consumer preferences across the region, Australian retailers and merchants need to ensure they are offering the right mix of payment methods to meet expectations.
"Our data shows that to be competitive, retailers should be exploring new and emerging payment products such as BNPL and mobile and digital wallets to stay relevant in the marketplace."
Worldpay's data is similar to the numbers released in Afterpay and Zip's half-year results.
The BNPL giants' results showed there are now almost five million active accounts across Australia and New Zealand, although these accounts could be owned by some of the same people.
Afterpay lays claim to 3.1 million of these customers, up 26% from its half-year results the previous year, while Zip Co experienced an 80% increase in customers from December 2018 to December 2019, with the total number rising to 1.8 million.
Zip Co's half-year report stated there are more than six million BNPL accounts across Australia, based on internal data and market updates from other smaller players, including:
Worldpay's report also notes these new entrants will have an effect on the growth of BNPL going forward.
The NAB Online Retail Sales Index sees BNPL as a $320 billion market opportunity in Australia alone.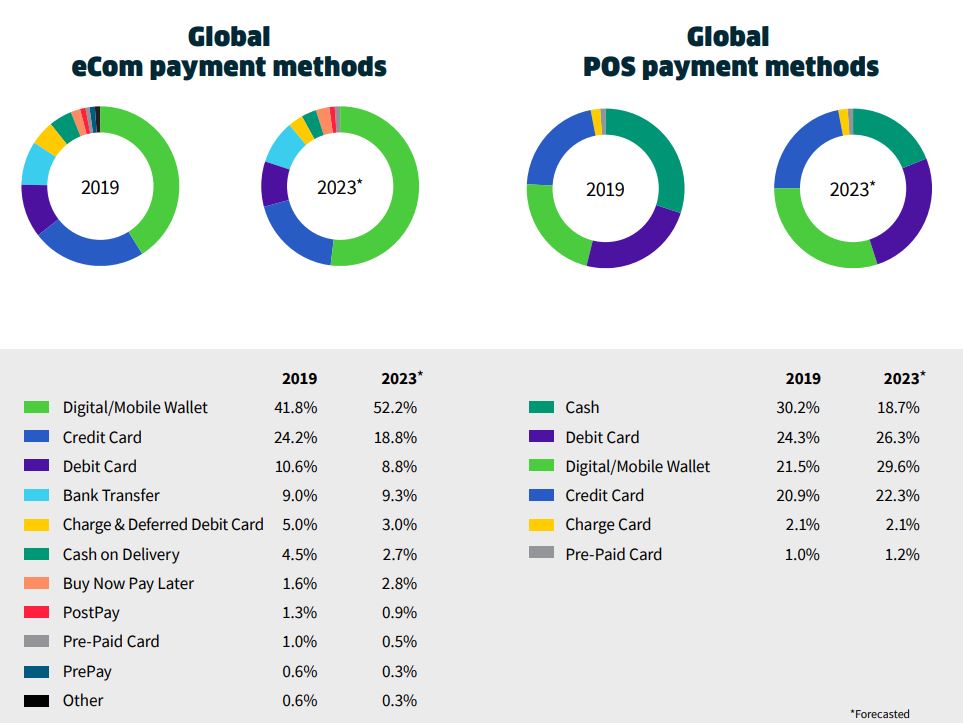 Source: Worldpay
Mobile wallets on the rise too
Worldpay's report also reveals that the use of digital and mobile wallets, such as Apple Pay, Google Pay or PayPal, have risen sharply in popularity as well.
Nearly one-quarter (22%) of Australians used one of these methods to pay for goods online in 2019 compared to 18% in 2018.
In the Asia-Pacific region the use of such mobile wallets account for 58% of all eCommerce transactions, and this number is expected to rise to nearly 70% by 2023.
Use of mobile wallets in APAC now surpasses cash, an impressive feat given how cash-heavy major Asian countries like Japan are.
According to Worldpay, Australia has one of the highest smartphone penetrations in the world, with mobile use projected at 84% of the population.
As things stand at the moment however, cash and cards are still king, accounting for 87 percent of payments made at physical checkouts in the country in 2019.
But from December 2018 to 2019, the number of active credit card accounts fell by nearly 8%, according to Reserve Bank data, indicating they might be on the way out.