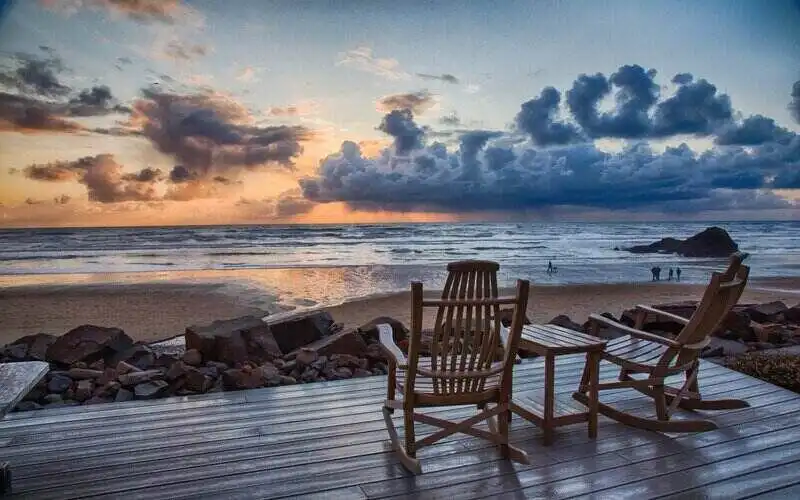 Adding a deck to your home can be a great way to add value to your property, and of course enjoy as a living and entertainment area with friends and family. But what's the cost?
The Aussie summer is better with a deck, but the size, material and placement will all influence the cost.
Materials
Choosing the material will be one of the first decisions you will make when adding a deck to your home. Your decision will be influenced by the durability, and aesthetic you want.
According to Brendan Conroy, from Melbourne-based decking business Get Decked, timber is still the most common decking material.
"The most common decking board used in backyard renovation projects is Merbau," he said.
"It is a highly versatile product that can be used for outdoor decking, cladding and raised garden beds. The best part about Merbau is that it is typically resistant to insect infestations, and much more durable than traditional pine.
"In 2022, consumers are also heavily geared towards the installation of 'composite' decking, which is a manufactured product created with a mixture of wood and plastic.
Its extreme durability and resistance to fading makes it a popular choice according to Mr Conroy, as well as the fact it requires little to no maintenance such as staining or sanding.
So what's the cost of decking materials?
Mr Conroy said on average, a consumer designing a basic 6x8 metre entertainment area type deck will be looking at paying between $120-$180 per sqm for a Merbau/Timber decking, and between $250-$550 per sqm for composite.
This includes the use of all subfloor materials and decking boards, plus general hardware such as bolts, screws and decking tape.
Deck costs per square metre for other materials:
Plain concrete decking costs about $45 to $75 per m2

Modular decking costs about $50 to $150 per m2

Coloured concrete decking costs about $55 to $90 per m2

Treated pine decking costs about $50 to $200 per m2

Wood decking costs around $300 per m2

Hardwood timber decking costs about $320 per m2

Bamboo decking costs around $350 per m2
Source: Hire Trades
Mr Conroy said the pandemic has also driven up the cost of materials.
"Since the beginning of the pandemic in March 2020, average prices for materials have increased by up to 30%, with most materials seeing a minimum 10% increase.
"These price rises are due to increased freight fees, an international shortage of pine, and some suppliers being affected by lockdowns and COVID-19 related restrictions."
Labour
Now that you know what kind of material you want to use to build your deck, you will realise someone actually needs to build it.
Of course, if you have the skill set, you may be able to do a lot of the heavy lifting yourself, which could save you thousands in labour cost.
This cost will also be influenced by the size and location of your deck. For example, a deck being built on a sloping yard may need to be secured with free standing beams or posts of varying heights. Or, the ground beneath may need to be levelled or excavated before installing. These factors can quickly add to the labour costs.
Below is a general guide for cost per square metre for labour.
Labour Costs - State by state
| | |
| --- | --- |
| State | Estimated cost per square metre |
| New South Wales | $200 to $210 |
| Victoria | $190 to $200 |
| Queensland | $185 to $190 |
| Western Australia | $170 to $180 |
Source: Hire Trades
Size
The placement of your deck is up to you. It might attach to your living and dining area in your house to open out the space for backyard BBQs. Or you might be looking to add a deck to your pool for more space to work on that tan in summer.
Be sure to check regulations for your state and suburb. Different parts of Australia will have different restrictions, particularly on the height of your deck.
Additionally, if the deck is going to be coming off a second story house or unit, you need to factor in additional costs for the foundations, beams or balustrades that hold it in place.
According to HiPages, council approval is needed for decks larger than 10 square metres while other councils allow decks of up to 25 square metres before approval is needed. Similarly, some councils limit deck heights to 600mm while others allow decks of up to 1 metre to be built before approval is needed.
Maintenance
Once your deck has been built, you need to take care of it. Outdoor decks in Australia will no doubt have to be built to endure sunshine, storms and everything in between.
Hire Trades said with regular cleaning and decking maintenance, your outdoor deck can have a lifespan exceeding 15 years and as high as 40 years if kept in good condition.
Using a decking oil and sealant helps to extend its life. For a 25m2 deck, prepare to pay a bi-annual cost of $400 for oil and sealants. If you are hiring a tradie to reseal your deck, expect additional costs for their service.
Labour and material shortage
With the pandemic limiting homeowners to their residence, many set aside savings and time to renovate or improve their home.
Data from CoreLogic shows a surge in new builds and renovations coupled with supply chain disruptions and a shortage of materials resulted in an unprecedented spike in construction costs.
CoreLogic's quarterly measure of residential construction costs reveals a national increase of 3.8% was recorded in the three months to September 2021, outpacing the Consumer Price Index rise of 0.8% for the same period.
This is also an important factor to consider when adding a project like a deck to your home.
One Aussie who has felt the pinch is Mia De Rauch from Torquay in Victoria.
Her wraparound deck project has been set back by supply issues and rising material costs.
"The project started as a simple pergola over the top of the original deck, for shade and privacy," she said.
"The deck (and fence) turned out to be non-compliant and close to falling down. So one week later, demolition started on the whole deck and side fence.
Ms De Rauch said her initial quote was for a pergola only at $8k.
"We ended up paying a little over $40k. Including demo and rebuild of the deck, the two pergolas and some extra design details," she said.
"In the month of the building process, the price of timber continued to climb - our builder ended up spending triple what he expected in materials.
"The whole project should have been completed by now, but we are still waiting for some final materials to arrive before it can finally be finished."
Savings.com.au's two cents
Adding a deck should be an exciting addition to your home, but one that can quickly turn into a long project if you aren't careful. A little research can go a long way to save money. Make sure you ask for quotes from various sources to get the best value.
---
Image by David Merrick via Unsplash