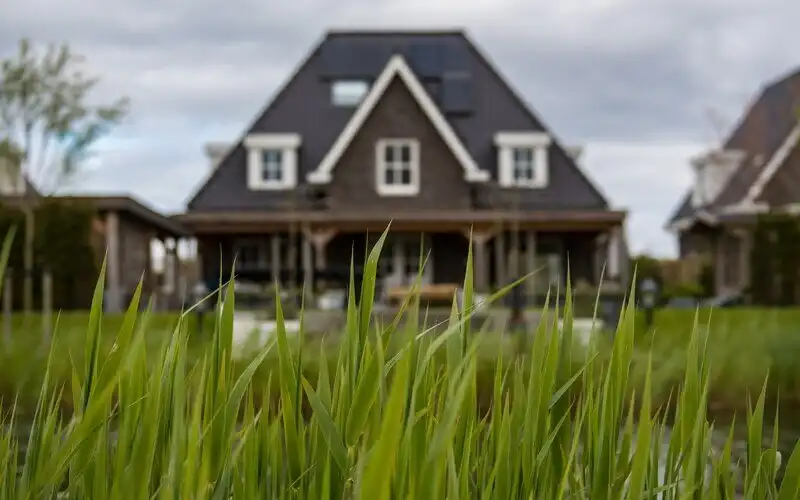 New loan approvals for housing hit a brand new record in March, according to the latest data.
The Australian Bureau of Statistics (ABS) Lending Indicators data for March 2021 revealed new loan commitments rose 5.5% over the month, to hit a new record of $30.2 billion worth of loans.
This comes after the previous month's data for February recorded a minor 0.4% decline in new loan approvals to $28.6 billion - the first fall since May 2020.
---
Buying a home or looking to refinance? The table below features home loans with some of the lowest interest rates on the market for owner occupiers.
Fast turnaround times, can meet 30-day settlement
For purchase and refinance, min 20% deposit
No ongoing or monthly fees, add offset for 0.10%
A major reason for this increase was a surge in investment lending, with investor loan approvals up 12.7% to $7.8 billion, seasonally-adjusted.
That accounted for more than half of the month's gains, and ABS head of Finance and Wealth Katherine Keenan said investor lending had seen a sustained period of growth since the 20 year low seen in May last year.
"The rise in March is the largest recorded since July 2003 and was driven by increased loan commitments to investors for existing dwellings," Ms Keenan said.
"The value of new loan commitments for owner occupier housing rose 3.3% to $22.4 billion in March 2021, 55.6% higher than March 2020.
"This rise was driven by an 8.8% rise in the value of loan commitments for existing dwellings."
Compared to the previous month, owner occupied lending fell 1.8% over the month, investment lending rose 4.5% to reach 31.6% higher than its level a year prior.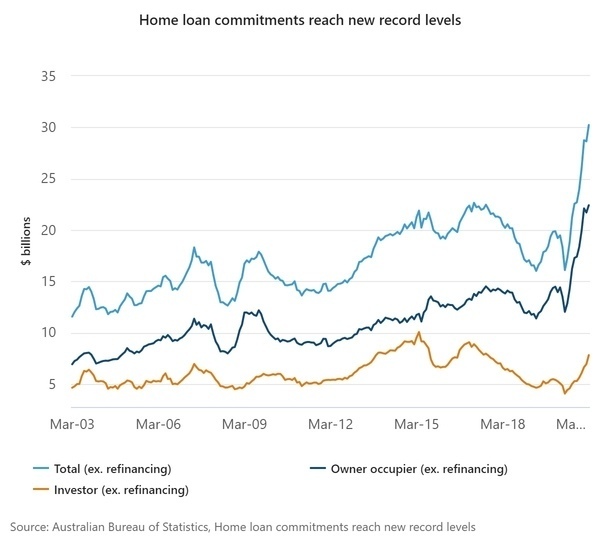 Construction lending falls for the first time since HomeBuilder
Construction lending approvals have risen steadily since the HomeBuilder scheme was announced, as February's data showed an enormous 147% and 165.6% yearly rise in the value and number of new constructions respectively.
But since the grant was reduced from $25k to $15k at the beginning of the year, construction lending growth has slowed.
In March, the value of owner occupier loan commitments for the construction of new dwellings fell 14.5%, the first fall since the scheme was announced in June 2020.
However, construction values for owner occupiers and investors are still up 123.6% and 54.3% over the past 12 months.
Building a home? The table below features construction home loans with some of the lowest variable interest rates on the market.
Interest Only during construction
No monthly, annual or ongoing fees
Get Australia's lowest rate construction loan when you go green
First home buyers fall again
Having reached a 12-year peak in January 2021, first home buyer loan approvals have fallen for the second consecutive month.
The number of owner occupier first home buyer loan commitments fell 3.1% to 15,623 in March 2021, after February's 3.3% drop.
However, first buyer numbers are still 'highly elevated' compared to historical levels, and are still 58.3% higher over 12 months.
"Higher prices and reduced government incentives are predictably impacting first home buyer activity that fell by 3.1% over the month," Archistar Chief Economist Dr Andrew Wilson said.
"Housing markets generally remain buoyant and although activity is likely to ease from record levels over coming months – particularly for first home buyers, the re-emergence of investors will continue to place a floor under house prices."
See also: First home buyers borrowing $10k more than a month ago
Westpac reports major lending growth
In its interim financial results for the six months ended 31 March 2021, major bank Westpac reported a $2.6 billion growth in its mortgage lending.
According to the bank, this was largely driven by owner-occupied lending, which was up $8.8 billion (3%), with new lending excluding refinancing totalling $27 billion overall.
This growth however was partially offset by a 3% fall in investment lending.
According to Westpac CEO Peter King, while the large growth in new lending was mostly driven by owner-occupiers, investors were beginning to return to the market.
Mr King said investor lending was up 31% over the four months to February 2021.
"It has been a promising start to the year with increased cash earnings, growth in mortgages and continued balance sheet strength," he said.
"We have made good progress this half and remain focused on improving the performance of our key businesses, including reducing loan approval times.
"While we expect continued increases in home prices, as the supply of houses for sale increases, the rate of house price growth will likely moderate."
Related: House price boom eases: Is the market losing steam?
Westpac also reported a surge in demand for fixed-rate home loans, as the share of its loan book made up of fixed mortgages grew from 23% in March 2020 to 32% in March 2021.
This is similar to figures from Commonwealth Bank, which saw a 38% growth in fixed-rate lending in the second half of 2020.
Commonwealth Bank recently hiked some of its four year fixed-rate home loans, while Westpac has also increased the cost of various fixed-term loans in recent weeks.
---
Photo by Wynand van Poortvliet on Unsplash