Traditionally the 'Australian Dream' has been a detached house and a backyard. Indeed, Aussies are still attached to the idea - take one look at our cities and they are mostly sprawling compared to other dense capitals in Europe and Asia. This makes it possible to own a detached house relatively close to the CBD, albeit potentially at very expensive prices. In the regions, too, it can be hard to find an apartment to rent, with much of the stock being detached housing.
In addition, the popularity of the house only seems to have become greater in the years since the spicy cough - COVID-19 - arrived. This has led to the experts' favourite phrase 'divergence' - but what is it actually, and why is it happening?
---
Advertisement
Buying a home or looking to refinance? The table below features home loans with some of the lowest interest rates on the market for owner occupiers.
Lender

---

Variable

More details

FEATURED

Online Exclusive

Up To $4K Cashback

Includes NOV RBA Rate Increase

loans.com.au – Variable Basic Cashback Home Loan (Principal and Interest) (LVR < 70%)

Immediate cashback upon settlement
$2000 for loans up to $700,000
$4000 for loans over $700,000

Variable

More details

FEATURED

Refinance Only

Apply In Minutes

Unloan – Variable Rate Home Loan – Refinance Only

No application or ongoing fees. Annual rate discount
Unlimited redraws & additional repayments. LVR <80%
A low-rate variable home loan from a 100% online lender. Backed by the Commonwealth Bank.

Variable

More details

FEATURED

Up – Up Home Variable (Principal & Interest) (LVR ≤ 90)

Up is 100% owned by Bendigo Bank.
Up to 50 offset accounts
New joiners get $10 by signing up to the app using code UPHOMESAVINGS. (T&Cs apply)
Immediate cashback upon settlement
$2000 for loans up to $700,000
$4000 for loans over $700,000
Important Information and Comparison Rate Warning
House vs Unit Prices by the Numbers
Data from research firm CoreLogic shows in the 12 months to July 2021, house prices increased 18.4%, compared to units, up 8.7%. Unit performance is still very strong, but consider the values, too: median house prices nationally hit a median of $695,800 compared to $576,063 for units.
CoreLogic research director Tim Lawless said this 'divergence' trend is evident in all capital cities except for Hobart.
"Hobart unit values are up 23.0% over the past year while house values have risen by 21.7% across the city," Mr Lawless said.
"Potentially the slightly stronger conditions across Hobart's unit sector reflects greater demand from downsizers and empty nesters, or it could be attributed to worsening affordability constraints, diverting demand into the more affordable unit sector where median values are around $156,000 lower than houses."
Why is there a divergence between unit and house prices?
Long story short - it's land. We all want our slice of the pie. 'Downsizers', 'empty nesters' and other similar keywords have been hot button topics recently, with the Voldemort pandemic (that which shall not be named) causing a flurry of people to seek a tree or sea change. Regions have led the property price charge, with rents also increasing sharply in these areas. This has led to houses outperforming units in a lot of areas - but why, exactly?
First National chief executive Ray Ellis painted the picture.
"Without doubt, the quarter acre block, your own piece of land, your 'castle' if you will, is indelibly imprinted in the psyche of Australians," Mr Ellis told Savings.com.au.
"The freedom to choose the colour of your home, when you'll renovate or effect maintenance, or when and how you'll use your pool or backyard are just some of the benefits houses offer over strata-snitches, owners corporations and endless arguments about by-laws.
"When Australians first experienced freedoms being curtailed in major cities, our ingrained desire for 'the great brown land' took over and we saw a flight to the regions."
Chris Bellesini from buyers agents Win Win Property also explained some of the recent reasons for the divergence.
"Houses are out performing units as lockdowns may be a way of life for a while and people want land so their kids can play or they don't feel so claustrophobic," Mr Bellesini told Savings.com.au.
Director of Atlas Property Group, Lachlan Vidler, echoed this sentiment.
"The COVID 19 pandemic has certainly reinforced to people that space is such a valuable commodity. With extended periods of time at home, many people have realised that small one or two bedroom apartments can be very small, particularly if they are sharing with a roommate or partner," Mr Vidler told Savings.com.au.
"Houses are typically much bigger and have allowed people to stay much more comfortable during lockdown periods because of their additional space and/or levels in the property," Mr Vidler said.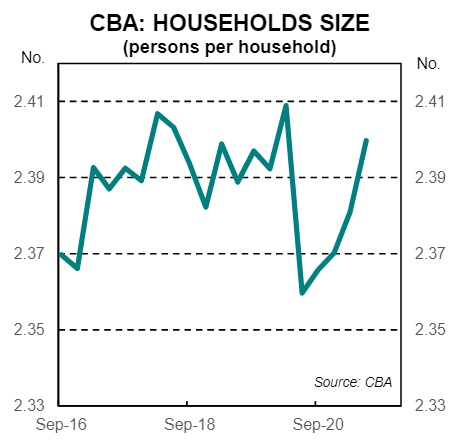 Changing family dynamics
The average household size now sits at 2.4 people, and shrunk through 2020, (see graph above) as more people fled for the country and bands of housemates moved out of their sharehouses.
PRD chief economist Dr Diawswati Mardiasmo told Savings.com.au apartments generally aren't favourable among families.
"Houses are definitely outpacing units in most places at the moment - we have just tracked the median price growth for Brisbane Local Government Area over the past 46 years and there is a very wide gap between house and unit prices," Dr Mardiasmo said.
"As it is, three and four bedroom units do not make up a big percentage or proportion of unit developments, and when they do they are the most expensive.
"Further, if we look at the price difference between say a three-to-four bedroom unit and a three-to-four bedroom house, there is a huge difference - the three-to-four bedroom unit is much more expensive, as it cost more for the developer to build, compared to the house.
"Houses also allows you the freedom to renovate, have pets, have different living arrangements, and so on."
See Also: Body Corporate Fees Explained
Pandemic-led or ongoing trend?
Generally speaking units have underperformed relative to houses even before Voldemort happened, so it's not just about getting a fresh breath of pandemic-free air.
Narelle Glynn from buyers advocate group Hunter Advocates explained the underlying reasons for this.
"At its core, property growth is driven by land apprecation. Buildings, in contrast, depreciate. So apartments in large complexes own only a miniscule portion of the land the complex is built on," Ms Glynn told Savings.com.au.
"The brand new building depreciates over time - whereas at the beginning it - and the developer's margin - represents most of the purchase price. An acceleration of tower developments (which are declining in value over their first few years until the land grows in value) hasn't helped.
"A unit which has reasonable land included in its title will do better than an apartment in a tower so that's where I direct my clients if they can't afford a house."
So, with all that being said, are apartments a good investment or not?
Are units or apartments a good investment?
Experts above gave their two cents as to the market conditions comparing units and houses, but whether units present a good investment opportunity is a whole other topic.
Mr Vidler elaborated on units as investments further:
"Units typically do not make good investments for a few reasons: 1. The predominant reason that house prices continue to outpace units is that the value of any property comes from the land it sits on. 2. Units have much higher holding costs compared to houses. 3. Unit holders have far less control over what they can do to their unit compared to the owner of a house. 4. Units that are in attractive locations like beachside suburbs and CBDs often suffer from high vacancy rates because other apartment developers also want to build there," he said.
Mr Bellesini also said units are generally not a good investment.
"I always strongly advise against buying an apartment and often have vendors approach me to say that they are just going to sell at a loss to get out," he said.
"There are many financial traps and it is a lifestyle choice, not one to create wealth."
That's the main caveat emptor - units can present good lifestyle opportunities, which could trump pure facts and figures.
First National's Mr Ellis also explained a few reasons why apartments could be worthwhile investments.
"Units are a good investment in particular circumstances. Namely, when you buy the best position or floorplan/aspect in the building – off the plan," he said.
"Owners can frequently on-sell such properties, before they've even completed construction, at substantial gain. Older buildings also offer excellent investment possibilities, such as the grand old apartments of the 1920s and 1930s – in key parts of Sydney and Melbourne.
"Nab yourself an original penthouse, an Art Deco two-bedder with gun barrel views of Sydney Harbour, or a garden apartment with high ceilings and perhaps even a fireplace, and you have the ingredients for substantial gain."
Of course, you should do your own research as to how a unit could fit into your investment portfolio.
Photo by City of Gold Coast on Unsplash
---
---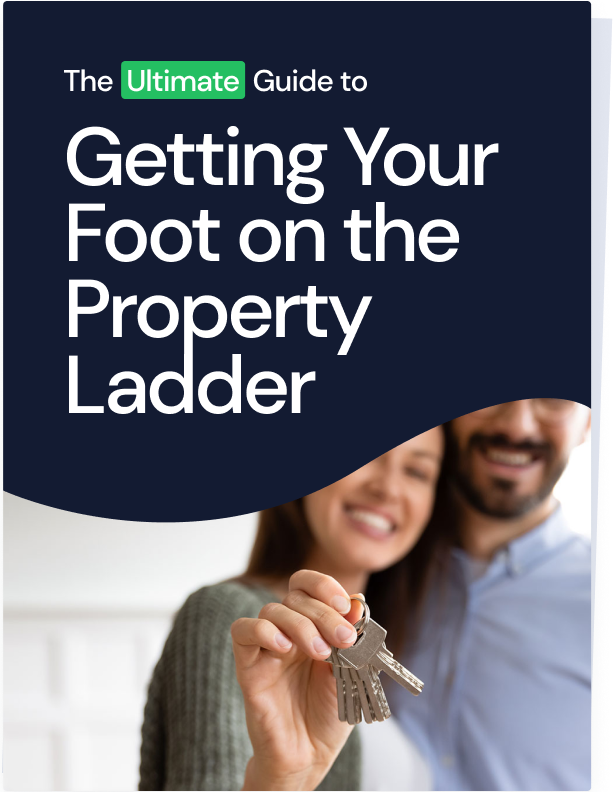 Ready, Set, Buy!

Learn everything you need to know about buying property – from choosing the right property and home loan, to the purchasing process, tips to save money and more!

With bonus Q&A sheet and Crossword!