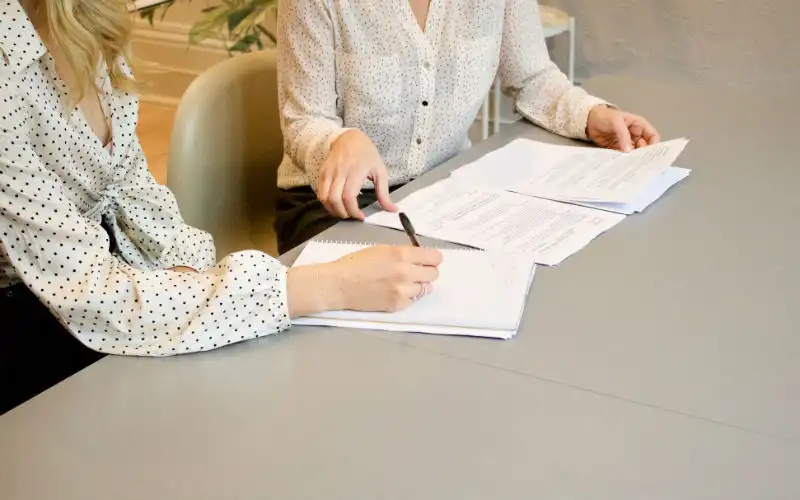 Buying a home can be a hugely exciting time, but what's not-so-exciting is the mountain of paperwork that comes with it. That's where a conveyancer can help.
A conveyancer can cut through the legal jargon and red tape associated with buying a home and take some of the stress out of the process. But what does a conveyancer really do, and do you even need one? Read on to decide for yourself.
---
Buying a home or looking to refinance? The table below features home loans with some of the lowest interest rates on the market for owner occupiers.
Lender

Advertised rate
Comparison rate*
Monthly repayment
Rate Type
Offset
Redraw
Ongoing Fee
Upfront Fees
LVR
Lump Sum Repayment
Additional Repayments
Pre-approval

---

Variable

More details

FEATURED

LIMITED TIME OFFER

Smart Booster Home Loan Discounted Variable - 2yr (LVR < 80%)

Fast turnaround times, can meet 30-day settlement
For purchase and refinance, min 20% deposit
No ongoing or monthly fees, add offset for 0.10%

Variable

More details

FEATURED

100% FULL OFFSET ACCOUNT

NO APPLICATION FEE OR ONGOING FEES

Low Rate Home Loan - Prime (Principal and Interest) (Owner Occupied) (LVR < 60%)

No upfront or ongoing fees
100% full offset account
Extra repayments + redraw services

Fixed

More details

FEATURED

USE A MARKET LEADING APP TO HELP YOU PAY OFF YOUR LOAN SOONER

Fixed Home Loan 1 year (Principal and Interest) (LVR < 80%)

Make up to $20,000 additional repayments per fixed term
Redraw available – lets you access any extra loan repayments you've made
Choose to rate lock for 90 days (fee applies)

Variable

More details

FEATURED

REFINANCE IN MINUTES, NOT WEEKS

Nano Home Loans Variable Owner Occupied, Principal and Interest (Refinance Only)

No application or ongoing fees.
100% free offset sub account.
Fast online application, approval in minutes not weeks.
Mobile app, Visa debit card, Apple and Google Pay
Refinance loans and variable rates only.

Variable

More details

FEATURED

ZERO APPLICATION FEES

FEE FREE OFFSET

Owner Occupier Accelerates - Celebrate (LVR < 60%) (Principal and Interest)

We lower your rate based off how much you've paid down your loan
Automatic rate match
No upfront or ongoing fees
Fast turnaround times, can meet 30-day settlement
For purchase and refinance, min 20% deposit
No ongoing or monthly fees, add offset for 0.10%
---
What is conveyancing?
Conveyancing is the legal action of moving the official ownership of land title to a new owner. This new owner can be either a person, or an entity like a small business. It involves preparing, verifying and lodging the various legal documents associated with home buying and selling, as well as preparing the property for settlement.
As you can imagine, this process is far from simple, with a conveyancing transaction typically consisting of three stages:
pre-contract
pre-completion
post-completion
Not handing in the appropriate paperwork associated with these stages, correctly completed, by the required dates can result in your contract being voided. This would see you potentially lose your dream home, perhaps even forfeiting the deposit you've paid.
---
What does a conveyancer do?
A conveyancer is a licensed professional who provides advice and information with regards to the transfer of property ownership, as well as assisting buyers and sellers through the selling process. They'll organise all the appropriate documentation required for settlement, communicate with lenders and provide advice where possible.
It's recommended you use a conveyancer when:
buying or selling land
updating a title (e.g if someone on the title dies​​​​​​)
subdividing land
registering, changing or removing an easement (a right to use the land)
After hiring a conveyancer, they'll be able to help you with:
Arranging building and pest inspections
Checking the property for any issues that might infringe on council regulations
Preparing and examining the contract of sale
Paying a deposit, stamp duty and other property ownership transfer costs
Organising a land survey to ensure the boundaries of the property are accurately represented
To perform these duties, conveyancers must be trained and accredited. Some conveyancers are also solicitors and are required to be in Queensland and the ACT. This is optional in other states, however.
Prior to hiring a conveyancer, check out the Australian Institute of Conveyancers (AIC), the peak body representing registered, licensed and practicing conveyancers in Australia, to see if your chosen individual is a part of their database. They won't have data for conveyancers in Queensland or the ACT, so check out the Queensland Law Society and ACT Law Society for information on conveyancers in those regions.
Additionally, a conveyancer is legally required to have professional indemnity insurance. This covers the conveyancer for any accidental potential mistakes or omissions that could result in the customer taking legal action against them.
---
Do I need a conveyancer or can I do it myself?
It's not legally required to engage the services of a conveyancer in any state or territory in Australia, but it's generally recommended you do so. DIY conveyancing can save you a lot of money, with kits costing between $80 and $150.
However, as might've gathered from this article, real estate laws and property ownership are highly complex topics. Not adhering to the law or specific dates throughout the process can have serious consequences, like losing your deposit or even your home. One or both of these things would be disastrous.
Remember, just because you can go it alone doesn't mean you should. A conveyancer is a professional for a reason and more often than not it'll be well worth the money. Although much cheaper, DIY could end up being far more expensive if done incorrectly.
---
Conveyancer vs. solicitor: what's the difference?
While conveyancers are trained and accredited professionals with a high level of expertise in their field, they are often quite limited in the services they can provide. A conveyancer who isn't also a solicitor can't provide advice on matters of property law or assist you with the terms of your sales contract and tax, for example.
Additionally, should a legal dispute or issue arise during the settlement process, they won't be able to help you, whereas a solicitor will. Inversely, a solicitor may be a jack of all trades and master of none - they might not be an expert in conveyancing and it's simply a service they offer.
A solicitor could also sting your wallet more. Conveyancers typically charge a flat fee while a solicitor will charge by the hour.
---
How much does a conveyancer cost?
Conveyancing costs can vary massively based on the conveyancer, as they could be working in a solicitor's office, a small business or be self-employed. The services on offer also vary between conveyancers and the duties of a conveyancer are different between states and territories.
As a ballpark figure, conveyancing fees typically range from $500 to $2,500. As mentioned previously, most conveyancers charge a flat fee, but there are also additional costs called disbursement costs.
According to the Australian Institute of Conveyancers NSW Division (AICNSW), disbursement costs include:
Title search: $20 - $100
Local council building certificate: $250
Local council S149 certificate: $53 - $133
Local council, rates certificate: $65
Land tax, clearance certificate: $20-$25
Sydney water, rates certificate: $20 - $25
Drainage diagram: $25
Department of Education: $20 - $25
Environmental Protection Authority: $20 - $25
Roads and Traffic Authority: $20 - $25
Transgrid, electricity/power stations: 20 - $30
Postage, stationery, faxes: $20 - $40
Local council pool compliance/ non-compliance certificate: $150 - $450
These costs are an estimate and obviously NSW based only, but provide a good insight into the various charges you could run into. Make sure you get a clear breakdown of a conveyancer's costs prior to using them so you know you're getting value for money.
---
How to find a good conveyancer
Like all professions, not all conveyancers are created equal. Here's what a good one should do:
Research titles and records: Property contracts and title deeds are incredibly important documents and a good conveyancer will meticulously pore over these to ensure there are no dodgy conditions or terms that you might not have seen. They'll also clearly define the rights and obligations of the buyers and sellers to allow for a smooth transfer of the property ownership.
Give expert advice: A good conveyancer will proactively help you and provide advice on the conveyancing process, rather than you having to go to them and ask the right questions. They should give you expert and practical advice at each step of the process.
Be quick and efficient: There are numerous essential and immoveable timeframes associated with property sales. A good conveyancer will adhere to these and finish the transaction in a timely manner.
Charge a fixed rate: Dealing with a conveyancer rather than a solicitor will typically afford you the advantage of getting a fixed cost instead of an hourly rate. A trustworthy conveyancer will have a clear breakdown of their costs and charge a fixed fee.
Ask a potential conveyancer about each of these things before committing to one's services.
---
Savings.com.au's two cents
Although not as glamorous or notorious as real estate agents, conveyancers play an extremely important role in the purchase and sale of a home. Transfer of property ownership is a complex sea of red tape, and engaging with a trustworthy and qualified professional to cut through the bureaucracy can be an excellent investment.
Throughout the home buying process, you can also consult the expertise of the following entities:
A property valuer (responsible for carrying out inspections of residential and commercial properties to determine their current market value)
A buyer's agent (provides the qualifications, knowledge and expert negotiation skills to find a good property based on certain specifications for the best price)
A mortgage broker (work on the borrower's behalf to arrange the appropriate finance for them to purchase their home)
---
Photo by Freshh Connection on Unsplash