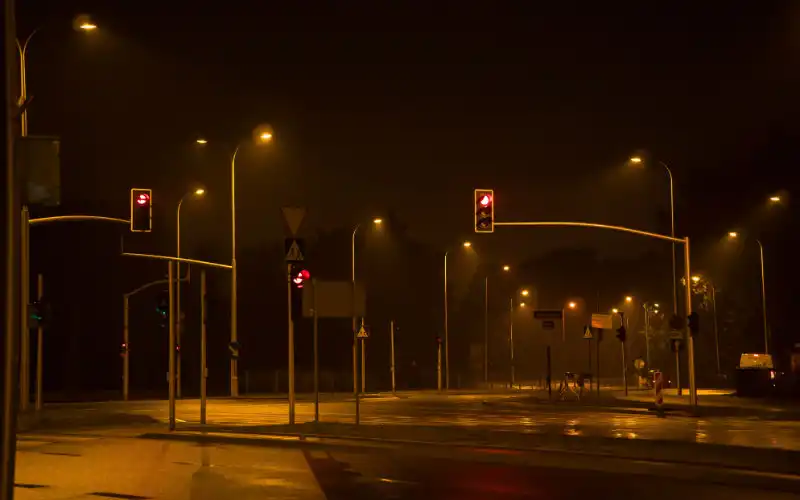 Photo by John Nzoka on Unsplash
Want to ensure your next home loan application is successful? You could be facing rejection without even realising it...
The home loan application process is often long and sometimes very complicated, and the sheer number of steps involved can lead many to get lost along the way. A 2019 survey by Digital Finance Analytics found around 40% of mortgage applications were rejected in December 2018, down from 48% the month before. So nearly half of all home loans around this time were facing rejection.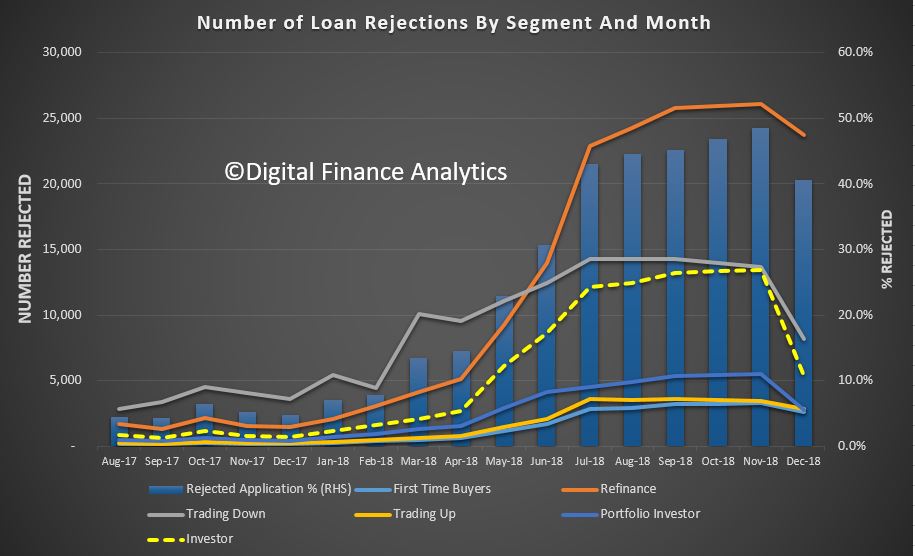 Source: Digital Finance Analytics
There are a whole host of different reasons why your home loan application could be rejected, and while it can feel disappointing to miss out, it's important that a lender is careful about who it lends to.
A home loan is a massive amount of money to borrow, and should you bite off more than you can chew both yourself and the lender will be in a spot of bother. A lender can even cop a fine for not properly scrutinising applications.
With this in mind, here are a number of well-known and not-so-well-known reasons for home loan applications being rejected.
Buying a home or looking to refinance? The table below features home loans with some of the lowest interest rates on the market for owner occupiers.
Fast turnaround times, can meet 30-day settlement
For purchase and refinance, min 20% deposit
No ongoing or monthly fees, add offset for 0.10%
Base criteria of: a $400,000 loan amount, variable, fixed, principal and interest (P&I) home loans with an LVR (loan-to-value) ratio of at least 80%. However, the 'Compare Home Loans' table allows for calculations to made on variables as selected and input by the user. All products will list the LVR with the product and rate which are clearly published on the Product Provider's web site. Monthly repayments, once the base criteria are altered by the user, will be based on the selected products' advertised rates and determined by the loan amount, repayment type, loan term and LVR as input by the user/you. Rates correct as of October 26, 2021. View disclaimer.
The common reasons for home loan rejection
Some of the more common reasons for home loan rejection include:
Not having a high enough deposit
Not having a high enough income
Having poor spending habits
Having a poor credit rating
Not having the correct documents
Incorrect information on your application
Not having a high enough deposit
One of the more common reasons for home loan rejection is not meeting the lender's minimum deposit requirement for the home loan. Every home loan generally has a maximum loan-to-value ratio (LVR), which is a limit on how much of the property's value you could borrow, indicating how much of a deposit is required.
For example, a home loan with a maximum LVR of 90% would require at least a 10% deposit. So to be approved for a 90% LVR home loan to help you buy a property valued $500,000, you'd need a deposit of at least $50,000 to allow you to borrow up to $450,000.
Some home loans have stricter LVR limits than others, particularly some of the home loans with the lowest interest rates. It's common for low-rate home loans to have maximum LVRs ranging from 70-80%, thereby requiring a 20-30% deposit in order to qualify.
There are still plenty of home loans on the market that accept borrowers with a deposit of 10% or less (LVR of 90% or greater). However, lenders typically charge Lenders Mortgage Insurance (LMI) if the deposit is less than 20%, which can add thousands onto the cost of the loan.
Not having a high enough income
Income is probably the biggest indicator of whether a borrower can afford to repay a loan. Lenders can assess the combined income of both you and a partner, or just yourself if you're buying a home on your own. Income assessments are important for lenders because it's crucial to judge how the borrower will manage with the loan's repayments. If the repayments are expected to make up a substantial portion of the household's income, then the lender is unlikely to approve the loan.
Having poor spending habits
When assessing your home loan application, lenders can request bank statements from you (sometimes up to 12 or even 24 months' worth) to see how you spend your money and what you spend it on. If they see you spend thousands of dollars a year gambling, then they might have some hesitations in lending to you, no matter how high your income is.
Lenders also want to see around three to six months' worth of "genuine savings", which are savings you've built up over time that you've earned and haven't received as a one-off (such as prize winnings or inheritance). A lack of genuine savings might lead the lender to believe you lack financial discipline.
Having a poor credit rating
A credit score is a numerical representation of your trustworthiness as a borrower, and it plays a crucial role in the approval process as the lender will perform a credit check. Having a low credit score as a result of defaults, missed repayments or bankruptcies won't work in your favour and could be the difference between approval or rejection.
A more recent phenomenon is the effect that buy now, pay later (BNPL) providers such as Afterpay can have on an application. Dr Diaswati Mardiasmo, Chief Economist at PRD Nationwide, says most customers aren't aware of the effects these services can have on applications.
"If you have multiple buy now pay later accounts, not only does this add up to your total liability numbers it also shows that your lifestyle pattern is one where you spend money you don't have and or have a habit for debt," Dr Mardiasmo told Savings.com.au.
"Therefore you become a 'risky applicant', without you knowing that you have been deemed a risky applicant."
Loans.com.au Managing Director Marie Mortimer says applying for too many home loans in a short space of time can also have an immediate impact on your credit score.
"The more enquiries you make in a short amount of time, the more your credit score can drop which can impact our ability to approve your loan," Ms Mortimer said.
Not having the correct documents
When applying for a home loan you'll need to supply a range of documents that include the following information:
Your name, age and address
Your current occupation and income
Your number of dependents (children, sick relatives)
Your assets and liabilities (shares, debts etc.)
You also need to ensure you submit them all in a timely manner. Having everything up-to-date and ready to submit can improve your chances of acceptance.
Incorrect information on your application
If the lender catches you in a lie - and chances are they will at some point, based on how much of your information they gain access too - that could be the end of your application then and there.
An example of a lie would be saying you have only one child when you really have three. It's important for them to know this because your expenses are likely to be significantly higher with three dependents, so your capacity to meet the repayments could be much tighter. So if a lender goes through your bank statements and sees three sets of school fees in there, then you can in all likelihood say goodbye to that home loan. Honesty is the best policy.
The not so well known reasons for home loan rejection
Some justifications for home loan rejection are less expected and can be quite surprising.
Savings.com.au spoke to a number of home loan experts to uncover what, in their experience, are some of the lesser-known reasons for home loan rejection. Here are some of their responses:
You could be too old
The lender might not like the property you're buying
You're a contractor or self-employed
You've made one too many joke transactions
There's been a major upheaval in your life
You have a high credit card limit
You've recently gone on maternity leave
You could be too old
Age is a factor that can lead to home loan rejections, as lenders can deem an applicant to be too old to pay off a home loan for its entire term.
"Age is a very important factor when a customer applies for a loan," Ms Mortimer said.
"As a responsible lender we have to ensure that an older borrower doesn't have a 30-year loan term.
"For this reason, if an older borrower applies for a loan, we work with them to apply for a reduced loan term at the outset as a reflection of their projected age at the end of the loan."
A common rule lenders set is one where the age of the borrower or guarantor on the loan should not exceed around 80-85 years at the conclusion of the loan term. So for a 30-year loan, an applicant might have difficulty if they're over 50, and might have to look for a shorter loan term that has higher monthly repayments.
CEO of Uno Home Loans Anthony Justice says paying off a mortgage becomes "a matter of urgency" for Australians in their 50s.
"We know that people in Australia are getting married, having kids and getting divorced later. One consequence of this that we don't hear so much about is that more people are finding themselves in worse financial situations after age 50," he said.
"The banks have a lot of leverage over older homeowners in this situation because they know no one else is likely to take on the risk of giving them a new loan.
"Thankfully for older Aussies, there are a number of key strategies they can implement to ensure they're retiring in a strong financial position, like consolidating loans and reducing their mortgage term with help from an expert."
The lender might not like the property you're buying
Not every property can act as security for a home loan from any lender. Many lenders have specific types of properties they don't like, due to the higher risks they can pose. Some properties might be in a poor condition or be located in a dangerous area, which can make them harder to sell.
A lender like loans.com.au, for example, might not lend to rural properties or those outside metro areas.
"A rural property on acreage is very different from a property in inner-city Sydney, and if we have concerns around value and potential resale, we consider these rural properties to be riskier, therefore they don't satisfy our lending criteria," Ms Mortimer said.
"Another type of property we don't lend on is studio apartments, or any apartment less than 40 square metres.
"Basically, if we see potential future property value and subsequent sale as a risk, we will not lend on the property. This is why property postcodes and valuations are very important to any lender in Australia."
Tiny houses are another type of dwelling that many lenders might not want to touch, while there are also concerns around a lot of the high-rise apartments going up lately, as some of them are of poor quality and seen as a risky investment.
Mr Justice said that amid the increased prevalence of high-density living in Australia, consumers are facing increasing concerns from banks and lenders looking to manage risk.
"Lenders are demanding much higher LMI on properties that seem to tick all the right security boxes, simply to avoid overexposure in specific buildings or postcodes. For example, some lenders will refuse to loan to more than 5 apartments in the same building," he said.
There are also particular landmarks lenders don't like to see, such as transmission lines. According to Beau Cook, finance broker at Loan Market, you can forget trying to buy a house within 50 meters of a transmission line with many lenders.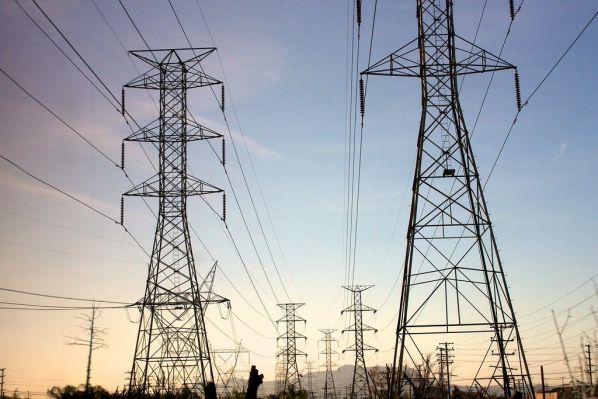 Despite what The Castle told you, power lines aren't a good thing to live near, despite the serenity. (Source: Flickr)
"The Mortgage Insurers don't like the risk of the electricity arcing, I'd guess that they're worried about fires starting, and if the mortgage insurers don't stop it, valuers might," Mr Cook told Savings.com.au.
"In the valuation report, there are a few things that are given risk ratings. Transmission lines may bump one of the risk rating categories, such as land, neighbourhood, environmental issues, into a high-risk result which can result in an instant decline depending on the lender."
So to summarise, here are the kinds of properties that would-be buyers can struggle to secure a home loan for:
Highrise apartments
Properties in 'blacklisted' postcodes
Properties too close to power lines or other undesirable landmarks
Properties in high-risk areas (due to flooding, cyclones etc.)
Rural properties or properties outside metropolitan areas
Tiny houses or studio apartments
You're a contractor or self-employed
Lenders are typically less likely to approve contractors because their employment is seen as less stable - even if you personally have regular work. Lenders tend to treat them like casual employees with irregular work, as they prefer to see a consistent stream of income. They also like to see at least a few months of steady employment, not job-hopping which is what contracting can appear as.
According to Mr Cook, not being employed for long-enough is also a reason for rejection.
"A minimum of 3 months is usually the bare minimum lenders want to see in one job. Out of over 40 lenders, I have two mainstream ones that would take less than three months of employment without hesitation. The rest would be wary," Mr Cook said.
"The three-month rule is a lot easier to work with if the applicant has been employed in the same industry before but can't be on probation, they will usually need a letter from the employer stating that no probation period is being served or has already been completed."
It might be easier to get approved for a loan as a contractor if there's another income source on the application (such as a spouse) that have a permanent full-time job. And if you do want to apply for a home loan in the near future, it's probably best to stay in your current job until you do.
Self-employed people may have better luck applying for a low-doc home loan, as it can be challenging for them to prove their ability to repay a mortgage.
You've made one too many joke transactions
It might be funny to label a bank transfer to one of your friends as 'money explicitly for drugs' or 'adult nappies' (and let's face it, it is really funny), but your fun might cost both of you down the line. Remember, a lender doesn't know who and isn't friends with you, so when they go through your bank statement and see multiple transfers titled 'bail money', they might not realise that's a joke.
This isn't guaranteed to get you rejected, but it's probably the safe thing to do to cut back on silly transaction titles before you apply.
You have a high credit card limit
It's not just credit card debt that can send your application packing - simply having a credit card at all can work against you, especially if you have a high credit limit. A lender will assess your ability to repay the credit limit you have, and will judge the whole limit as potential debt.
"Applicants believe that it's the owing amount on the credit card that'd taken into consideration. It's not, it's the credit card limit," Dr Mardiasmo from PRD Nationwide said.
"It doesn't matter if you only have $1,000 on the credit card. If the limit is $15,000 they will take into account $15,000 as a liability."
Before applying for a home loan, it might be wise to lower your credit card limit beforehand, which you can do by contacting your card's provider. Or alternatively, you could cancel it altogether.
You've recently gone on maternity leave
Unfortunately, things can get a bit complicated if you're applying for a home loan and going on maternity leave at the same time. While on maternity leave, your income is likely to be reduced or non-existent for a period of time, which can put off most lenders unless there's another strong income in the household.
But according to Mr Cook, there are some potential solutions to this.
"Having cash to cover the shortfall whilst on leave is a big step in the right direction," he said.
"A letter from the employer stating return to work date along with the salary upon return will assist also."
In general, it's wise to not make any major life decisions amid a home loan application, like deciding to have a baby, quitting your job for an entirely new career or buying another car.
Savings.com.au's two cents
Don't fret if you get rejected for a home loan, as there are lots of things you can do to boost your chances of getting approved next time. You could take some time to:
Pay off your debts
Build up some savings
Get some more consistent work
Look for a more affordable house in a more suitable area
Consult a mortgage broker or buyer's agent who can guide you through the process.
Also avoid reapplying for a loan immediately after a formal rejection, as this might only worsen your chances of approval and could become another stain on your credit history.
---
Disclaimers
The entire market was not considered in selecting the above products. Rather, a cut-down portion of the market has been considered which includes retail products from at least the big four banks, the top 10 customer-owned institutions and Australia's larger non-banks:
The big four banks are: ANZ, CBA, NAB and Westpac
The top 10 customer-owned Institutions are the ten largest mutual banks, credit unions and building societies in Australia, ranked by assets under management in November 2020. They are (in descending order): Great Southern Bank, Newcastle Permanent, Heritage Bank, Peoples' Choice Credit Union, Teachers Mutual Bank, Greater Bank, IMB Bank, Beyond Bank, Bank Australia and P&N Bank.
The larger non-bank lenders are those who (in 2020) has more than $9 billion in Australian funded loans and advances. These groups are: Resimac, Pepper, Liberty and Firstmac.
If you click on a product link and you are referred to a Product or Service Provider's web page, it is highly likely that a commercial relationship exists between that Product or Service Provider and Savings.com.au
Some providers' products may not be available in all states. To be considered, the product and rate must be clearly published on the product provider's web site.
In the interests of full disclosure, Savings.com.au, Performance Drive and Loans.com.au are part of the Firstmac Group. To read about how Savings.com.au manages potential conflicts of interest, along with how we get paid, please click through onto the web site links.
*Comparison rate is based on a loan of $150,000 over a term of 25 years. Please note the comparison rate only applies to the examples given. Different loan amounts and terms will result in different comparison rates. Costs such as redraw fees and costs savings, such as fee waivers, are not included in the comparison rate but may influence the cost of the loan.
Latest Articles