In yesterday's 2023 budget, the government committed $86.5 million over the next four years on several measures to prevent and apprehend scammers.
These include establishing a national anti scam centre within the ACCC, additional funding for ASIC and building an SMS ID registry.
The budget also committed $26.9 million towards the digital ID program that could improve online security.
This has been welcomed by the Australian Banking Association (ABA), whose Chief Executive Anna Bligh called it 'a budget that prioritises customer safety.'
"Many of the initiatives announced were raised during discussions at the Assistant Treasurer Stephen Jones' industry roundtable in March and we congratulate the government for listening and taking such decisive action," Ms Bligh said.
Australians lost more than $3 billion to scams in 2022.
Where is the money going?
The majority of the new funds ($58 million) will be spent on establishing a national anti scam centre within the ACCC.
This will hopefully improve how efficiently data on scams is shared across all areas of government, as well as the private sector.
It will also aim to establish 'Fusion Cells', which would have both public and private input, and target specific scams.
When the centre was first announced in November 2022, assistant treasurer Stephen Jones said it would mean the ACCC can have a 'coordinated and rapid response' to scams moving through the economy.
Ms Bligh welcomed the news that the anti scam centre would have private sector input.
"Given the scourge of scams on our society, the Federal Government clearly understands that combating scams needs to be a cross-sector fight," she said.
A further $17.6 million will go to the Australian Securities and Investments Commission (ASIC), to assist with identifying websites promoting scams.
These costs are forecast to be recovered through levies as per ASIC's funding model.
Finally, $10.9 million will go to both the Australian Communications and Media Authority and the Department of Infrastructure, Transport, Regional Development, Communications and the Arts.
The goal will be to establish a national SMS sender ID register, to make it harder for scammers to spoof industry and government brand names in message headers.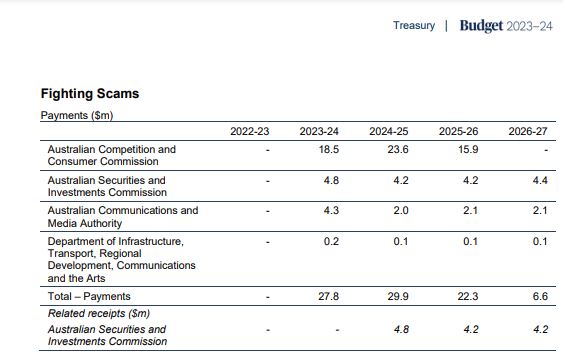 Digital ID program
On top of the $86 million, a further $26.9 million was allocated towards the development of the digital ID program.
The lion's share ($24.7 million) will go directly to the Department of Finance and the Digital Transformation Agency
(DTA).
The goal is to design the policy and legislative foundations that will allow everyone in the economy to have a digital ID to help combat online fraud.
The ATO will receive just over $1 million to help with communications research, while $1.1 million will go to the Office of the Australian Information Commissioner to ensure privacy will be guaranteed.
Welcome relief?
Scamming activity has ramped up in Australia in recent years.
The $3.1 billion lost in 2022 was an 80% increase on 2021, and increasingly sophisticated scams mean more and more Australians are vulnerable.
Peter Gaal, who lost $500 to online fraud earlier this year, welcomed the news that the government intend to get more proactive against scammers.
"I think [the National Anti Scam centre] sounds like a fantastic initiative and long overdue," he told savings.com.au.
"I feel like it's unfortunate that we live in a society where government aid needs to go towards combating such an immoral issue, but I think allocating funds to catch these schemes before they get too many people is really important."
---
Advertisement
Need somewhere to store cash and earn interest? The table below features savings accounts with some of the highest interest rates on the market.
Provider

---

0

1000

0

$product[$field["value"]]

$product[$field["value"]]

$product[$field["value"]]

More details

FEATURED

Savings Maximiser (<$100k)

Deposit at least $1,000 + each month from an external source
Make 5 or more eligible transactions
Grow your savings balance each month

Savings Maximiser (<$100k)

Deposit at least $1,000 + each month from an external source
Make 5 or more eligible transactions
Grow your savings balance each month

0

200

0

$product[$field["value"]]

$product[$field["value"]]

$product[$field["value"]]

More details

No monthly fees

Save Account

Download the App to open your account
Get better visibility of your spending within App!
Deposit $200 per month to activate bonus interest

Save Account

Download the App to open your account
Get better visibility of your spending within App!
Deposit $200 per month to activate bonus interest

0

1000

0

$product[$field["value"]]

$product[$field["value"]]

$product[$field["value"]]

More details
Important Information and Comparison Rate Warning
Picture by Marcus Spiiske on Unsplash