The rental vacancy rate dropped from 1.2% in February.
There are 36,868 available rental properties across Australia, down from 43,844 in February.
Vacancy rates in Sydney and Melbourne are decreasing sharply - particularly in Sydney CBD (down from 4.3% to 3.4%) - as international borders have reopened and workers flock back to the cities.
Brisbane's vacancy rate also fell to 0.7%, with vacancy rates in Perth, Adelaide, Canberra, Darwin and Hobart all sitting below 1%.
National asking rents over the past month rose by another 2.2%, representing a 11.8% increase over the past year.
Specifically, house asking rents in capital cities have increased by 14.7%, and unit asking rents rose by 11.2%.
Inner city rents have also jumped significantly, with unit asking rents in Sydney CBD lifting by 5.5% and 7.4% in Melbourne CBD over the past 30 days alone.
Brisbane has recorded the largest spike in rental asking prices over the past year, now up by 15.2%.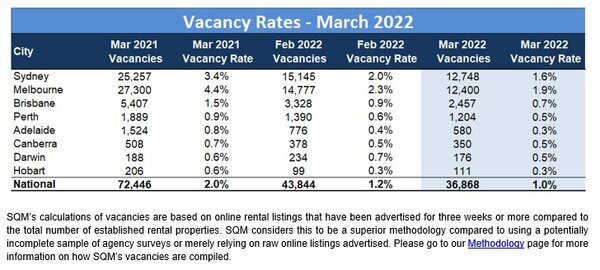 Source: SQM Research
Rental crisis only set to worsen
Louis Christopher, Managing Director of SQM Research, said the rental crisis has deepened with vacancy rates across the country dipping under 1%.
"As a result, market rents have exploded. Some of our capital cities and regions are recording asking rental increases in excess of 15% over the past 12 months," Mr Christopher said.
"And the recent monthly data suggests we are still not at the worst point of the crisis."
Mr Christopher said he believed regional Australia may start to experience some relief as people return to the cities, but that this has not happened yet.
"Many localities and townships are recording zero vacancy rates," he said.
"It is likely homelessness will be increasing in this environment."
Mr Christopher said when he considered the current election stances for both major and minor political parties, there is a lack of specific policy addressing housing affordability.
"Clearly, we are not going to resolve this overnight, but I do hope the various state and territory governments will ramp up their rental assistance packages in order to cushion the rental accommodation emergency we have here and now," Mr Christopher said.
Also read: Should the Federal Government address the rental 'crisis'?
---
Advertisement
Need somewhere to store cash and earn interest? The table below features savings accounts with some of the highest interest rates on the market.
Provider

---

4

0

0

0

$product[$field["value"]]

$product[$field["value"]]

$product[$field["value"]]

More details

FEATURED

High Interest Savings Account (< $250k)

Bonus rate for the first 4 months from account opening
No account keeping fees
No minimum balance

0

1000

0

$product[$field["value"]]

$product[$field["value"]]

$product[$field["value"]]

More details

FEATURED

Savings Maximiser (<$100k)

Deposit at least $1,000 + each month from an external source
Make 5 or more eligible transactions
Grow your savings balance each month

Savings Maximiser (<$100k)

Deposit at least $1,000 + each month from an external source
Make 5 or more eligible transactions
Grow your savings balance each month

0

1000

0

$product[$field["value"]]

$product[$field["value"]]

$product[$field["value"]]

More details

FEATURED

Saver Account (<$250k)

No account fees
Total ongoing variable rate of up to 5.20% pa by depositing $1,000 in the previous month
Easy access to your money

Saver Account (<$250k)

No account fees
Total ongoing variable rate of up to 5.20% pa by depositing $1,000 in the previous month
Easy access to your money

4

0

0

0

$product[$field["value"]]

$product[$field["value"]]

$product[$field["value"]]

More details

Savings Account (Amounts < $250k)

A high-interest online savings account with no monthly fees, easy withdrawals and award-winning digital banking
A great base interest rate of 4.75%

Savings Account (Amounts < $250k)

A high-interest online savings account with no monthly fees, easy withdrawals and award-winning digital banking
A great base interest rate of 4.75%

0

500

1

$product[$field["value"]]

$product[$field["value"]]

$product[$field["value"]]

More details

Goal Saver

Maximum Age - 24
$0 monthly account fee
Earn bonus interest

Goal Saver

Maximum Age - 24
$0 monthly account fee
Earn bonus interest

0

200

0

$product[$field["value"]]

$product[$field["value"]]

$product[$field["value"]]

More details

No monthly fees

Save Account

Download the App to open your account
Get better visibility of your spending within App!
Deposit $200 per month to activate bonus interest

Save Account

Download the App to open your account
Get better visibility of your spending within App!
Deposit $200 per month to activate bonus interest

0

20

0

$product[$field["value"]]

$product[$field["value"]]

$product[$field["value"]]

More details

Bonus Saver Account (Amounts < $250k)

No fees or penalties for withdrawing money
Savings guaranteed up to $250,000
Maximise your savings and reach your goals faster with Auto-Savings

0

1000

0

$product[$field["value"]]

$product[$field["value"]]

$product[$field["value"]]

More details

For customers aged 14-35 years

Future Saver Account ( < $50k)

0

1000

0

$product[$field["value"]]

$product[$field["value"]]

$product[$field["value"]]

More details
Important Information and Comparison Rate Warning
Image by Jon Tyson on Unsplash