This is up by 2.1% for the month and 4.5% over the past year.
This was the second edition of the new index since it was 'rejigged' last month to better reflect the post-lockdown era.
The HSI Index, which covers 12 spending categories, is currently at 110.3 - the highest level since December 2019 (111.1) - meaning it has 'recovered lost ground' caused by covid and the recession.
The increase in the HSI Index in November was driven by sizeable expenditure increases in Transport (21.5%); Travel (14.7%); Retail (9.6%); and Household services (9.4%).
These results comes as Australian borders are set to reopen this month - lockdowns have ended across the board, and last month's Black Friday sales saw Aussies spend a record-breaking $8 billion.
The HSI Index was partly offset by a 'sharp' decline in home buying, which is down 27.5% for the month.
This is likely due to seasonal factors at play as Christmas fast approaches and there being only four weekends in November, off the back of the five in October, according to CBA economists.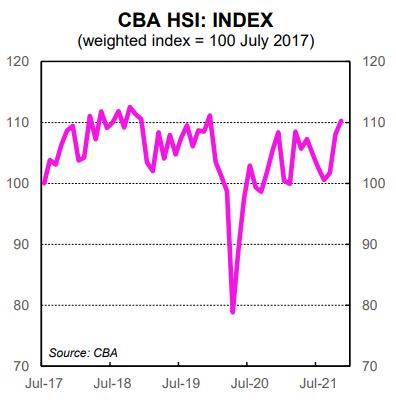 Travel, transport, and entertainment spending on the rise as we enter post-lockdown life
The Entertainment spending index was up by 8.5% - another 'strong' month - but remains down overall by 6.6% relative to last year.
Travel spending intentions rose by 14.7% - now up 25% over the past year - as domestic and international borders reopen.
The Travel spending intentions index is 'significantly' up by 77% since the Delta lockdown low in August 2021, but still 30% lower than pre-pandemic levels.
Transport spending intentions jumped by 21.5% last month - up by 39.4% since November 2020 - but is still 'well down' by 56% since November 2019.
Retail spending was up by a further 9.6% after 'solid' increases in October as the NSW and Victorian economies reopened.
Education spending intentions were up by 1.9% last month; Health & fitness spending intentions rose by 7.1%; Insurance spending was up by 0.5%; and Communications & digital spending intentions were up by 0.2% in November 2021.
Image by Patrick Tomasso on Unsplash