CommBank reports that the HSI Index reached 108.0 in October 2021, a strong rise of 6.6% compared to results recorded in September 2021, provided by the reopening of the economy and a willingness of Australians to get back out and about to spend and travel.
Consumer spending categories have been added from the original index launched by CommBank in 2019 to account for a total of 12 spending categories, including:
Financial & insurance costs
Transport
Utilities
Communications & digital
Household services
The updated HSI index is based at 100 as at July 2017, with CommBank noting an index number above 100 indicates that Household Spending Intentions are higher than they were as at July 2017, while a number below 100 indicates weaker spending.
Given the latest result 108.0, CommBank highlights the HSI Index is nearly back to the level of March 2021 the peak pre-Delta, and well up from the lockdown' low in August 2021.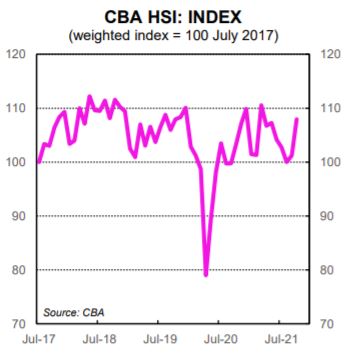 Source: CBA
Chief Economist and Head of Global Economic & Markets Research, Stephen Halmarick, said after months of restrictions, Australians are finally free to spend again.
"The strong index reading for October underscores pent-up demand across the economy, particularly for lockdown-affected sectors such as travel, transport and household services," Mr Halmarick said.
The category of travel saw the largest monthly increase, with the travel spending intentions index rising 52.7% in October from September driven by positive future outlooks with the likes of travel agents, airlines and cruise lines seeing a boost in spending intentions.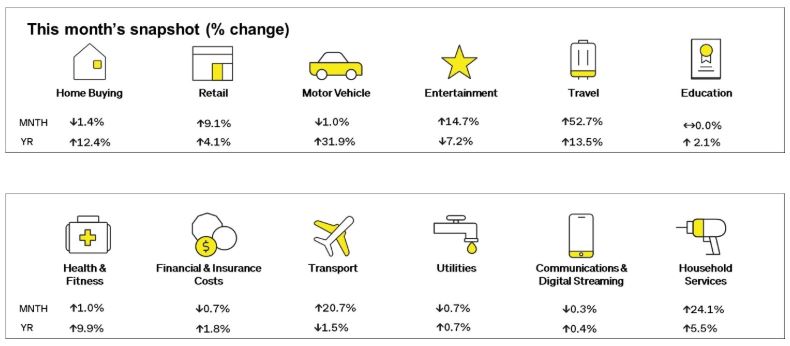 Source: CBA
"Many people are searching for getaways or going for a quick break after so many months being cooped up at home, and with the Christmas just around the corner, some are also already planning that December vacation," Mr Halmarick said.
Despite some spending categories showing significant growth, categories such as home buying and motor vehicle spending indexes slipped 1.4% and 1% in October from September respectively.
This follows APRA's steps taken to slow the pace of home lending by raising the serviceability interest rate, and supply chain delays continuing to impact new car sales.
"One of the lasting impacts of COVID could be Australian household appetite for private transportation options, especially personal cars," Mr Halmarick said.
"But due to global supply chain problems while the intent to buy a new car is there, that car may not be available from the dealership for quite some time."
Image by Mathieu Stern via Unsplash.