This rise is largest quarterly and annual rise since the introduction of the goods and services tax (GST) according to the ABS.
The most significant contributors to the rise in the March quarter CPI were new dwellings (+5.7%), automotive fuel (+11.0%) and tertiary education (+6.3%).
Annual trimmed mean inflation increased to 3.7%, up from 2.6% in the December quarter, placing it well above the Reserve Bank's target of 2-3% needed for a cash rate hike.
ABS' Head of Prices Statistics Michelle Marquardt said continued shortages of building supplies and labour, heightened freight costs and ongoing strong demand contributed to price rises for newly built dwellings.
"Fewer grant payments made this quarter from the Federal Government's HomeBuilder program and similar state-based housing construction programs also contributed to the rise," she said.
"The CPI's automotive fuel series reached a record level for the third consecutive quarter, with fuel price rises seen across all three months of the March quarter."
The Reserve Bank's next monetary policy meeting will be held next Tuesday 3 May.
Also read: How inflation actually impacts the wallet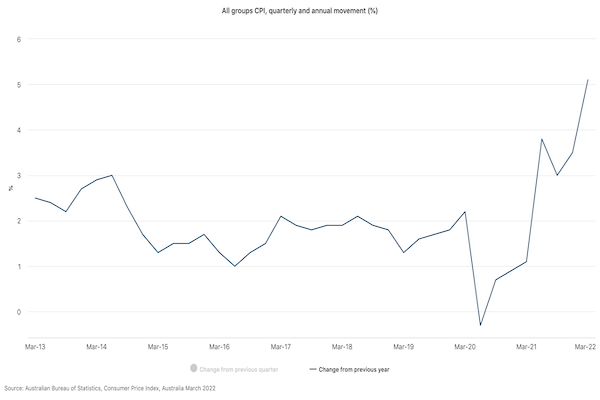 Inflation jumps ahead of expectations
Last week Westpac economists forecast a headline annualised inflation rate of 4.9%, and trimmed mean inflation of 3.4%.
Underlying or trimmed mean inflation refers to the headline figure with some seasonal or short term price impacts taken out of the equation.
"Our analysis of the distribution of seasonally adjusted prices highlights a large share price increases concentrating around the trimmed mean with few significant negatives to trim," Westpac economists said.
Also read: How could an RBA rate hike impact home owners and buyers
Experts tip an aggressive cash rate rise
AMP Capital chief economist Shane Oliver now expects the RBA to start hiking at its May meeting next week and by 40 basis points, which will take the cash rate to 0.50%.
"The latest inflation blowout adds significant pressure on the RBA to immediately start raising rates and to do so more aggressively than initially thought likely," he said.
"Hiking next week will mean moving before it gets to see March quarter wages data due on 18 May, which it has previously indicated it's inclined to wait for.
Image by Cindy Chen via Unsplash