The online retailer has partnered up with Citi to offer its first rewards credit card, the Kogan Money Black Card, which boasts no annual fees and a "rich uncapped rewards program".
Available from today, the Visa credit card is designed to reward Kogan.com customers and regular online shoppers.
Ross Metherell, Director of Strategy at Kogan.com said the Kogan Money Black Card is unmatched in value.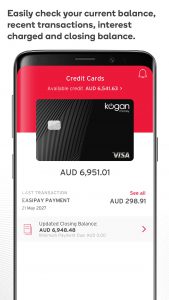 Image supplied by Kogan
"The Kogan Money Black Card and the new rewards program launched in conjunction with it provides Aussies with a new Visa credit card with access to rewards that provide unmatched value," Mr Metherell said.
"Kogan.com delivers what Australians need at some of the most affordable prices and rates available in the market, and Kogan Money is extending this concept to a range of in-demand financial products and services."
Cardholders will be rewarded with $300 Kogan.com credit when they spend $3,000 on eligible purchases in the first 90 days from approval. They'll also earn two rewards points per dollar on purchases of Kogan Exclusive Brands at Kogan.com and one rewards point per dollar on all other eligible purchases at Kogan.com and anywhere else.
Customers can then redeem those points to make purchases at the Kogan.com checkout at a rate of 1% per point. So if you've spent $500 on Kogan Exclusive Brands and earn points equal to $10, that can be redeemed on a future purchase at Kogan.com.
Cardholders can also enjoy a complimentary Kogan First membership which usually costs $99 a year, where they'll receive free upgrades to express shipping on eligible products, access to exclusive member deals and priority customer service.
The Kogan Money Black Card charges $0 annual fee and cardholders can take advantage of 0% on balance transfers for 12 months (after which time it will revert back to the cash advance rate which is 21.74% p.a.)
As with many rewards cards, the Kogan Money Black Card charges a high purchase rate of 20.99% p.a. so you may want to take advantage of the first 55 interest-free days on retail purchases.
'Social shopping' burning a $16 billion hole in our pockets
The announcement of the new Kogan credit card comes as research released by ING today revealed a new era of 'social shopping' is costing the nation $16 billion a year.
Click and collect, buy now pay later, and 'swipe to shop' features on social media have made impulse shopping even easier, with over a third of us admitting this has led us to buy things we wouldn't have otherwise.
Over 3.2 million people admitted to buying something they saw on their social media feed at least once a fortnight, at the cost of $860 a year per person.
Targeted shopping opportunities (like when your eBay searches pop up as ads in your Facebook feed) is clearly effective, with one in five of us admitting they consider buying something every time they scroll through their feed.
Facebook took the crown as the most popular social shopping platform (22%), ahead of Instagram (9%), YouTube (9%), Snapchat (4%) and Pinterest (4%).
Melanie Evans, ING Head of Retail says customers need to be aware of the sneaky tactics employed by social media platforms to get you to spend more.
"Online shopping is undoubtedly very convenient and the recent emergence of shopping via social media has made it easier than ever to get what we want, but it's also easy to unintentionally overspend," Ms Evans said.
"It's a good idea to be aware of the highly targeted advertising often employed by social media platforms, which can increase the temptation to buy things we otherwise wouldn't have considered."