According to Humm's half-year results ending 31 December 2020, it recorded an 89% growth in app downloads over the six months to reach 540,000.
Total group customers - that includes both Humm and smaller buy now, pay later (BNPL) player Bundll - grew 40%, from 2.28 million to 2.62 million.
That combined number of customers places Humm (formerly Flexigroup) as the second biggest BNPL platform in Australia, although Afterpay and Zip are releasing customers numbers tomorrow (25 February).
For the main Humm product, which allows shoppers to make "interest free" purchases of up to $30,000 through the platform to be repaid in "slices", monthly downloads and customer transactions finished the year up 130% and 31% respectively.
For Bundll, which can be used anywhere for smaller purchases, customers grew from its small base of 15,600 in June 2020 to just under 52,000 by February 2021, while monthly transactions increased from 82,000 to 321,000.
That's an increase of over 332% and 391% respectively, massive increases for what continues to be a growing and increasingly-competitive sector.
See also: Klarna surpasses 500,000 Aussie customers
Hummgroup Chief Executive Officer Rebecca James said that the ability to make larger repayments with Humm was a key reason for its growth.
"As the only BNPL provider facilitating transactions of up to $30k with payment terms ranging from five fortnights to five years, we believe our offering is the most flexible offering in the world," Ms James said.
"With substantial capital at our disposal, our ability to service large ticket items a key differentiator, and a significant international market opportunity, we have a strong platform for future growth.
"With BNPL adoption still in its infancy, humm will continue to challenge traditional and outdated point of sale finance products."
Ms James also said customers were looking to make more frequent transactions for smaller ticket items, which would explain Bundll's popularity.
"This growth was achieved while we continued to take a prudent approach to credit risk and approvals in the first half of the financial year," she said.
"At a time when we've needed to respond to the impacts of COVID-19 on both our business and our customers, these improvements have given us the agility to do so and come out of the pandemic in the strongest possible position."
See also: Credit card debt fell 25% throughout 2020
New code to 'name and shame' bad BNPL players
According to the Australian Financial Review today, an independent committee is set to draw up new standards for BNPL platforms.
Unlike the UK which recently moved to heavily regulate BNPL platforms, an Australian senate inquiry two years ago merely called for self-regulation by new and existing BNPL platforms.
While regulation is unlikely here anytime soon, the "code of practice for buy now, pay later providers" will give this new committee the power to name and shame providers who do the wrong thing and require them to pay compensation to wronged customers.
Transactions of more than $2,000 will require credit checks using customer income and expense data or an external credit file, while purchases above $15,000 (which Humm is quite unique for) will need both.
As explained in this article, most BNPL platforms in Australia do perform some level of credit checks, including Humm, but this code will seemingly seek to ensure greater monitoring.
A recent ASIC report found one in five BNPL customers miss repayments on average, with around half of those being charged late fees.
That report found Humm had a much smaller portion of customers incurring missed payment fees than the likes of Afterpay and Openpay, while Humm's latest report shows only 1.85% of customers are in 30+ day arrears.
In general though, late fees and missed payments appear to be becoming less frequent with BNPL platforms.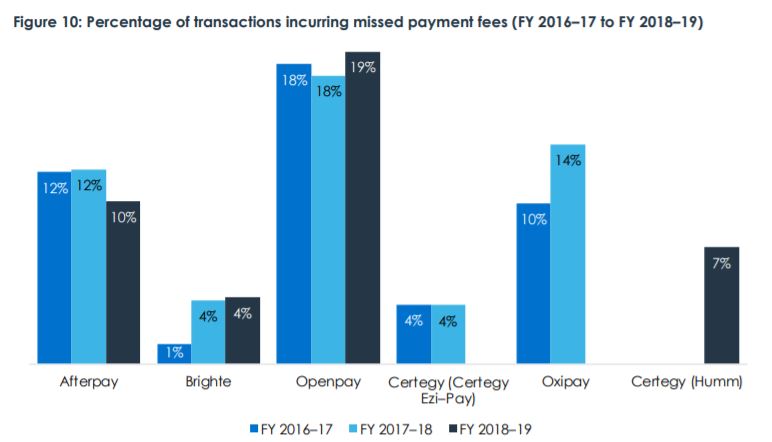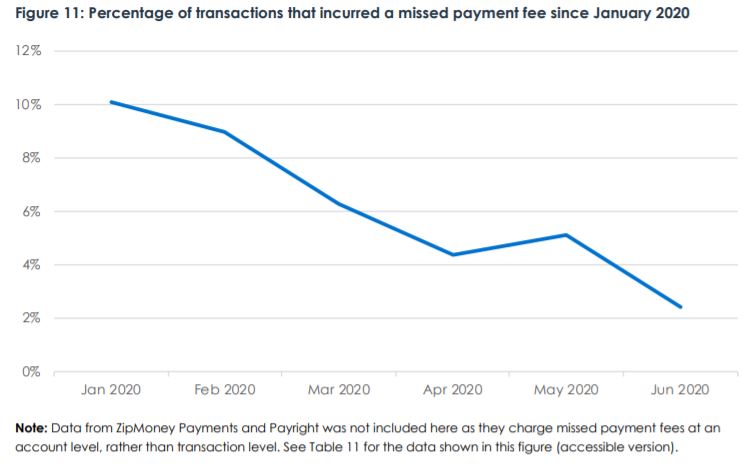 Source: ASIC
Consumer groups say self-regulation isn't enough
Numerous consumer groups have again called for the Federal Government to intervene and regulate BNPL platforms as credit providers.
Financial Rights Legal Centre, Financial Counselling Australia (FCA), Consumer Action Legal Centre and CHOICE all released a joint statement in response to the code, saying they are causing increasing numbers of people to end up in unaffordable debt.
"These services are growing at a breathtaking rate, and ASIC's research has shown that at least one in five consumers are missing payments. As this industry continues to grow, we will see increased debts and increased financial hardship," FCA CEO Karen Cox said.
"Right now, there is no obligation for BNPL providers to assess a person's ability to repay debt or handle a consumer's complaint fairly.
"We are glad to see the new Code requires membership in AFCA, but that is no replacement for proper regulation."
CHOICE Director of Campaigns and Communications Erin Turner meanwhile said the code as is would set an "inappropriately low bar for a growing industry".
"The Buy Now Pay Later sector is now selling debt for dental treatments, solar panels and other large purchases. It is credit in everything but name so the consumer protection laws for credit should apply in full, not a weak industry code," Ms Turner said.
"The Code will see businesses that fail to comply with basic standards face "naming and shaming" rather than the penalties or legal action other lenders face for significant breaches of consumer credit protections."
Image source: Humm