Built for the 'Afterpay generation', the new app's 'new approach' to money hosts features that aim to support customers in reaching their financial goals according to Afterpay.
Afterpay Co-CEOs and Co-Founders Anthony Eisen and Nick Molnar said bringing 'Money' by Afterpay to life reflects their drive to challenge the status quo in delivering a better offering.
"Afterpay has become synonymous with Buy Now Pay Later and now we hope Money by Afterpay becomes the go-to for all things money - earnings, spending, savings and BNPL," Mr Eisen and Mr Molnar said.
The app will include a simple yet 'compelling' savings offering for customers to set themselves savings goals.
Money by Afterpay doesn't charge customer fees, offering one daily transaction account with a physical debit card.
The app also includes a digital wallet with the ability to easily make and receive real time payments through the New Payments Platform (NPP) in collaboration with Westpac Banking as a Service.
Westpac Chief Executive, Specialist Businesses, Jason Yetton, said Westpac is particularly proud to bring this partnership to life.
"Westpac Banking as a Service will provide Money by Afterpay customers an innovative way to digitally bank underpinned by Westpac's strengths of safety, security and trust," Mr Yetton said.
The account also offers a 'competitive' variable interest rate of 0.75% p.a. on up to 15 savings accounts with a combined balance of up to $50,000.
What are the app's specific features?
The Money app has a few notable features, including 'Money Stories', 'Retro', Round-Ups, and PULSE points.
'Money Stories' holds more than 2,100 hours of conversations, content, and insights gathered by young customers - primarily females - to deliver customers their personalised 'social-media style' insights.
The world-first feature 'Retro' allows customers to create Afterpay pay in 4 orders for up to $200.
During customer testing, some saw this feature as a way to eliminate overdrawn fees or the costs associated with wage-advance apps.
However, the 'Retro' feature has been criticised for being "just another credit arrangement", with critics warning it might trigger a credit crackdown.
Additionally, customers can turn on the 'Round-Ups' feature, which will automatically round purchases to the nearest dollar and deposit additional funds into one savings accounts.
This amount can be multiplied by a factor of one, two, five, or ten times.
Afterpay's PULSE Rewards program helps customers earn points, further 'strengthening' the connection between the buy now, pay later (BNPL) roots and this new app.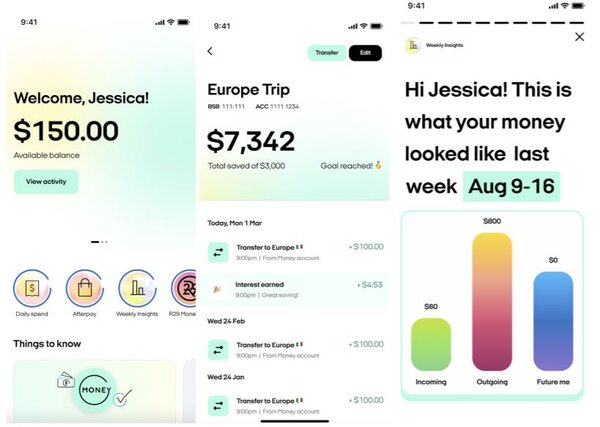 Source: Afterpay
Image by Christiann Koepke on Unsplash