Afterpay and Zip Co released their half-year results figures today, a day after Humm revealed its own 40% growth in customers and the new industry 'code of practice' was announced.
As a part of the results, Afterpay announced it had seen "strong growth" in its "most mature market" of Australia and New Zealand, growing its customer base to 3.4 million, a 10% increase from 3.1 million six months prior.
Globally, Afterpay's customer numbers grew 80% to 13.1 million, thanks mainly to its United States expansion, with an average of 23,000 customers joining per day.
Zip meanwhile had 2.5 million customers by 31 December 2020, which is a 39% rise from the previous half-year.
That now makes Zip the third-largest buy now, pay later (BNPL) behind Humm, which now has 2.6 million group customers.
Zip's report also noted it was the most-downloaded BNPL app in Australia for both December 2020 and January 2021.
In all countries, Zip's customers are up 217% year-on-year at 5.7 million.
Zip managing director and CEO Larry Diamond implied Zip's growth could be attributed to a shift away from credit cards.
"We genuinely believe the opportunity for Zip significantly grows each and every day as we continue to execute, build momentum and accelerate the global shift away from the broken and unfriendly credit card towards a better, fairer digital alternative," Mr Diamond said.
"We are well on our way to becoming the first payment choice, everywhere and every day."
While these BNPL platforms have reported sizeable customer growth, it's important to note that the real figures may not quite be so large.
According to the Reserve Bank, BNPL payments still account for less than 1% of retail payments - Zip reported a 106% half-yearly growth to 9.7 million transactions, which is a tiny amount compared to the near 17 billion made on credit cards in the same period.
Former Diners Club and Citi executive Grant Halverson told Savings.com.au in January that 'active customers' are defined by these platforms as one transaction made in 12 months, so the real number of customers is likely much lower.
"Actual BNPL usage numbers range from 2-6% active customers per month – this is very low," Mr Halverson said.
Zip, Afterpay welcome new industry Code of Practice
Yesterday the Australian Finance Industry Association (AFIA) announced its new BNPL industry Code of Practice, which aims to help industry players self-regulate and further enforce credit checks and compliance.
It also gives an independent committee the power to "name and shame" bad behaviour and enforce compensation to wronged customers, something various consumer groups described as an "inappropriately low bar for a growing industry".
Nonetheless, Zip and Afterpay both mentioned this new code in their reports and welcomed its introduction.
"The BNPL Code of Practice will establish a set of minimum standards to make sure our industry acts in the best interests of Australians," Mr Diamond said.
"Zip has been a key contributor to the code and we believe it is a strong first step to lifting standards across the industry.
"Zip will, however, continue to implement our own higher standards, particularly around customer suitability, which we believe deliver superior outcomes for our customers."
Late fees and missed payments were a big reason for drafting the new code, as an ASIC report last year found one in five BNPL customers miss repayments on average, with around half of those being charged late fees.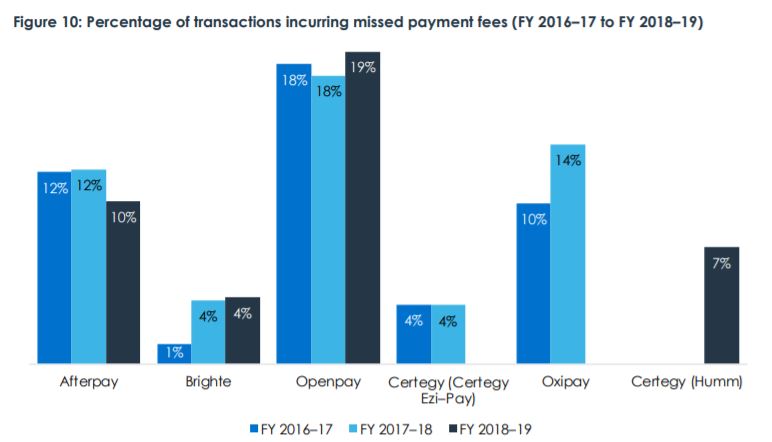 Source: ASIC
"Zip has done ID and credit checks on every customer since inception. As a result, we see one in every 100 customers late in any month, compared to one in six for credit card users paying interest and behind with their debt," Mr Diamond said.
Afterpay's report meanwhile showed late fees made up 9% of its total income, down from 15% in the previous half-year.
In 2019, late fees were around 20% of its income, which is inline with a broader trend of late fees declining in the industry.
"The [ASIC review] acknowledged the importance of consumer choice, protection and that there is a significant role for industry to play in self-regulation to achieve best outcomes for consumers," Afterpay said.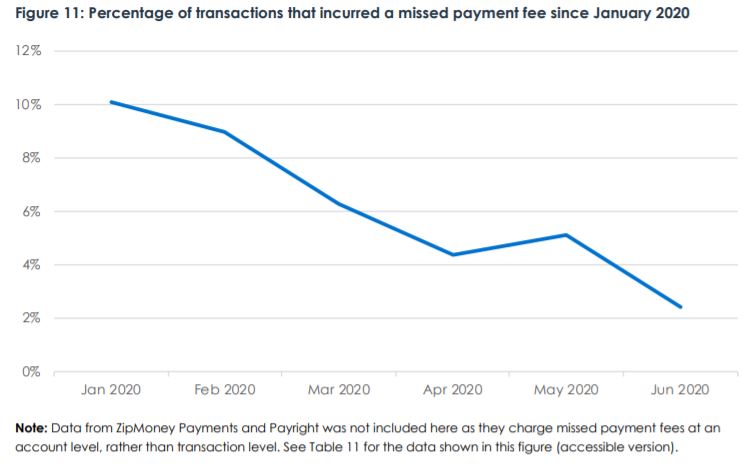 Source: ASIC
Photo by CHUTTERSNAP on Unsplash