That's according to the Genworth First Home Buyer Sentiment Report, which has outlined significant changes in trends among first home buyers (FHB).
The Genworth First Home Buyer Sentiment Report was based on a survey undertaken in June and July 2019, of 2,001 prospective FHBs and 1,008 recent FHBs across Australia.
The report found one in three (32.3%) prospective FHBs plan to sell within five years, more than double the proportion of recent FHBs (15.8%).
Consequently, small apartments have drastically increased in popularity as FHBs look to gain an entry-level property.
This was most evident in Sydney and Melbourne where more than one in three (36.3%) and one in four (24.9%) prospective FHBs respectively were planning to buy a small apartment as their first property.
Genworth CEO and Managing Director Georgette Nicholas said dynamic market conditions have resulted in new FHB behaviour and needs.
"As first home buyer needs continue to evolve it is important that a range of stakeholders (both public and private) work together to develop solutions that complement each other and continue to support the Australian dream of homeownership," Ms Nicholas said.
Duration that prospective and recent FHBs propose to hold their first property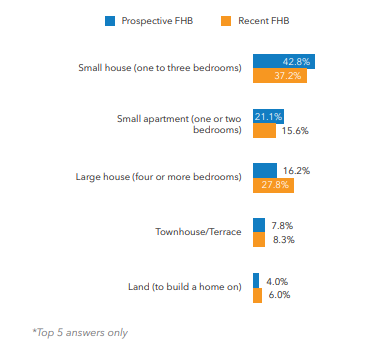 The report also found almost three in four prospective FHBs believe now is a good time to buy their first home, with one in two citing recent "falling property prices" as the primary reason.
Furthermore, 68% of recent FHBs and 58.8% of prospective FHBs believe property prices will stabilise or increase over the next 12 months.
These responses were recorded over June – July: August saw the largest increase in national dwelling values (0.8%) since October 2017.
To capitalise on this around 60% of prospective FHBs plan to buy now, despite having a deposit smaller than 20%.
This renewed optimism was reflected in comments by respondents, as one woman said it was better to pay off your own home than someone else's.
"My current rent would equate to mortgage, rates, water rates and insurance costs on a home of my own," the 49-year-old Western Australian resident said.
Reasons for believing it is a good time to buy a property now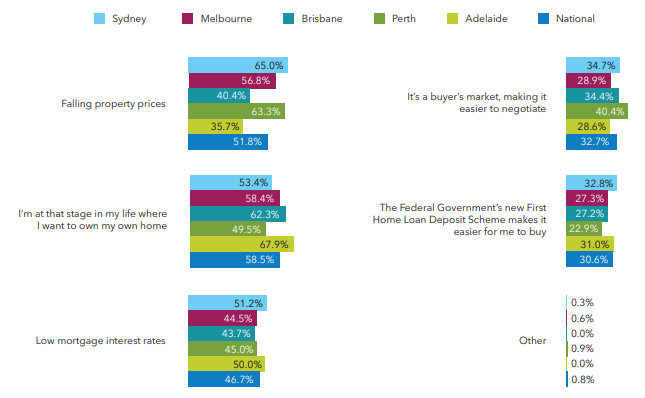 Saving for a deposit
As prospective FHBs look to buy a property with a below-20% deposit, buyers are relying on sources outside of their own income to bridge the gap:
This was consistent with how recent FHBs acquired their homes, with approximately 70% reporting they did not fund 100% of their deposits from their own savings.
The majority (56.9%) relied on parental or family assistance, while one in three (35.6%) paid LMI.
However just under half (47.4%), of recent FHBs purchased their first property with less than a 20% deposit, compared to the 59.3% of prospective FHBs looking to do the same.
Proportion of prospective FHBs who propose to buy with a less than 20% deposit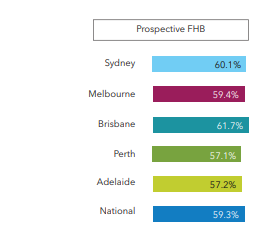 A common sentiment from respondents was that a 20% deposit wasn't necessary to buy a home.
"If necessary take out LMI because mortgage repayments are less than or equal to rent," a 35-year-old woman from Victoria said.
According to Ms Nicholas, Genworth has responded to these sentiments by developing new product offerings that provide more options and greater flexibility.
"To address the increasing demand for "entry-level" first homes which are held for less than five years we recently announced a new monthly premium LMI offering in addition to our current single upfront premium product," she said.
"This offering provides borrowers with the option of not capitalising the premium into their loan, as many do today with the single upfront premium product or paying the entire LMI premium in one lump sum payment."
Instead, customers can pay their LMI premium in instalments over time, which means a greater portion of their loan can be utilised to support the purchase of their first home.
"Importantly, our new monthly premium LMI provides borrowers with the flexibility to refinance at a later date (without the need for a refund of LMI premium) and lenders with the option of structuring this offering to enable borrowers to cease paying the LMI premium when their loan achieves a certain loan-to-value ratio."
Media influence
The report noted the increased influence that the media was having on the decision-making process of potential FHBs.
Two in three (66.6%) prospective FHBs reported that the media has influenced their decision on the timing of their first property purchase, compared to two in five (40.8%) recent FHBs.
Almost three in five prospective FHBs said their decision of where to buy (58.6%) and what type of property to buy (55.5%) was influenced by the media.
The influence of media on FHB decisions

Source: Genworth First Home Buyer Sentiment Report
---
---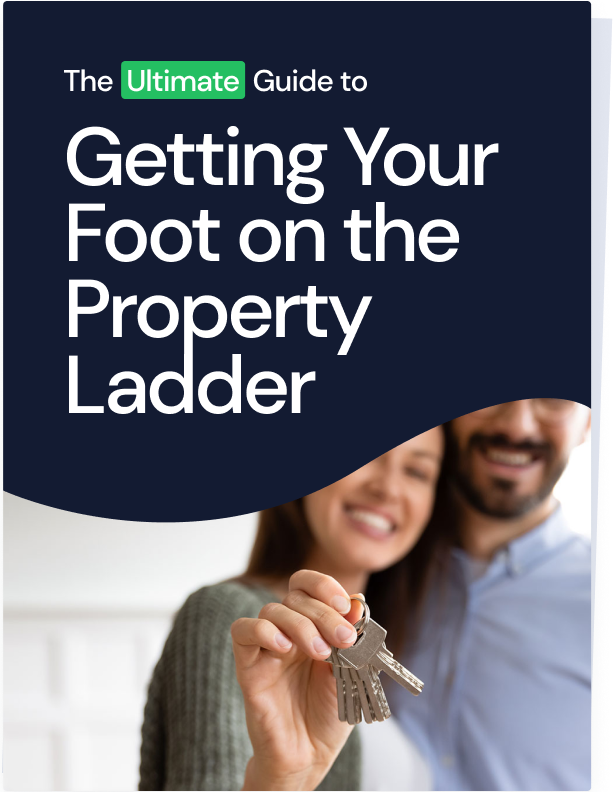 Ready, Set, Buy!

Learn everything you need to know about buying property – from choosing the right property and home loan, to the purchasing process, tips to save money and more!

With bonus Q&A sheet and Crossword!