The Indian-based company launched in Australia in March 2018 and is looking to break Uber's grip on the market with this new promotion.
The partnership allows Velocity members to earn one Velocity Point for every $1 spent on Ola rides, and two Velocity Points for every $1 spent on rides both to and from eligible airports.
Velocity members can also earn 1,000 bonus Velocity points when they take their first Ola ride.
Uber has a similar partnership with Qantas, however, their partnership only applies to rides to airports.
Ola is also offering a free trip, up to $30, for its first 1,000 passengers travelling to airports this Friday.
Simon Smith, Managing Director of Ola Australia and New Zealand, said the ride-sharing giant was excited to provide another reason for travellers to choose their service.
"We are incredibly excited about the partnership with Velocity Frequent Flyer," Mr Smith said.
"It provides both an integrated door-to-door experience for travellers and another way for Velocity members to earn Velocity Points doing something they do every day, like take a rideshare."
Ola currently operates in Sydney, Melbourne, Brisbane, Adelaide, Perth, Canberra and the Gold Coast, and was valued at $6.2 billion in May of this year.
How best can frequent flyer points be used?
Steve Hui is the founder of iFLYflat, the leader in rewards point management and is colloquially known as 'the points whisperer'.
He told Savings.com.au there are further methods to maximise your loyalty program points quickly and easily.
"A great points hack is 'double-dipping' on points by earning while shopping with loyalty program partners, and then earning more points when paying with an affiliated credit card," Mr Hui said.
"In addition to Ola, there is now a magnitude of ways to earn points from such diverse things as supermarkets, health, car and travel insurance, pet sitting, food delivery services and of course from flights and points-earning credit cards."
Mr Hui said airline loyalty programs are giving more extensive opportunities to earn points.
"This has become a competitive marketplace, the right choice for the savvy consumer is to pick the best-earning potential of every category in order to gain more points quicker toward their next trip or upgrade."
Rideshare competition in Australia
The Ola and Virgin partnership comes as another ride-sharing app, DiDi, which launched in Melbourne, Geelong and Newcastle in June 2018, launched in Brisbane this week.
Long dominated by Uber, the rideshare market in Australia is seeing some real competition, with Didi joining Ola and perhaps lesser-known names like Shofer, Taxfiy, GoCatch and Shebah.
Didi may now be Uber's biggest competition, as the already established Chinese company transported 450 million clients through 25 million rides a day in 2017; five times more than Uber.
For now though, Uber remains Australia's most accessible ride sharer.
At the start of July, research from Roy Morgan found that Uber was set to overtake taxis as Australia's preferred private transportation service.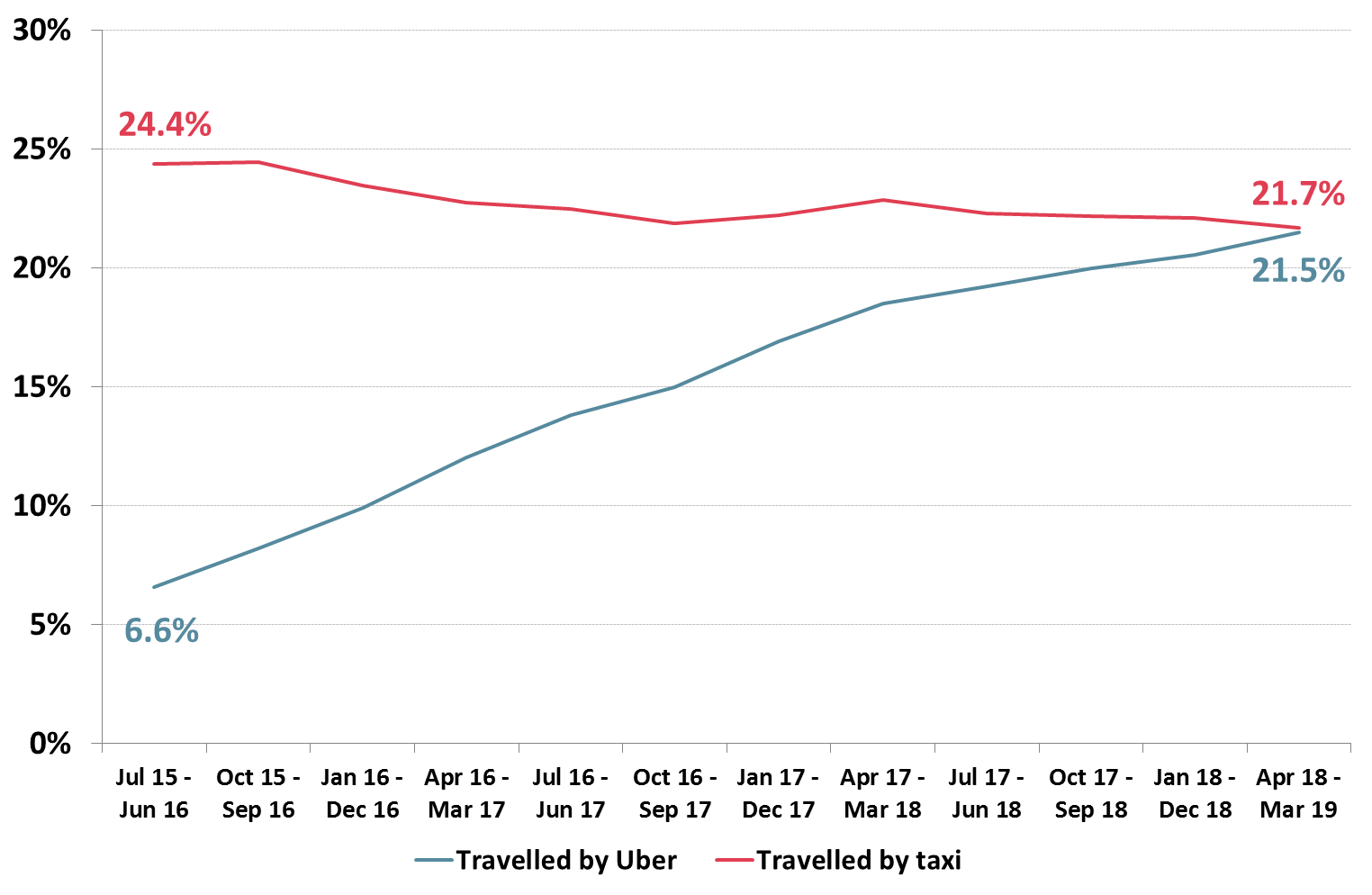 Source: Roy Morgan Single Source (Australia), July 2015 – June 2016 through to April 2018 – March 2019. Rolling 12 month quarterly figures. Average 12 month figure, n=14,762. Base: Australians 14+.
Launched in late 2012, Uber has had the advantage of being the first cab off the rank.
The Australian branch of the company made an A$4.4 million profit in 2017, while its parent company made a record loss of US$6 billion.