Roy Morgan's Digital Payment Solutions Currency Report surveyed more than 50,000 people on their awareness and usage of these services, and found millennials and Gen Z unsurprisingly dominated the results.
Millennials account for 40.6% of 'buy-now-pay-later' platform users, followed by Gen Z with 35.1%. That's 644,000 and 559,000 users respectively
Baby boomers and pre-boomers on the other hand account for just 4.9% (78,000) and 0.3% (5,000) of users.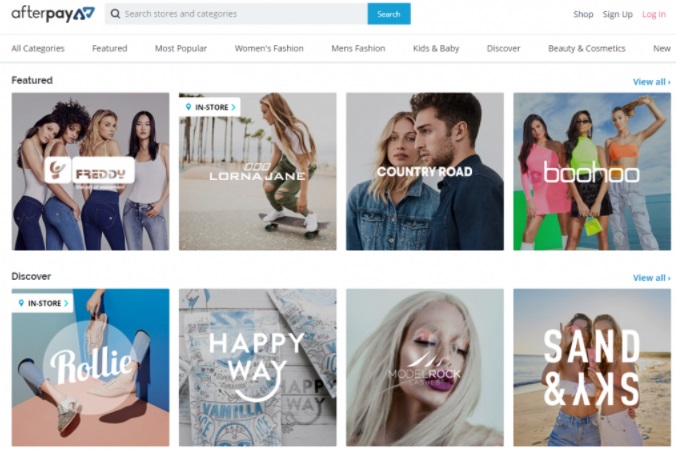 Of the total millennial (1979-1990) and Gen Z (1991-2005) populations, 12.3% use these platforms, compared with the national market average of 7.7%.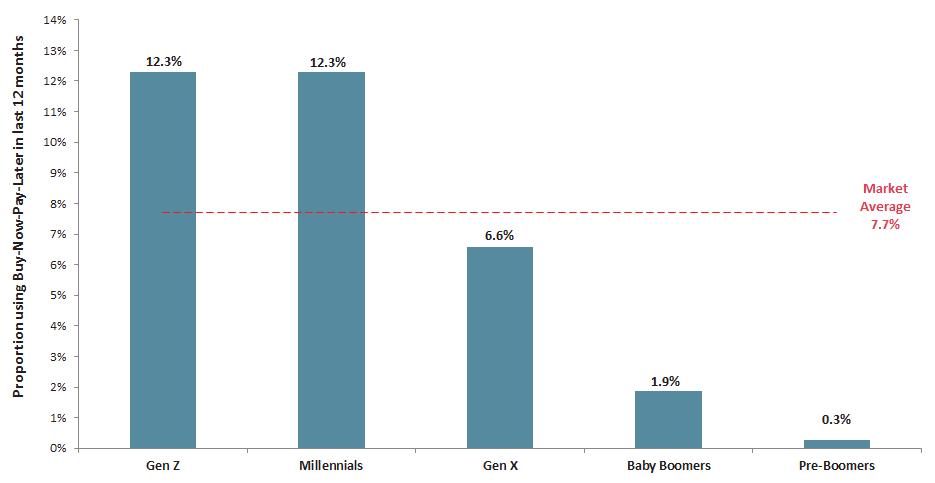 But according to Roy Morgan Industry Communications Director Norman Morris, there is a big opportunity to increase market share among all generations.
"The payment environment in Australia is facing rapid change as we see innovative new companies, such as Afterpay, changing the way people purchase goods that they may not be able to afford immediately," Mr Morris said.
"These 'buy-now-pay-later' companies are likely to pose a threat to traditional payment types such as credit cards as well as traditional financial institutions, as consumers can access a small amount of credit instantly with no documentation."
In fact they already are posing a threat – the number of active credit card accounts fell by 5% from January 2018 to 2019. That's a drop of more than one million accounts.
The value of purchases meanwhile has fallen by 2% year-on-year, indicating more and more people are flocking to new methods like buy-now-pay-later, mobile wallets or instant payments.
Additionally, Afterpay's 'How Millennials Manage Money' report found millennials are 37% less likely to own a credit card than older generations, and generally prefer greater control over their own money.
"The increasing use of new payment technologies is being aided by the growing proliferation and development of smart phones and wearables with integrated technology such as Apple Pay and Google Pay, and an increasing number of financial institutions enabling their customers to make payments with these devices," Mr Morris added.
"Consumers will come to expect the minimum effort when making payments and the industry will need to adapt to these changing expectations by providing more innovative and simpler solutions.
"Traditional financial institutions may need to collaborate with Fintechs and other third parties to keep up with the rapidly changing digital payment environment."
Afterpay dominates Zip
When it comes to brand awareness and usage, Afterpay is the clear winner over its nearest competitor, Zip and its two main brands: zipPay and zipMoney.
According to Roy Morgan's data, 39.9% of the overall population is ware of Afterpay, and 6.9% uses it.
Compared to Zip:
19% are aware of zipPay and 1.6% use it
14.4% are aware of zipMoney and 0.7% use it
According to Afterpay's 'How Millennials Manage Money' report, 69% of its users are young people under 34.
57% of these users say it helps them better manage their finances..
Overall, 42.9% of Australians are aware of the existence of such brands.
For feedback or queries, email will.jolly@savings.com.au