Australian Competition and Consumer Commission's (ACCC) petrol report for the December quarter revealed daily average retail petrol prices across all major capitals hit 182.4 cents per litre in February.
Fast-forward to mid-March petrol prices have rocketed further north, exceeding 200 cents per litre across all capitals.
NRMA spokesperson Peter Khoury said there remains no relief in sight.
The ACCC reported the last time prices in Australia were as high as they are currently was in January 2014 when strong international demand, conflicts in the Middle East and Ukraine, and lower exchange rates pushed real daily average petrol prices to 182.7 cents per litre.
In June 2008 during the Global Financial Crisis, daily average prices reached a record high equivalent to 212.9 cents per litre.
ACCC Chair Rod Sims said the world was already experiencing high crude oil prices late last year due to the continuing actions of the OPEC and Russia cartel, and the enduring Northern Hemisphere energy crisis.
"The shocking events in Ukraine have forced crude oil prices even higher, as Russia is a major supplier of oil," Mr Sims said.
"As refined petrol is made from crude oil, movements in the global crude oil price drive the international price of refined petrol.
"Crude oil prices have been climbing sharply since late-2020 and prices at the bowser here have followed."
Analysing the market in Sydney, NRMA details currently average regular unleaded prices should range between 217 cents per litre at the high point of the current cycle and 200 cents per litre at the low point of the current cycle.
Calls for Federal Government to cut fuel excise
The three main components of the retail price of petrol are MOGAS 95 (the benchmark price of refined petrol in the Asia-Pacific region), taxes (excise and GST), and other costs and margins at the wholesale and retail levels.
The ACCC noted in the December quarter, MOGAS 95 and taxes together accounted for 86% of the average price of petrol.
"It is tempting to point the finger at petrol retailers when prices are very high, but our data shows that late last year 86 cents of every dollar spent by consumers at the bowser was outside of the retailers' control," Mr Sims said.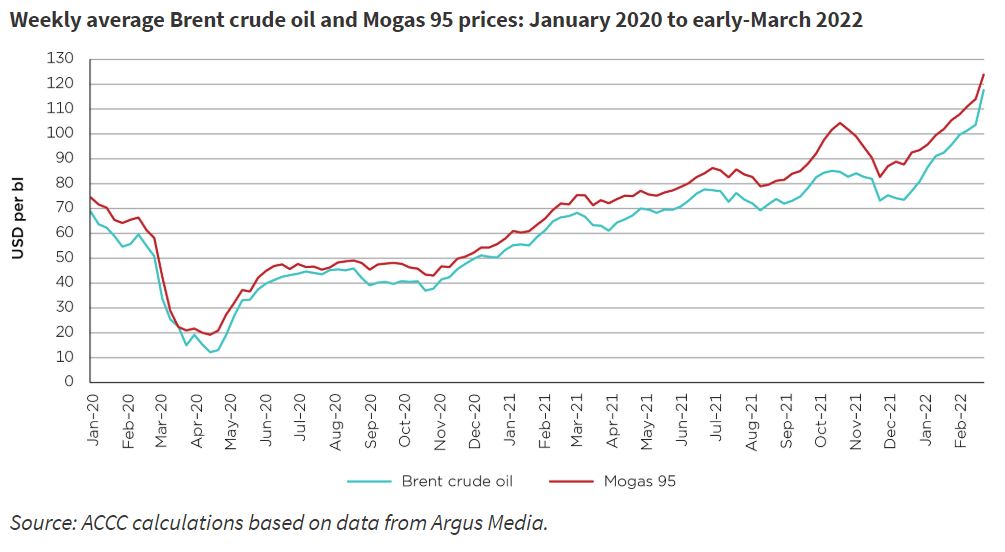 The Federal Government currently implements a 44 cents per litre fuel excise or tax in Australia for motorists, with that money going towards transport infrastructure.
The net revenue from Australian fuel excises according to the Australian Automobile Association is approximately $11 billion.
Calls for the excise to be cut are becoming louder, with two Nationals MPs in Queensland senator Susan McDonald and Victorian MP Anne Webster saying it will ease inflation and cost of living pressures.
Read more: What does rising inflation actually mean?
Prime Minister Scott Morrison told Weekend Today the excise is not going to change the fluctuations in prices Australians are having to pay at the pump.
"We've seen it [fuel prices] go from the $1.70s to $2.20s - that difference alone is above the total excise you pay on fuel per litre," the Prime Minister said.
Treasurer Josh Frydenberg told ABC News Breakfast it's the expectation that oil prices will remain elevated for some time as those tensions remain across Europe.
"Australia is a price‑taker of the global price per barrel of oil, which has dramatically increased by around a third since the invasion by Russia of Ukraine less than two weeks ago," the Treasurer said.
Senior Lecturer in Strategic Studies at Deakin University Vlado Vivoda believes cutting the fuel excise would undermine the government's longer term strategic goal to de-carbonise the economy.
"While making energy prices as cheap as possible does have some short-term economic logic, cutting the fuel excise would undermine the government's longer term strategic goal to de-carbonise the economy," Mr Vivoda said.
"It would also undermine state and territory government spending on policies to encourage the uptake of electric vehicles, through incentives such as stamp-duty waivers, free registration and rebates."
Electric vehicle uptake continues to power-on off the back of a bumper 2021, where sales increased 191.1% on 2020 with a total of 3,380 units sold.
Neighbours across the ditch slash fuel excise
The New Zealand Government has slashed its fuel excise by 25 cents per litre.
Currently, the national fuel tax for New Zealand is set at 77 cents per litre, or approximately 30% of the retail price of petrol.
The reduction of fuel excise is set to last for three months to curb inflationary pressures, with ANZ Economists forecasting a drop of 50 basis points to inflation estimates for the second quarter of 2022.
"The reduction in fuel excise tax will cause a one-off drop in prices, which we expect could reduce quarter-two inflation by 0.5% to 6.9% depending on how much is passed onto consumers, but every little helps," ANZ economists said.
ANZ notes New Zealand motorists are currently forking out an average of 306 cents per litre for fuel, compared to 265 cents per litre a month ago.
---
In the market for a new car? The table below features green car loans with some of the lowest interest rates on the market for low-emissions vehicles.
Lender

---

Fixed

New

1 year

More details

FEATURED

Approval within 24 hours

Green Car Loan Fixed

Save the planet. Save thousands on your car loan.
1% discount on qualifying electric cars
Required: Good credit history, stable employment history. Aus citizenship or PR.

Green Car Loan Fixed

Save the planet. Save thousands on your car loan.
1% discount on qualifying electric cars
Required: Good credit history, stable employment history. Aus citizenship or PR.

Fixed

New, Used

7 years

More details

Hybrid and Electric Car Loan

Fixed

New, Used

99 years

More details

Electric Vehicle Loan (Fixed)

Variable

New

99 years

More details
Important Information and Comparison Rate Warning
Image by Paul BR75 via Pixabay
---
---