Tapis Crude, the oil Australia primarily uses rose to almost $126 USD - a cost that is expected to be passed onto consumers.
Tapis Crude was trading for just over USD $61 a barrel two years ago.
Petrol prices could be set to rise to an average of 206.9 cents per litre (CPL) in Sydney with highs above 215 CPL at the peak of the next petrol cycle.
The cost of diesel is also expected to rise to a new record high in Sydney at an average of 189 CPL.
NRMA spokesperson Peter Khoury said there's no relief in sight for Australians who have already been paying record-high prices for regular unleaded fuel since late last year.
"Customers will continue to see new record prices set, with average prices soon to be above $2 per litre across most Australian capital cities," Mr Khoury said.
"A combination of factors are driving these record prices including an ongoing unwillingness by OPEC to increase production levels while demand increases globally, as well as the ongoing war in the Ukraine."
Mr Khoury said that despite the cost per barrel of oil being comparable to July 2014, the Australian dollar is currently lower, meaning that this is the highest Australians have ever paid for petrol.
This is in sharp contrast to the start of the pandemic where 91 unleaded fuel was commonly found for under 90 CPL and oil futures turned negative for the first time.
"Many Australians will remember when averages dropped to $1 per litre in April 2020, and driving around their local area to find service stations selling below the average," Mr Khoury said.
"If prices continue to surge, motorists could be faced with struggling to find prices under $2."
Australia sources a lot of its oil from Singapore's 'MOGAS' refined oil futures index, using Tapis crude oil sourced from the South China Sea.
But spare a thought for New Zealand - as of 28 February the average fuel price was more than NZD $2.80 a litre and hit $3 a litre earlier in the month.
See Also: Fuel Finder Apps Compared
Current petrol prices across Australian capital cities
The Australian Competition and Consumer Commission (ACCC) tracks the petrol price cycles across Australia's capital cities.
According to the ACCC, petrol prices are currently decreasing in Sydney, Brisbane, Adelaide and Perth. However, they are currently increasing in Melbourne.
NRMA included the current averages, highs, and lows of the petrol price cycles across Australia.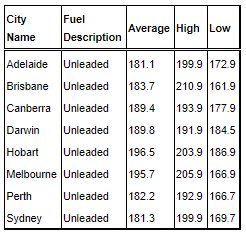 Source: NRMA
Image by Erik McLean on Unsplash