The survey of 1,005 respondents commissioned by Savvy has revealed 62% are concerned about increases in the price of food and groceries.
According to Savvy, when extrapolated this means twelve million Aussies are concerned about the personal impacts of rising grocery prices.
The survey revealed 31.1% of Aussies are currently spending over $100 per person, per week on groceries.
Savvy noted this could mean more than six million Australians are spending over $100 per person each week on groceries.
Savvy Managing Director Bill Tsouvalas said the increase in food prices is spurred on by ongoing supply chain issues, the recent floods in New South Wales and Queensland, and flow-on effects from global conflicts.
"Higher fuel prices cascade into food prices, especially when much of our supply chain is dependent on trucks," Mr Tsouvalas said.
"Energy prices, which have been high for many years, don't help the situation.
"Families will need to budget for the increase in food prices as well as any shocks in the system such as the inevitable increase in the RBA cash rate, typically used to combat inflation."
In the face of rising grocery prices, Savvy revealed 48% of those surveyed said they will simply "buy less", while 56% will change to cheaper brands.
Further, 54% of those surveyed will be more judicious with their grocery shop, only shopping during clearances or buying on-sale items.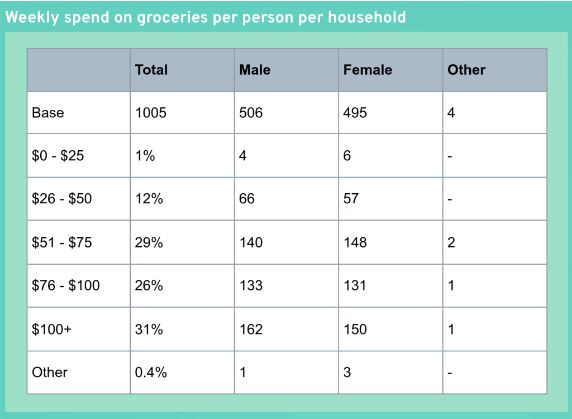 Source: Savvy
Read more: The cost of everyday items in Australia
This comes as inflation continues to bear a heavy weight on consumer confidence, impacting how Australians view the state of their finances compared to a year ago.
Recent research from ING revealed consumers are opting to shop for groceries online, with the average shopper potentially saving $1,369 by comparing retailers in a hunt for bargains.
Research from investment bank UBS for the March quarter revealed to The Australian Financial Review, prices for fresh food increased 4.8% and dry groceries increased 3.2% with inflation higher for Woolworths at 4.3% compared with Coles at 3.2%.
Read more: What does rising inflation actually mean for your wallet?
---
Advertisement
In the market for a personal loan? The table below features unsecured personal loans with some of the lowest interest rates on the market.
Lender

---

Fixed

Unsecured

N/A

More details

APPLY ONLINE

Low Rate Personal Loan Unsecured (Excellent Credit)

No ongoing or early exit fees
Flexible repayment options
Get quick decision. Funds in 24 hrs if approved

Variable

Unsecured

N/A

N/A

More details
Simplified Borrowing - 100% online process makes it easy to apply for a loan anytime, anywhere
Personalised Rates - Get a fair interest rate that's personalised to you
More than a loan - Behind the scenes is a friendly and dedicated team ready to answer your questions
Important Information and Comparison Rate Warning
Image by Maddi Bazzocco via Unsplash