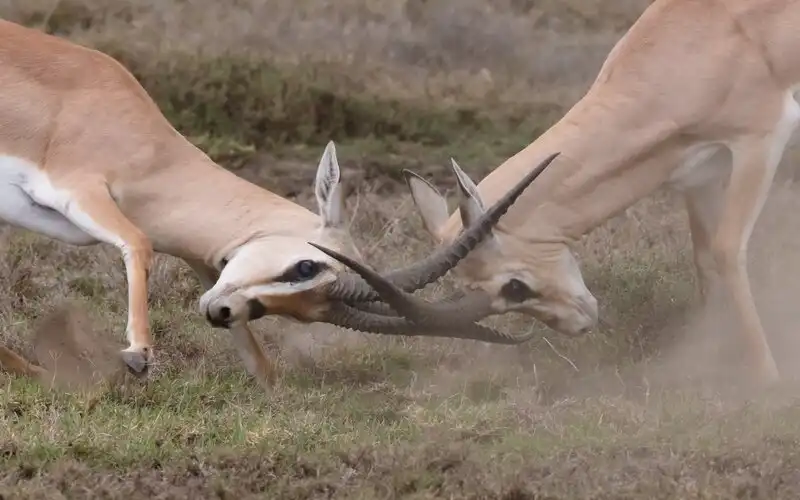 If you need to get a loan for a small purchase, you may need to decide between a personal loan or a payday loan.
Payday loans are often maligned (for good reason), so is there a situation where they may be more suitable than a personal loan?
We unpack the two, explore the dangers of payday loans, and reveal the key questions you should ask yourself before committing to either product.
---
In the market for a new car? The table below features car loans with some of the lowest interest rates on the market.
Approval in 24 hours
Balloon options to reduce repayments
No ongoing fees, no discharge fee
Base criteria: fixed and secured car loans for 'low emission' cars. Data accurate as at 01 September 2020. Rates based on a loan of $30,000 for a five-year loan term. Products sorted by advertised rate. Repayments are calculated based on advertised rates. *The Comparison rate is based on a $30,000 loan over 5 years. Warning: this comparison rate is true only for this example and may not include all fees and charges. Different terms, fees or other loan amounts might result in a different comparison rate. Rates correct as of January 28, 2022. View disclaimer.
---
What is a personal loan?
Personal loans allow you to borrow money from a lender, usually less than $100,000, and can be used to purchase assets like vehicles, or pay for expenses like holidays or renovations, and are typically repaid over seven years. They can be either secured or unsecured. A secured personal loan means the loan amount is secured against an asset you own, like your house, a vehicle or cash. An unsecured personal loan has no security, which makes them easier to get but will typically see you pay a higher interest rate.
---
What is a payday loan?
Payday loans allow you to borrow a small amount of money, typically less than $5,000, which is repaid over anywhere from 16 days to a year. Payday loans are typically very simple to get and the money can be in your account in under an hour when approved, with repayments made in line with your pay. Often the only requirements to be approved for a payday loan is to be over 18, an Australian citizen or permanent resident, and have a regular income, even if that's Centrelink payments.
---
What are the dangers of payday loans?
Payday loan lenders aren't permitted to charge interest on the amount you've borrowed. Consequently, they make up for this by charging high fees. These include:
Establishment fee - maximum fee is 20% of the borrowed amount

Monthly service fee - maximum fee is 4% of the borrowed amount

Default fees - maximum fee is 200% of the loan amount

Missed payment fees
It's these fees that cause many people to fall into a debt trap. For example, if you took out a payday loan for $1,000, you would have to pay a $200 establishment fee and a $40 monthly service fee, so you've technically taken out a $1,240 loan. Payday loans typically appeal to people with bad credit ratings, who are already in financial distress and can't get a credit card or loan from anywhere else.
A report from the 'Stop the Debt Trap Alliance' released in November 2019, found payday loans often turned into multiple, with equivalent annual interest between 112% and 408%. Many lenders require repayments to be made via direct debit when they receive income, leaving them with nothing left to live on. As a result, they take out another payday loan to make ends meet. Payday loans are considered so dangerous by the government that payday lenders are legally required to display the following disclaimer to potential borrowers: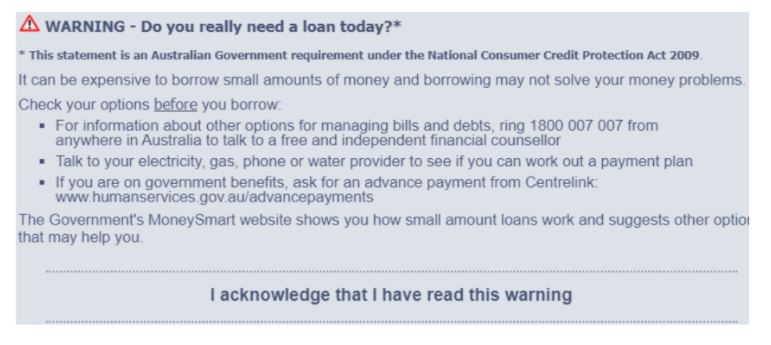 Payday loans are also likely to affect your credit score, especially if you're missing payments or taking out multiple loans. Given the majority of people who take out payday loans already have bad credit scores, payday loans often only compound this, making it even more difficult to ever be approved for a better value loan.
---
What's the difference between payday loans and personal loans?
Here are some of the main differences between payday loans and personal loans:
Loan length
Personal loans typically range from five to seven years, but you may be able to pay them off sooner if your lender allows for additional repayments. Payday loans are legislated to run for no longer than one year and have a minimum length of 16 days.
Loan amount
While personal loans can be used for smaller purchases, you can still borrow a significant amount of money, often up to $100,000. Payday loans typically won't allow you to borrow more than $2,000 but some may go as high as $5,000.
Interest rates and fees
Personal loans charge a fixed or variable interest rate for the period of the loan, and may also have other fees like application fees and monthly fees. Payday loans don't have an interest rate, instead charging multiple fees, like monthly fees, establishment fees, default fees, and missed payment fees.
Lenders
Most lenders offer personal loans, with all of the big four banks in Australia (ANZ, Commonwealth Bank, NAB, Westpac) offering them. Payday lenders, such as Nimble and Wallet Wizard, typically only offer payday loans. No matter whether it's a bank or a payday lender, it's worth doing your research before choosing a lender.
Borrowers eligibility
Lenders will often put potential borrowers through stringent criteria to ensure they can handle the repayments of a personal loan, especially in the case of a secured personal loan. The lender needs to ensure the security is sufficient for the loan, and for both secured and unsecured, will require proof of employment, recent paychecks, bank statements, and ID information. A payday loan will often have very few eligibility requirements - if you're an Australian citizen or permanent resident, are over 18, and have an income stream, you're likely to be approved.
Loan restrictions
Especially in the case of a secured personal loan, the lender will put restrictions on what you can use the borrowed funds for. For example, if you're buying a car and using that as security, the lender would lend you the amount needed to purchase the car and no more. An unsecured loan is more relaxed, but the lender may want a vague idea of what the funds are for. Payday loans have zero restrictions on what you use the funds for, which is where some people can get into trouble, using the funds for non-essential spending.
---
Questions to ask yourself prior to borrowing
If you're tossing up between a personal loan and a payday loan, ask yourself the following questions:
How's your credit score?
If you have a great, good, or even decent credit score, you may be able to get a personal loan. If you want an unsecured loan you'll more than likely need a good score as the lender is taking a risk lending to you given there is no security on the loan. Secured loans are easier to get if you have a poor score as there is security on the loan. If you have a bad credit score, lenders may not want to take the risk in letting you take out a personal loan. If this is the case then a payday loan may be more suitable, given their simplicity to obtain (therein lies their danger).
How much do you want to borrow?
If you want to make a purchase for anything over $5,000 then a personal loan is likely to be more suitable, as this is the greatest amount a payday lender can loan. Personal loans aren't typically available in amounts under $5,000, so for smaller purchases like this, a payday loan may be more suitable.
How soon do you need the funds?
The marketing of payday lenders often centre around how quickly they can get the money to you. Think big flashing text "IN YOUR ACCOUNT IN UNDER AN HOUR." Personal loans take longer, with the timing dependent on the lender, what you're purchasing and whether the loan is secured or unsecured. Secured loans take longer than unsecured as there is a more stringent process.
What can you afford?
Prior to borrowing any amount of money, you should ensure you can handle the repayments and fees that come with the loan. There are a plethora of calculators online to see what your monthly repayments would be for a personal loan, including this one if you're looking at buying a car. If you're looking at a payday loan, find out all the information you can about fees and do your own budgeting to ensure you can afford the loan. You should also consider the possibility of becoming part of the 'debt spiral' that so many payday loan borrowers experience, and whether you can afford that.
What do you need the funds for?
A personal loan may typically be more suitable for large purchases like a car or a holiday, while payday loans are often marketed towards people that need money for unforeseen expenses. Keep in mind if its a secured personal loan, you'll only be able to buy the asset you've told the lender you will buy, so if you want more flexibility, consider an unsecured loan.
---
Savings.com.au's two cents
Payday loans have warning labels on them for good reason, so it's generally better to avoid them if you can. In the past, payday lenders have been accused of preying on the vulnerable, causing them to fall into a debt trap.
However, if used correctly, a payday loan may help tide you over till the next paycheck. But consider the high fees and the risks to your credit rating.
Personal loans are quite a different product and harder to get for good reason. They're usually for larger amounts so lenders need to ensure they are responsibly lending.
Consider talking to a financial adviser if possible, or perusing this website further on the dangers of payday lending and where a personal loan can be suitable.
---
Photo by jean wimmerlin on Unsplash