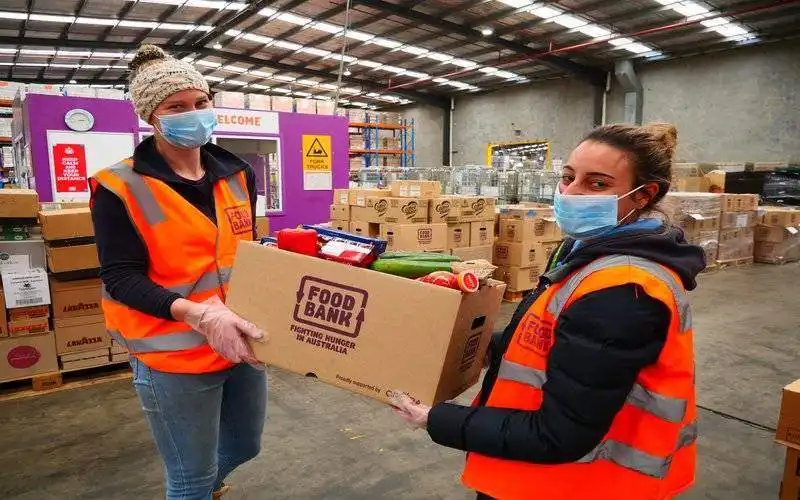 Image source: Twitter
Charities such as Foodbank have seen significant demand for their services as a result of COVID-19.
A number of groups told the Senate's COVID-19 committee on Wednesday that a hard end to support measures like JobKeeper and JobSeeker would see their services overwhelmed.
Foodbank chief executive Brianna Casey told the committee 1.4 million people a month were now relying on it.
"We were already assisting 815,000 people per month before the devastating summer bushfires and before the impact of COVID-19 took hold," Ms Casey said.
"In recent months we have seen a 78% increase in demand for food relief, and we have a very real concern that we are not yet at the peak of food relief demand, especially in areas still recovering from natural disasters; in that, I include both bushfires and drought.
"We are nervous about the proposed timing of the removal of the JobKeeper, JobSeeker and coronavirus supplements, particularly given the strong correlation between poverty, unemployment, underemployment and food insecurity."
Need somewhere to store cash and earn interest? The table below features introductory savings accounts with some of the highest interest rates on the market.

Lender

---

4
0
0
0
$product[$field["value"]]
$product[$field["value"]]
$product[$field["value"]]
More details
FEATURED

Savings Account (Amounts < $24k)

0
200
0
$product[$field["value"]]
$product[$field["value"]]
$product[$field["value"]]
More details

PremiumSaver (Amounts < $250k)

3
0
0
0
$product[$field["value"]]
$product[$field["value"]]
$product[$field["value"]]
More details

0
10
0
$product[$field["value"]]
$product[$field["value"]]
$product[$field["value"]]
More details

4
0
0
1
$product[$field["value"]]
$product[$field["value"]]
$product[$field["value"]]
More details

WebSavings Account (New Customer) ($2,000+)
Rates based on a savings balance of $10,000. Sorted by total interest rate. Refer to providers' websites for bonus rate conditions. Note that the base rate will apply once the introductory term has passed. Rates correct as of May 18, 2022. View disclaimer.
St Vincent de Paul chief executive officer Toby oConnor told the committee the pandemic meant it was seeing a change in the profile of people seeking assistance.
"There has been an increase in new clients—people who don't normally present to charities," Mr oConnor said.
"Many of these people have fallen through the cracks, mainly because they don't qualify for government assistance—namely asylum seekers, international students and casual workers who have lost their jobs."
Mr oConnor echoed Ms Casey's sentiments and called for a permanent boost to JobSeeker, as well as more affordable social housing.
"We think it's only fair that the old Newstart—now Jobseeker—align with other pension payments and be increased by $180 per week," he said.
"The second is a Commonwealth, state and territory national housing strategy.
"This needs to cover a 25-year period and set targets to reduce homelessness and increase the pool of safe and affordable social and community housing through a long-term cross-government funding commitment. Housing should be treated as a human right."
The Red Cross also called for increased support for temporary visa holders, telling the committee it had supported over 14,000 of these people in the last three months, compared to only 620 in the same time last year.
JobKeeper and the increased JobSeeker payment are scheduled to end at the end of September, with a decision on their fate to be handed down by the Treasurer in his mini-budget on July 23.
Welfare groups have been vocal in the need for an extension but the Government has insisted these measures were always temporary.
Social services minister Anne Ruston last week denied reports there would be a permanent increase to JobSeeker and said the focus was on job creation.
"We're looking around the states and territories to open up their economies so we can recreate jobs so we can get people who have found themselves unemployed through this pandemic, or on JobKeeper because their businesses had to shut down, slow down, or step back, to make sure that those jobs are recreated so we can get Australians back to work," Ms Ruston said.
ATO website crashes in demand for early super withdrawal
The start of the new financial year on Wednesday brought with it the opportunity for those experiencing financial hardship to withdraw another $10,000 of superannuation.
As people tried to access this money, as well as lodge tax returns, the Australian Taxation Office Website (ATO) crashed with the high level of traffic.
The most recent figures from the Australian Prudential and Regulation Authority (APRA) showed 2.4 million people had applied to access their super, with $17.1 billion paid out.
The support measure has received heavy criticism in recent weeks, as a large number of people have used the money for non-discretionary items like gambling, alcohol, and furniture.
---
Latest Articles