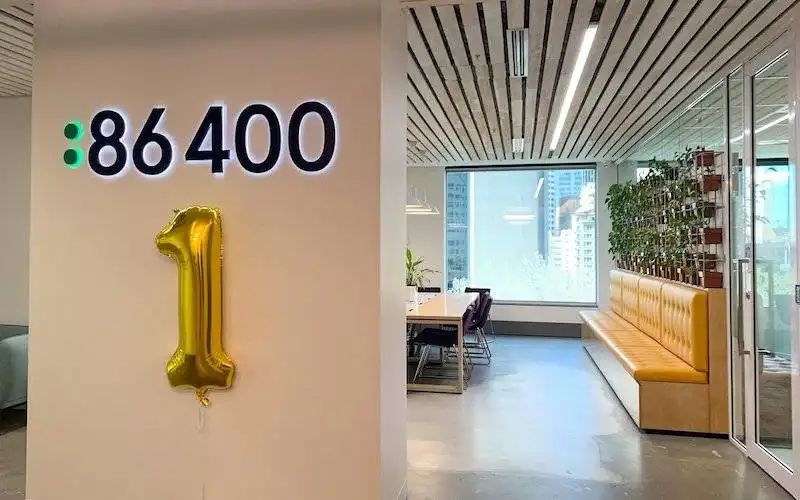 Australia's corporate and prudential regulators have now both approved the sale of neobank 86 400 to NAB.
UPDATE 28/04/21: Australia's prudential regulator APRA has just granted approval to NAB to hold a 100% stake in 86 400, meaning the purchase will go ahead subject to court approval.
---
The $220 million purchase of the neobank, announced at the end of January, was subject to approval from the Australian Competition and Consumer Commission (ACCC).
ACCC chairman Rod Sims said the sale of 86 400 was unlikely to lessen competition in the banking sector, but would continue to scrutinise proposed acquisitions by the major banks.
"Market feedback suggested that while 86 400 is innovative, particularly in reducing the time and effort in completing home loan applications, there are a number of other businesses with similar offerings or the ability to replicate them," Mr Sims said.
"These other competitors continue to bring a similar disruptive influence to the market.
"Supporting our decision is that we have seen several banks and non-bank lenders outside the big four invest heavily in their technology and service offering to improve user experience."
---
Need somewhere to store cash and earn interest? The table below features savings accounts with some of the highest interest rates on the market.
Lender

---

4

0

0

0

$product[$field["value"]]

$product[$field["value"]]

$product[$field["value"]]

More details

FEATURED

Online Saver (Amounts < $499999)

4

0

0

0

$product[$field["value"]]

$product[$field["value"]]

$product[$field["value"]]

More details

High Interest Savings Account (< $250k)

4

0

0

1

$product[$field["value"]]

$product[$field["value"]]

$product[$field["value"]]

More details

0

50

0

$product[$field["value"]]

$product[$field["value"]]

$product[$field["value"]]

More details

0

0

0

$product[$field["value"]]

$product[$field["value"]]

$product[$field["value"]]

More details
Rates based on a savings balance of $10,000. Sorted by total interest rates. Refer to providers' websites for bonus rate conditions and for any applicable fees and charges. Rates correct as of June 26, 2022. View disclaimer.
NAB plans to merge 86 400 with its subsidiary UBank, with the two set to operate independently until the finalisation of the purchase in the coming months.
UBank chief executive Philippa Watson said the acquisition would allow the businesses to deliver a market-leading digital experience.
"For UBank, the proposed acquisition is part of our commitment to delivering exceptional banking services and experiences to our customers," Ms Watson said.
"We are pleased with the ACCC's decision and look forward to our continued engagement with regulators as we progress towards completion of the transaction."
Further regulatory approvals are required before the sale is made final, as well as approval from the Federal Court.
It's not yet known whether the 86 400 brand will remain after the merger, nor what savings account rate 86 400 customers will receive.
Speaking to Savings.com.au shortly after the purchase was announced, 86 400 chief executive Robert Bell said Australians could expect even greater things from the lender.
"We'll continue to have competitive rates and fees, but with even greater scale, enabling us to help even more Australians take control of their money," Mr Bell told Savings.com.au.
"While we are still working through some specifics such as the combined business name, our intent is for the look, feel and experience to reflect the best of both businesses."
The neobank struggle
It's been a challenging 12 months for the neobank sector, with Xinja's infamous collapse, Volt Bank not yet launching a public product, and Bendigo and Adelaide Bank subsidiary Up Bank yet to launch mortgages.
Judo Bank is the notable exception, hitting $1 billion in customer deposits and a loan book of $2.6 billion at the end of 2020, although it prefers to not be called a neobank.
Senior industry analyst at IBISWorld Yin Yeoh noted in a report that neobanks could not survive without loan products.
"To remain in the market, a neobank has to be profitable. In order to be profitable, these banks have to launch loan products that are profitable, including personal loans [and] mortgages," Ms Yeoh said.
---
Image source: Twitter