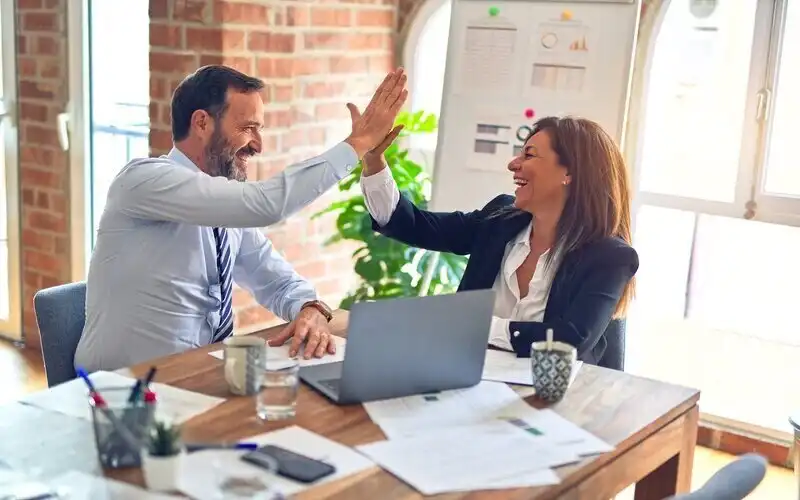 Australians are feeling a little more confident after last week's Federal Budget, and they're keen to get out and spend.
That's according to both the latest ANZ-Roy Morgan Australian Consumer Confidence index and Commonwealth Bank Household Spending Intentions (HSI) data for April.
According to ANZ-Roy Morgan's data, consumer confidence increased 0.8% last week, due to both the warm response to the Federal Budget (the most well-received in more than a decade) and a lack of local coronavirus cases.
"Consumer confidence increased by 0.8%, with sentiment in Sydney jumping 5.4% as no new community cases of COVID-19 were reported," ANZ Head of Australian Economics David Plank said.
"The greater than expected spending promised by the government in the federal budget may have also provided a boost to confidence.
"Among the detail, 45% of the responders said it is a 'good time to buy a major household item' versus 22% for it being a 'bad time to buy', which are respectively the highest and lowest values since February 2020."
See also: Federal Budget 2021-22 - what's in it for savers?
---
Need somewhere to store cash and earn interest? The table below features savings accounts with some of the highest interest rates on the market.
The consumer confidence level of 112.5 is almost exactly the same as the rolling four-week average of 112.3, as well as the monthly average of 112.6 since 1990.
'Time to buy a major household item' gained 6.2%, 'Current financial conditions' rose 1.6%, while 'future financial conditions' expectations were up 0.1%.
These numbers are much higher compared to 12-months prior, when confidence and future expectations plunged to near-record lows at the beginning of the COVID crisis.
Another consumer confidence index - the Westpac-Melbourne Institute consumer sentiment survey - reported a low point of 75.6 in April 2020.
ANZ's weekly data meanwhile found the four-week moving average was as low as 84.2 at this point in 2020.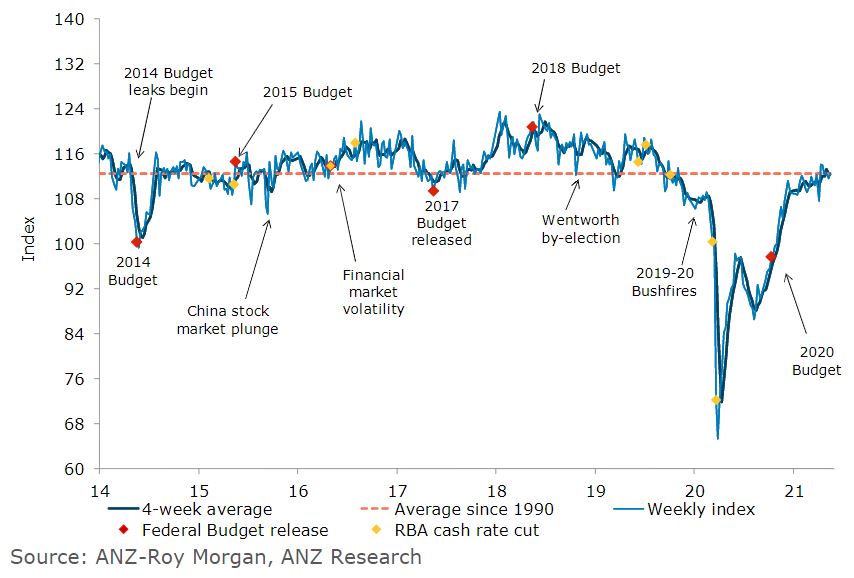 Related: House price increases weigh on consumer confidence
Home buying, entertainment spending intentions climb
A year on from April 2020's lockdown-induced lows, spending intentions across all seven categories tracked by Commonwealth Bank (CBA) showed "strong improvement, in a sign the economy advanced its recovery in April".
"This comes as no surprise as we know that April 2020 was the low-point for spending as the first wave of Covid-19 restrictions hit Australians," said CBA Chief Economist Stephen Halmarick.
"A year later, the economy has recovered strongly from Covid-19 impacts, with employment above pre-pandemic levels and household spending intentions on the rise as consumers once again feel confident about their economic prospects."
The HSI series covers around 55% of Australia's total consumer spend across; retail, travel, education, entertainment, motor vehicles, and health and fitness.
In particular, home buying intentions continued to surge, as both loan applications and related Google searches increased.
Travel spending intentions "skyrocketed" compared to 12 months ago when almost all travel was halted, while entertainment spending in particular was also much higher at bars and pubs, restaurants, movie theatres, and live theatre.
Related: Travel bubble, discount flights boosting confidence and spending already
According to Mr Halmarick, the increase in spending intentions across all of these was reflected in last week's budget.
"The Budget's targeted support programs aim to put more people into jobs and ensure the economic recovery is widespread," Mr Halmarick said.
"We expect the residential property market to be a key source of support for Australia's economy in 2021, driven largely by the very low level of interest rates."
---
Buying a home or looking to refinance? The table below features home loans with some of the lowest interest rates on the market for owner occupiers.
Min 30% deposit
No monthly or ongoing fees, add 0.10% for offset
Unlimited redraws
---
Photo by krakenimages on Unsplash