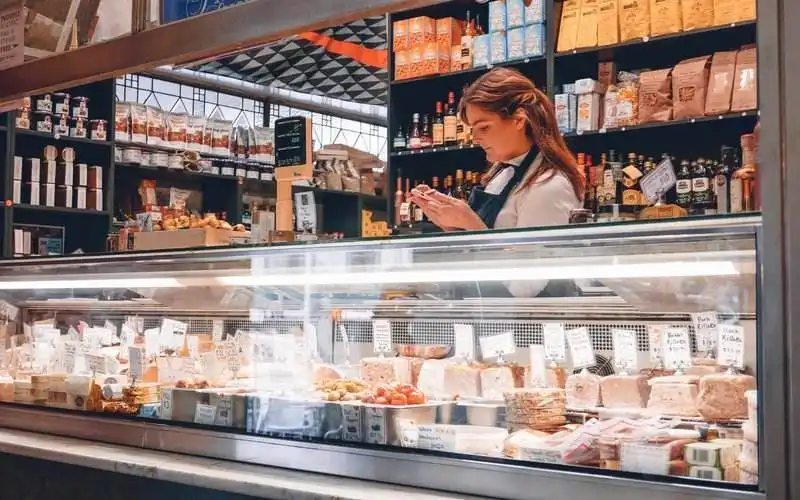 Photo by Anggun Tan on Unsplash
Wages in Australia grew 0.2% in the June quarter and 1.8% through the year, seasonally adjusted.
The Wage Price Index (WPI) figures from the Australian Bureau of Statistics (ABS) reveal the full fallout on wages from the COVID-19 pandemic and social distancing restrictions.
Head of Price Statistics at the ABS Andrew Tomadini said it was the lowest wage growth seen since records began.
"After a steady period of wage growth over the previous 12 months, wages recorded the lowest annual growth in the 27-year history of the WPI," he said.
"The June 2020 quarter was the first full period in which COVID-19 social and business restrictions were captured in the WPI.
"The June 2020 quarter rise was mainly in the public sector (0.6%). Private sector wage growth eased to 0.1% as businesses adjusted to changes in the Australian economy."
NAB had forecasted wage growth to stall to be down 0.1% while the market consensus was a 0.3% increase.
Need somewhere to store cash and earn interest? The table below features introductory savings accounts with some of the highest interest rates on the market.
Private sector wages fell 0.1% in the June quarter, which was offset by a 0.4% growth in public sector wages.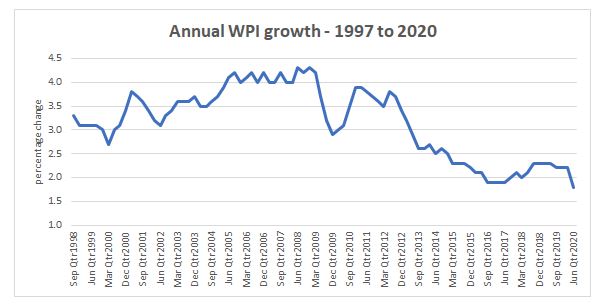 Source: ABS
Mr Tomadini said it was the first time there had been a negative wages result in the history of the WPI.
"The fall in private sector wages is mainly due to a number of large wage reductions across senior executive and higher paid jobs," he said.
Wages in electricity, gas, water and waste service recorded the highest quarterly rise of 0.6%, while arts and recreation services recorded the highest through the year rise of 2.6%.
Construction saw the lowest through year rise of 0.8%, with the pandemic ravaging the industry, however, the government's HomeBuilder scheme is expected to kick the industry back into gear.
Arts & recreation had the highest wage growth over the past year at 2.5%. Unfortunately, the sector was also among the hardest hit from job losses due to COVID-19 #ausbiz #jobs @IndeedAU pic.twitter.com/YTbwtueYzK

— Callam Pickering (@CallamPickering) August 12, 2020
South Australia and Tasmania recorded the highest through the year growth of 2.4%, while for the eighth consecutive quarter, Western Australia recorded the lowest wages growth of 1.6%.
Westpac economist Justin Smirk said the pressure on wages was most acute in the informal sector.

"There were reported wage increases for jobs with scheduled increases (such as enterprise agreement and award based jobs) offset by falling wages for jobs in the informal sector," Mr Smirk said.
"The rise of the informal sector has increased Australian wages sensitivity to the economic cycles (as we saw during the mining boom and the GFC) and so an extreme economic event now producers a more extreme wage outcome."
---
Latest Articles