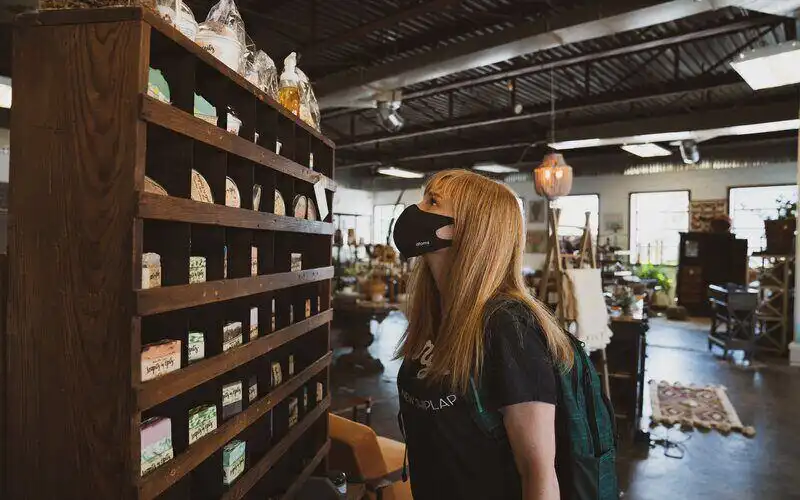 After hitting a ten year high in December, consumer confidence fell in January as COVID disrupted domestic borders.
The Westpac-Melbourne Institute Index of Consumer Sentiment fell by 4.5% to 107 in January from 112.0 in December, which still points to a healthy consumer sentiment.
Westpac chief economist Bill Evans said a pull back was to be expected.
"Since the last survey in the second week of December we have seen domestic border closures; the emergence of Covid clusters in some states; and the sharp upswing in Covid cases overseas, notably the US and the UK," Mr Evans said.
"This result compares to the 15% fall that was registered over July and August last year as the nation was shocked by Victoria's severe second wave and associated hard lockdown."
Need somewhere to store cash and earn interest? The table below features savings accounts with some of the highest interest rates on the market.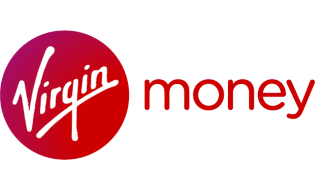 Advertisement
Boost Saver - Savings Account
Highest
variable rate
1.50%†
Base
variable rate p.a.
0.10%
BOOST YOUR SAVINGS with up to 1.5% for the first 3 months
Product Features
Red Hot Intro Rate of up to 1.5% for the first 3 months
Enjoy up to 1.2% thereafter
Bundled with the Virgin Money Go transaction account
The index remains almost 15% above the level seen a year ago and over 40% above the low seen in April.
All components of the index fell in January, but Mr Evans said there was likely to be an element of statistical correction, given the 40% surge seen in recent months.
Consumers were less confident in the economic outlook, with the 12 month and five-year outlook falling by 8.3% and 4.5% respectively.
Respondents were also less positive about their finances, with 'family finances relative to a year ago' falling by 7%.
However, the '12 month outlook for family finances' held relatively steady.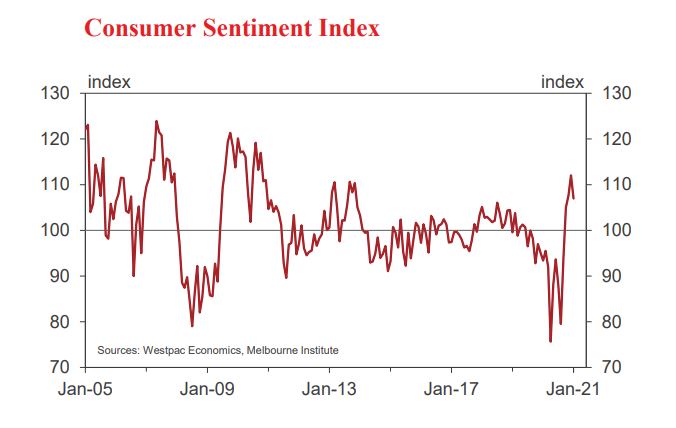 Mr Evans said the job market was continuing to recover well, with an increase in the index pointing to weaker sentiment.
"The Westpac Melbourne Institute Unemployment Expectations Index increased by 11.9%," he said.
"However, the Index is still 6% below its level in November; 11% below its level a year ago; and, excluding last month, is at its lowest level for nearly 10 years.
"This month's survey continues to point to solid employment conditions."
Time to buy a house past its peak
Overall, the 'time to buy a dwelling' index was flat (up 0.2%), however New South Wales was up 3.9% and Victoria was down 6.2%, evidence of volatility in markets across the country.
Mr Evans said the index may have peaked in November, when it was 5.7% higher than now and at its highest level for seven years.
"This Index seems to respond more to affordability than price expectations," he said.
"With solid prospects for further increases in house prices we may have already seen its highs in this cycle.
"In that regard we are still seeing increases in the Westpac Melbourne Institute Index of House Price Expectations, albeit a modest 1.1% in January."
Mr Evans said it was nigh a certainty the Reserve Bank (RBA) would maintain the current cash rate of 0.10%, with attention turning to its quantitative easing (QE) program.
The program is due to end in April, but Mr Evans forecast the central bank would extend it.
"Westpac expects there will be a second purchase program of $100 billion although the Board may wait until as late as the April Board meeting to make the final decision."
---