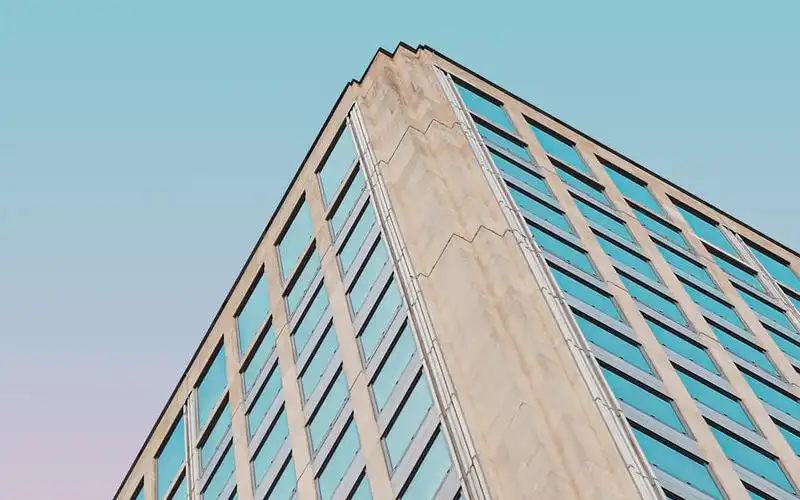 Photo by Viktor Forgacs on Unsplash
A recent survey has revealed Aussies find Greater Bank the most trustworthy out of 31 banks, while neobank Up has debuted in seventh spot.
The Glow Banking Brand and Trust Index in the past three months surveyed 1,250 Australians in relation to 31 banks, including neobanks.
The survey revealed Greater Bank moved up three places from last quarter's results to take out the top spot, with a net trust score of +23 (on a scale from -100 to +100).
Neobank Up debuted in seventh spot, while other neos languished, with 86 400 at twenty-first (+8) and Xinja at twenty-seventh (+4).
Out of the big four banks, the biggest improver was Westpac, which went from negative territory to +3, however it still ranked twenty-ninth.
AMP (-8) and Bank of China (-21) were the only ones to rank worse, while NAB (+7), CommBank (+7) and ANZ (+6) were ranked twenty-second, twenty-third, and twenty-fourth respectively.
Glow CEO Tim Clover put the big four's performances down to lingering effects of the Royal Commission.
"The big four have been through the Royal Commission and Westpac having the financial watchdog AUSTRAC level 23 million allegations against it for breaches of money-laundering and counter-terrorism finance laws," he said.
"With COVID-19, the banks have had an ideal opportunity to raise their trust levels as the government has asked them to relax some requirements particularly related to the payment of the JobKeeper subsidy along with the halting of mortgages for hundreds of thousands of Australians."
The top ten 'trustworthy' banks were:
Greater Bank +23
P&N Bank +22
RACQ Bank +21
CUA +20
Bendigo Bank +20
ING +19
Up Bank +17
Beyond Bank +16
Heritage Bank +15
Bank of Sydney +14
Bank of China was one of the worst performers in Glow's survey, with a worse score than the past quarter (-12 down to -21).
While the last survey ranked 28 banks, the most recent one ranked 31 with the inclusion of neobanks, and AMP overtook Bank of China with a score of -8 (an improvement of six points).
Need somewhere to store cash and earn interest? The table below features introductory savings accounts with some of the highest interest rates on the market.
Lender

---

4

0

0

0

$product[$field["value"]]

$product[$field["value"]]

$product[$field["value"]]

More details

FEATURED

Online Saver (Amounts < $499999)

0

200

0

$product[$field["value"]]

$product[$field["value"]]

$product[$field["value"]]

More details

PremiumSaver (Amounts < $250k)

3

0

0

0

$product[$field["value"]]

$product[$field["value"]]

$product[$field["value"]]

More details

0

10

0

$product[$field["value"]]

$product[$field["value"]]

$product[$field["value"]]

More details

4

0

0

1

$product[$field["value"]]

$product[$field["value"]]

$product[$field["value"]]

More details

WebSavings Account (New Customer) ($2,000+)
Rates based on a savings balance of $10,000. Sorted by total interest rate. Refer to providers' websites for bonus rate conditions. Note that the base rate will apply once the introductory term has passed. Rates correct as of June 27, 2022. View disclaimer.
How can banks improve their trustworthiness?
Glow CEO Tim Clover said the banks have an "ideal opportunity" during COVID-19 to gain the trust of the Australian public.
"The big four have increased their trust, but not as much as they perhaps would have liked," he said.
"Many recent studies have confirmed that consumers expect brands to help the community right now.
"Banks, even more so, have a huge role to play in extending forgiveness, lines of credit and supporting small businesses."
Generally, smaller banks and customer-owned (or formerly customer-owned) institutions had the highest levels of trustworthiness, while the big four ranked worse than the average industry score of +8.
However, the big four dominated brand awareness rankings, with CommBank at 90, Westpac at 85, and ANZ and NAB at 84.
St George Bank, owned by Westpac, also slid into fifth spot with a score of 75 in brand awareness.
Glow's survey also asked Australians if they trust certain industries.
The banking industry ranked fourteenth out of 17, with a net trust score of +8.
Online social media platforms performed the worst, and were the only category to score in negative territory at -11.
Other poor performers were media at +1, and elected governments at +8.
Interestingly, the survey is also conducted in the UK, where the banking industry is the fourth-most trusted industry, with a trust score of +24.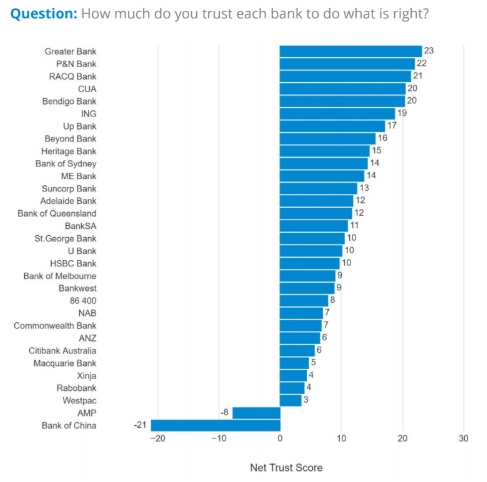 Where does your bank rank? Source: Glow
---
Latest Articles