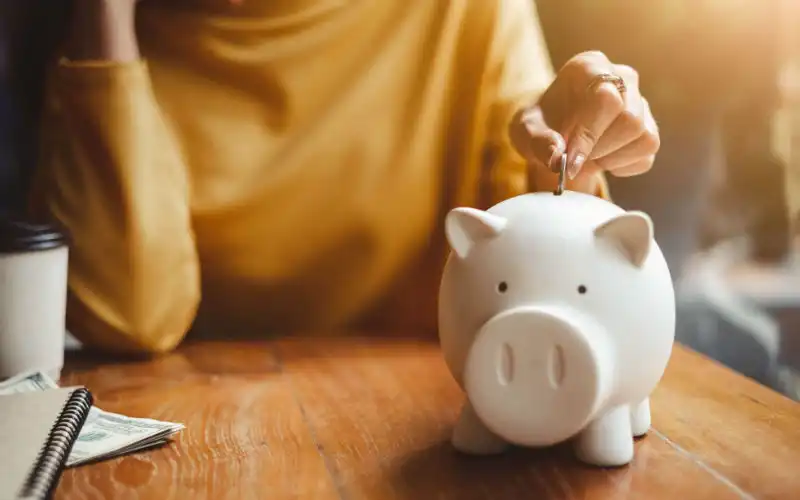 Nattakorn Maneerat via iStock
When it comes to choosing a savings account, it's not just about picking one with the highest interest rate.
While having a high interest rate is definitely important (albeit damn hard to find right now), there are other factors and features to consider as well that can impact how suitable that savings account is for you.
Here's what you should look for in a savings account.
How to choose a savings account:
Get a high interest rate

Look out for fees

Is your money accessible?

Choose the right type of account

What savings account features are there?
Need somewhere to store cash and earn interest? The table below features savings accounts with some of the highest non-introductory and introductory interest rates currently on the market.
Get a high interest rate
When choosing a savings account, one of the most important things to consider is the interest rate. The higher the interest rate, the more interest you're earning on your money and the faster your hard-earned savings will grow.
It's important to look very closely at the fine print because some advertised interest rates are only introductory rates or bonus rates. Introductory rates generally only apply for a limited period of time, like a few months and then revert to a lower base rate after this set period of time is over. One strategy some people use to supercharge their savings is to 'honeymoon rate hop' where they cash in on the intro rate, then when the intro period is over they open another savings account with a different bank offering a high introductory rate.
Here are some savings accounts with introductory rates that only apply for 4-6 months:
On the other hand, a bonus rate is a maximum interest rate that only applies if you meet certain conditions, such as depositing a certain amount of money or making no withdrawals during each month. If you don't meet these conditions every month, then you will only earn the base interest rate (which is usually very low).
However, not every savings account has a bonus rate. Some banks will offer a base interest rate of 0.10% and a bonus rate of 1.50% while other banks will just offer a base interest rate of 1.50% that you will earn regardless.
With the official cash rate set by the Reserve Bank at an historic low of 0.10%, interest rates on savings accounts have been plummeting to the detriment of anyone trying to save up right now. However, there are still some decent rates out there so it's definitely worth trying to find the highest interest rate you can.
Here is a selection of savings accounts with some of the highest interest rates currently on the market:
Rather than going with one of the big four banks, you may want to consider an online bank instead. Because they don't have any physical branches, they don't have the same overheads as the bigger banks, which means they can pass these savings on to their customers. This means their savings account interest rates may be much higher than their competitors.
Look out for fees
There are so many savings accounts that don't charge you to store your money so it doesn't really make a lot of sense to go for a savings account that charges a monthly account keeping fee. If your savings account doesn't have a high interest rate to begin with (or you don't have much in savings), that monthly account keeping fee will sting even more.
Other fees to be aware of with savings accounts are branch deposit fees, EFTPOS fees, electronic transfer fees, withdrawal fees, and over-the-counter transaction fees.
Is your money easily accessible?
As we just mentioned, some savings accounts will penalise you if you make any withdrawals during the month. So if you're the kind of person who regularly withdraws from their savings or anticipates they'll need to (we've all been there), then a savings account that charges you a fee for doing so probably isn't right for you. However, being penalised for taking your money out of your savings could also be the motivation you need for you to leave your hard-earned savings alone!
Having a branch that you can visit in person isn't as important as it used to be because most people are comfortable doing their banking online these days. But being able to visit a branch in person is still important to some people, like older people who may not be confident using a mobile app to do their banking.
When looking for a savings account, you should make sure there is a mobile banking app and a website to do your online banking. Most banks offer this these days. Having easy access to customer service and support is also another important factor to consider when choosing a savings account.
Choose the right type of account
There are many different types of savings accounts to choose from, including kids/children's accounts, accounts for pensioners, business savings accounts and cash management accounts, so it's important to pick the one that's suitable for you.
Savings accounts for kids usually offer higher interest rates than adult savings accounts so make sure you choose the right account if you're eligible for it.
What savings account features are there?
Features like having a linked transaction account, the ability to have multiple sub-savings accounts for different savings goals, security and other features can all make a big difference to the way you use a savings account.
These days, many savings account mobile apps offer financial management tools like spending trackers, automatic round ups, spending insights and other cool budgeting features that can make saving money more fun.
Government deposit guarantee
If you're a baller and have more than $250,000 to put into a savings account, you might be worried about how safe your money is.
In Australia, amounts up to $250,000 in your savings account are covered if the bank is an Authorised Deposit-Taking Institution (ADI). So even if your bank goes bankrupt, you will still receive all your money back up to this amount as long as your bank is on this list of ADIs.
But if you have more than $250,000 in a savings account with the one bank you won't be guaranteed to get it all back. In that case, it's a good idea to split your money among different banks so that all your money is covered under the guarantee.
Savings.com.au's two cents
This year hasn't been great for, well anyone, or for savings accounts with interest rates on them plummeting thanks to all the Reserve Bank's rate cuts. The days of double-digit interest rates on savings accounts are sadly well and truly over, but there are still some good rates out there if you look for them. Just remember to read the fine print first to check if there are any conditions you need to meet to earn the rate.
The interest rate isn't necessarily the be all end all - you also want to make sure there aren't any account keeping fees because these will eat into your savings over time.
If you need some thrifty inspiration to get your savings started, check out our money savings tips. Happy saving!
---
Latest Articles