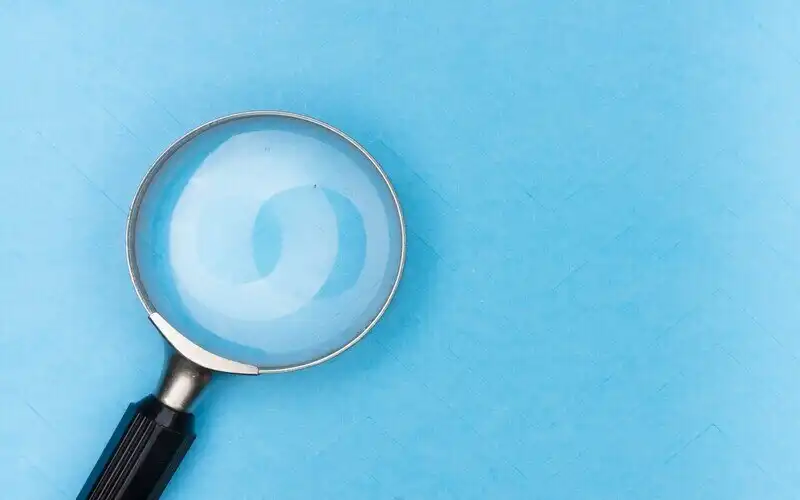 Photo by Markus Winkler on Unsplash
Finding yourself a bit short on cash lately? You could give yourself a little boost by checking to see if you have any unclaimed money being held by the government.
On this page:
Need somewhere to store cash and earn interest? The table below features savings accounts with some of the highest non-introductory and introductory interest rates on the market.
Lender

---

4

0

0

0

$product[$field["value"]]

$product[$field["value"]]

$product[$field["value"]]

More details

FEATURED

Online Saver (Amounts < $499999)

4

0

0

0

$product[$field["value"]]

$product[$field["value"]]

$product[$field["value"]]

More details

High Interest Savings Account (< $250k)

4

0

0

1

$product[$field["value"]]

$product[$field["value"]]

$product[$field["value"]]

More details

0

50

0

$product[$field["value"]]

$product[$field["value"]]

$product[$field["value"]]

More details

0

0

0

$product[$field["value"]]

$product[$field["value"]]

$product[$field["value"]]

More details
Rates based on a savings balance of $10,000. Sorted by total interest rates. Refer to providers' websites for bonus rate conditions and for any applicable fees and charges. Rates correct as of June 29, 2022. View disclaimer.
As things stand, there is a lot of unclaimed money out there just waiting to be claimed by its rightful owners. ASIC data shows the Federal Government holds over $1.2 billion worth of unclaimed or lost money from around 1.5 million Australians. That's an average of $800 each!
And it's not just us common folk who can claim this money, there are some famous people in there too. Everyone's favourite mining magnate and lots-of-money-haver Clive Palmer has around $418 in unclaimed money, while our Prime Minister himself Scott Morrison and his wife Jenny can claim $610 in interest from an old St. George Bank account it would seem.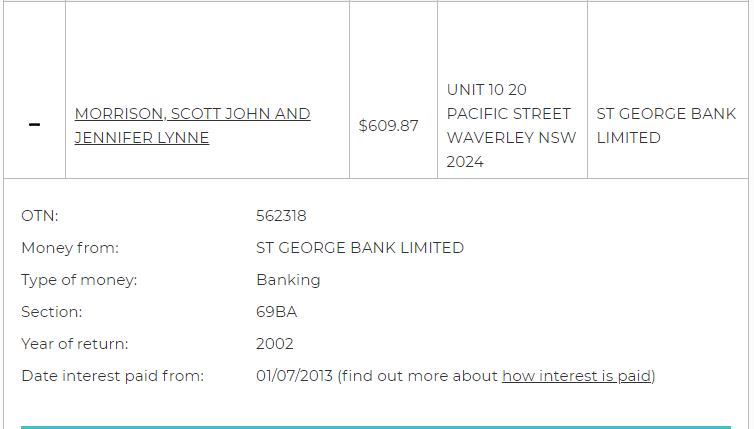 Image source: ASIC MoneySmart
But what exactly is 'unclaimed money'? How do you know if you have any, and how do you claim it? Let's take a look.
What is unclaimed money?
According to ASIC, unclaimed money is 'lost money' from bank accounts, shares, life insurance, superannuation and other products that gets left behind or forgotten about. This money can get lost when you change bank accounts, move houses and forget to change your address, or have had an inactive product for a period of time (seven years of no activity for both bank accounts and life insurance policies).
So if for example you once opened a new bank account for a special savings goal, then forgot about that bank account for seven years or longer it would be considered unclaimed and would be transferred to ASIC, which then transfers the money to the Commonwealth of Australia Consolidated Revenue Fund. Any fees or interest accrued by the account are not considered to be active - you have to make a transaction to or from the account for that to happen.
Unclaimed money can be any amount. One lucky woman in Victoria has almost one million dollars in unclaimed money, while one Queenslander has almost $420,000 from a deceased estate according to The Sydney Morning Herald. I did a quick search for my own name, and while nothing came up for me, a William Jolly from Sydney has more than $1,000 from NAB. So William, if you're reading this, go claim your money…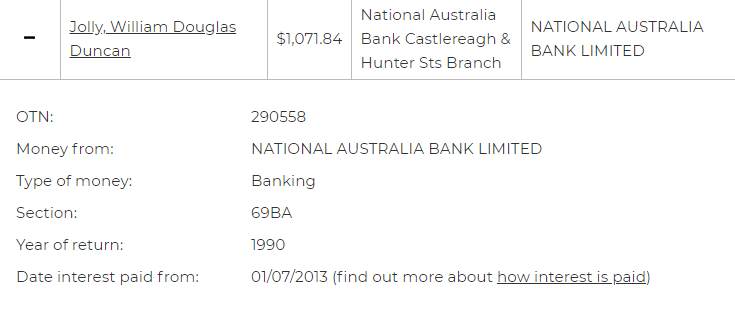 Source: ASIC MoneySmart
Unclaimed super is also rampant
It isn't uncommon for people to lose their super. In fact, it used to be extremely common, and as at June 2018, more than six million people held two or more super accounts. Around 1% of people had six or more accounts! This could occur whenever people started a new job and opened a new super fund, without realising they still had funds in the old one, slowly draining to $0.
| Number of accounts | Total individuals |
| --- | --- |
| 1 account | 64% |
| 2 accounts | 23% |
| 3 accounts | 8% |
| 4 accounts | 3% |
| 5 accounts | 1% |
| 6 or more accounts | 1% |
Source: The ATO
Data from the ATO in late 2019 revealed there was over $20.8 billion in lost and unclaimed superannuation across Australia. Across the states and territories, the amount of super missing or unclaimed was:
ACT: $438 million
NSW: $6 billion
NT: $258 million
QLD: $2.8 billion
SA: $1.4 billion
TAS: $404 million
VIC: $4.7 billion
WA: $2.2 billion
As you can see, lost or unclaimed money in super is even more rampant than lost money in shares or bank accounts and became such a problem that the ATO started automatically transferring the funds to people if they were over 65 or if the amount was below $200.
Where to claim unclaimed money
You might've noticed a couple of screenshots of unclaimed money throughout this article. These are from the MoneySmart online unclaimed money search tool from ASIC, which allows you to search for any name, including yours! Depending on what state you're in, you can also search your relevant state revenue office or public trustee, which might also list any of your lost cash:
According to ASIC, claiming this money has no time limit, and you can do so at any time.
How to claim your lost money
If you find a result featuring yourself, then making a claim is pretty straightforward. The search will generate something called an Original Transaction Number (OTN), unique to each unclaimed money record. Write or type this number down, as you will need it when claiming the money. To do so, each search will provide you with the instructions which will be different depending on the type of money it is.
For example, for Mr William Jolly to claim his money from that NAB bank account, he would need to do the following:
Record the OTN;
Confirm the bank details and find out which one he needs to contact (it might have to be a specific branch);
Contact the bank and ask to speak to their 'unclaimed money officer' to begin the claims process
Provide them with relevant documents (driver's licence, passport, bank statements, passbook); and
Wait for the bank to process the claim, which should take around 28 days from approval to the money hitting your current bank account
If you have unclaimed shares, then you'd instead need to download ASIC's How to claim your money form and send it to ASIC, which will then process the claim for you. See ASIC's website for more detailed information on how you can claim lost shares, insurance money and bank accounts and bank dividends.
ASIC charges no fee to search its register.
How to find lost super
For finding lost superannuation meanwhile, you need to use the online ATO services through myGov, which shows any super held on your behalf. If you complete the following steps:
log in or create a

myGovExternal Link

account;
link your myGov account to the ATO;
select 'super'
select transfer your super'; then
You should be able to consolidate any lost super you have into a single super fund. New legislation from 1 July 2019 means super funds are required to report and pay inactive low-balance accounts to the ATO, which makes it easier for you to find these funds and choose which account they should go into. The ATO in 2018 found over 540,000 active, lost and unclaimed super accounts worth more than $4.4 billion were consolidated using MyGov online.
Does unclaimed money earn interest?
Yes, interest is paid on unclaimed money held by ASIC, but only after 1 July 2013. There is no interest paid in the period before this, and there is no tax paid on the interest you earn. According to ASIC, the interest rate is based on the percentage change in CPI (Consumer Price Index).
| | |
| --- | --- |
| Financial year | Interest rate |
| 2013-14 | 2.5% or 0.0250 |
| 2014-15 | 2.93% or 0.0293 |
| 2015-16 | 1.33% or 0.0133 |
| 2016-17 | 1.31% or 0.0131 |
| 2017-18 | 2.13% or 0.0213 |
| 2018-19 | 1.9% or 0.0190 |
| 2019-20 | 1.33% or 0.0133 |
| 2020-21 | 2.19% or 0.0219 |
Source: ASIC
The interest for each financial year is rounded to the nearest cent, and is calculated using the formula amount x days interest payable x interest rate) divided by the days in the financial year, which includes the 14 days it takes for your claim to be processed.
How can you make sure you don't lose track of your money?
While there's no time limit on claiming lost money, and it's safely held by the government, that doesn't mean you should avoid losing track of it in the first place, especially as some of the amounts listed on the register can be huge for some people. Losing track of an entire bank account or a share portfolio can be thousands of dollars lost for several years.
Make sure you do the following simple things to avoid your money going onto the unclaimed money register:
Make just a single deposit to your bank account once every seven years - even five cents will do. Alternatively, make a withdrawal if you need cash for your main bank account;
Make sure you update your details whenever you change address, change your phone number, change email address and especially if you change your name
Another thing you can do is to keep a record of any and all places you store your money, be it multiple different bank accounts, insurers, share trading platforms or anything else. There are some budgeting apps that can help you do this, such as Pocketbook, which also tracks spending and saving. You can also check out our ultimate guide on budgeting and saving for more info on how to keep track of all your money.
Savings.com.au's two cents
Life is busy sometimes, and it can be easy to lose track of some money here and there. Whether it's from an old bank account you forgot you had, your old super accounts from your days of job-hopping, or even something like a deceased relative's estate you didn't know about, there's more than a million people who have some amount of unclaimed money being held by the Australian government.
As we're all about being smarter with your money here, wouldn't it make sense to do a one minute search of the unclaimed money registers to see if you've missed anything? You could have hundreds of dollars being held by the government without realising it - that's hundreds of dollars that could be earning interest in a savings account, or money that could be invested.
Once you've made sure you don't have any unclaimed money, make sure it stays that way by properly consolidating all your money and keeping a record of where it is.
---
Latest Articles