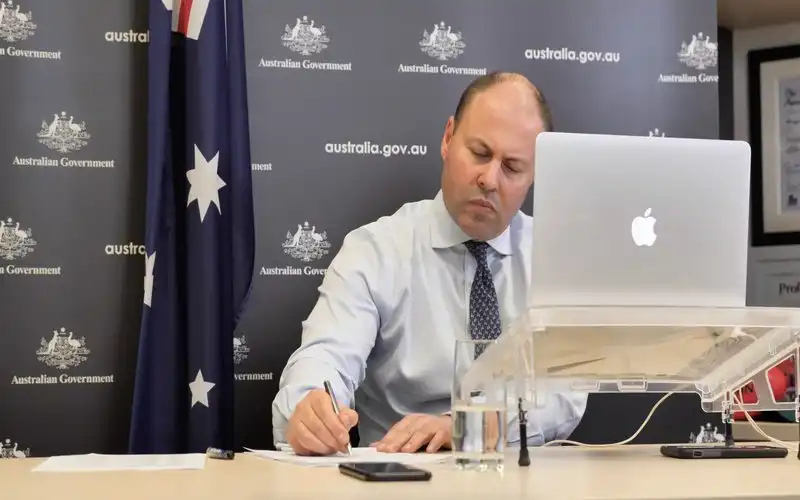 Source: Twitter
The Government will extend its JobKeeper scheme for businesses and employees, to the cost of an extra $15 billion.
Businesses will now need to prove their GST turnover has fallen over just one quarter to qualify for the extension, instead of multiple.
Additionally, previously an employee only qualified for JobKeeper if they were employed as of March 1 but under the extension people employed from July 1 will be eligible.
The extension comes as Treasury forecasts the Victorian COVID-19 crisis would send real unemployment to 13% and wipe up to $12 billion from the national economy.
Need somewhere to store cash and earn interest? The table below features introductory savings accounts with some of the highest interest rates on the market.
Lender

---

4

0

0

0

$product[$field["value"]]

$product[$field["value"]]

$product[$field["value"]]

More details

FEATURED

Savings Account (Amounts < $24k)

0

200

0

$product[$field["value"]]

$product[$field["value"]]

$product[$field["value"]]

More details

PremiumSaver (Amounts < $250k)

3

0

0

0

$product[$field["value"]]

$product[$field["value"]]

$product[$field["value"]]

More details

0

10

0

$product[$field["value"]]

$product[$field["value"]]

$product[$field["value"]]

More details

4

0

0

1

$product[$field["value"]]

$product[$field["value"]]

$product[$field["value"]]

More details

WebSavings Account (New Customer) ($2,000+)
Rates based on a savings balance of $10,000. Sorted by total interest rate. Refer to providers' websites for bonus rate conditions. Note that the base rate will apply once the introductory term has passed. Rates correct as of May 24, 2022. View disclaimer.
Treasury estimates 270,000 businesses and almost 1 million Victorians are currently covered by JobKeeper, with the revised extension expected to cover 500,000 more.
Nationwide the scheme extension will now cover over 4 million workers and 1 million businesses, and $13 billion of the extension cost will go to Victoria.
JobKeeper was initially due to end on September 28, with businesses and employees having to apply for an extension which would see payments revised from $1,500 to $1,200 a fortnight.
People working fewer than 20 hours a week will receive $750 a fortnight, with payments falling again to $1,000 a fortnight for the first three months of next year, and $650 a fortnight for those working less than 20 hours a week.
To qualify for the first extension businesses must prove their revenue is down 30% in the September quarter, instead of the June and September quarter, while to qualify for the second extension, businesses must prove their revenue is down 30% in just the December quarter.
Speaking to ABC News Breakfast, Treasurer Josh Frydenberg said he held grave concerns for Victorian businesses but denied there would be any extension to the $1,500 wage subsidy beyond September.
"Our focus has been to have a payment that transitions, remembering that this is a national program, not just one that benefits Victorian businesses," Mr Frydenberg said.
"We've always believed at $1,500 it was a significant payment, equivalent to the minimum wage.
"At $1,200 it's about 80% of the minimum wage and then it steps down to $1,000 in the March quarter."
The eligibility criteria for #JobKeeper will be eased for businesses and employees, with an extra $15 billion being added to the scheme.

Treasurer @JoshFrydenberg outlines the changes. pic.twitter.com/HCs8fR7xjN

— News Breakfast (@BreakfastNews) August 6, 2020
Business Council of Australia chief executive Jennifer Westacott said the eligibility changes would ensure more Australians would stay in jobs and more businesses would surive.
"These sensible changes to JobKeeper will make it easier for businesses to retain workers and will boost much needed confidence in the community," Ms Westacott said.
"The changes to the eligibility test reflect the upheaval and uncertainty in the jobs market, and the changes to the turnover test reflect that businesses are struggling.
"People are worried about the future and we endorse the government's actions in targeting taxpayers' money to saving jobs and creating new ones."
400,000 Victorians to lose their jobs
At a press conference yesterday, Prime Minister Scott Morrison said the situation in Victoria could see real unemployment hit 13%, as stage 4 restrictions could lead to 400,000 job losses in the state.
"The national unemployment rate is now expected to exceed the forecast peak of 9.25% and may instead peak closer to 10% which I note is in line with what the governor of the Reserve Bank was also indicating," Mr Morrison said.
"But of greater concern, as I have said to you before is the effective unemployment rate.
"...It is estimated that we would see that effective rate of unemployment, which had fallen in the most recent numbers down to just over 11%, head north again back to where it had come down from which is in the high 13's."
The Prime Minister said the economic cost of the Victorian crisis was immense.
"The combined effect on GDP of the stage 3 and 4 Victorian restrictions through the September quarter is expected to be in the order of $10 billion to $12 billion dollars, detracting some 2.5 percentage points from quarterly real GDP growth," he said.
---
Latest Articles