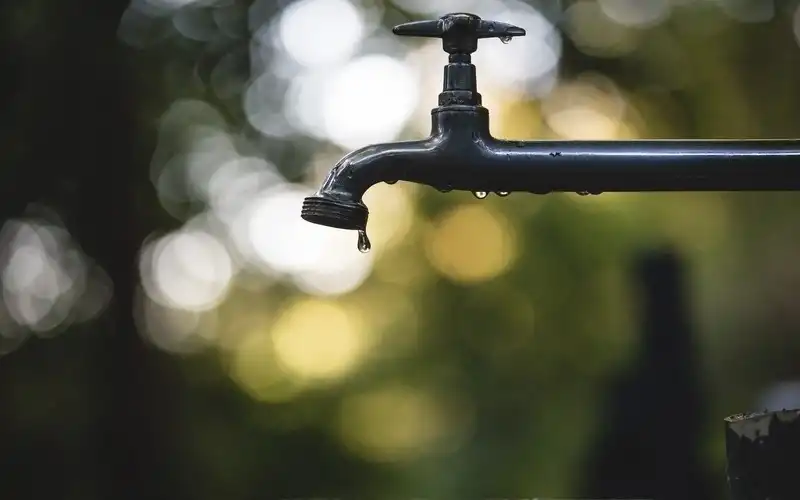 Photo by Luis Tosta on Unsplash
Hundreds of thousands of young Australians have completely emptied their super balances, according to damning new analysis.
Analysis of the government's early release of super scheme by Industry Super Australia (ISA) estimates 395,000 people under the age of 35 have completely eroded their super balance to $0, which "could lead to a future generation languishing on the pension".
This was even before the second tranche of withdrawals became available on July 1, after 2.5 million people withdrew an average of around $8,000 in the first round of withdrawals.
Under the scheme, applicants can withdraw a maximum of $20,000 (two lots of $10,000) from their superannuation via the Australian Tax Office (ATO) if:
They're unemployed

They're eligible to receive a JobSeeker payment, youth allowance for JobSeeker, parenting payment or other special payment

After January 1 2020:

They were made redundant

Their working hours were reduced by 20% or more

As a sole trader, their business was suspended or there was a reduction in
turnover of 20% or more
According to estimates from ISA, the initial $10,000 was all it took for nearly 400,000 young people to empty their accounts.
Across all age groups, the number of people thought to have cleared their super balances is estimated to be around 480,000.
Need somewhere to store cash and earn interest? The table below features introductory savings accounts with some of the highest interest rates on the market.

Lender

---

4
0
0
0
$product[$field["value"]]
$product[$field["value"]]
$product[$field["value"]]
More details
FEATURED

Online Saver (Amounts < $499999)

0
200
0
$product[$field["value"]]
$product[$field["value"]]
$product[$field["value"]]
More details

PremiumSaver (Amounts < $250k)

3
0
0
0
$product[$field["value"]]
$product[$field["value"]]
$product[$field["value"]]
More details

0
10
0
$product[$field["value"]]
$product[$field["value"]]
$product[$field["value"]]
More details

4
0
0
1
$product[$field["value"]]
$product[$field["value"]]
$product[$field["value"]]
More details

WebSavings Account (New Customer) ($2,000+)
Rates based on a savings balance of $10,000. Sorted by total interest rate. Refer to providers' websites for bonus rate conditions. Note that the base rate will apply once the introductory term has passed. Rates correct as of June 28, 2022. View disclaimer.
Up to 15% of all Australians have accessed their super with this scheme, with Queenslanders being the biggest bunch of withdrawers at 20%.
The Northern Territory was a close second at 19%, followed by:
WA: 16%
NSW and TAS: 15%
VIC: 13%
SA: 12%
ACT: 8%
With more withdrawals to come in the second round, Industry Super Australia chief executive Bernie Dean said the early access could harm the retirement funds of thousands of Australians.
"Those early contributions are like yeast, without them you're left with a much flatter nest egg," Mr Dean said.
"To have hundreds of thousands wiping out their savings midway through their life is a tragedy waiting to happen and it will affect everyone.
"Every Australian deserves a good life in retirement, not just scraping by on the pension."
According to ISA, a 25-year old who takes out $10,000 now will be almost $50,000 worse-off in retirement, and a 35-year old could be $34,000 worse-off.
ISA has urged people to reconsider withdrawing another batch of their super, particularly considering many people have spent their withdrawals on discretionary items, like alcohol, clothes, and gambling.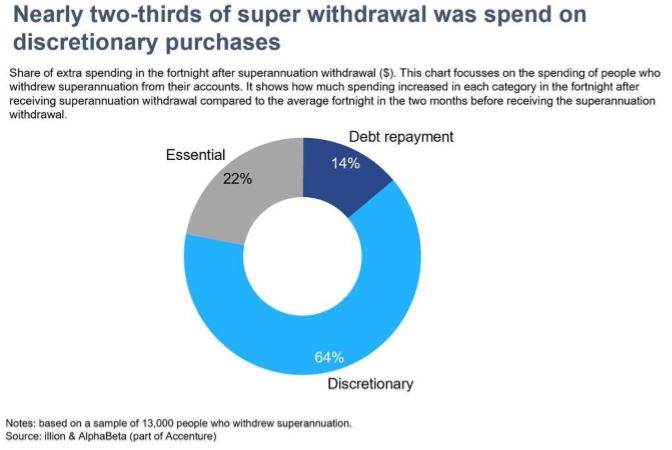 "The Prime Minister and Treasurer must stick by their promise to increase the super rate because it's critical to helping these people rebuild their savings they've wiped out, and avoid tax hikes on working people to prop up more people drawing a full pension," he said.
The Superannuation Guarantee (SG) is set to increase to 12% by 2025.
ISA has previously criticised "out of touch" Coalition MPs who've called to scrap or freeze the proposed increases.
Women are the worst-affected
According to Future Super co-founder and managing director Kirstin Hunter, women will be the worst affected by these super withdrawals.
"Women already retire with 47% less super than men, and now the effects of COVID have hit women working in the hospitality or entertainment industries, as well as those who are parents having to juggle work and childcare," Ms Hunter told Savings.com.au.
"These women have already lost income and so aren't contributing as much to their super.
"In these circumstances, the early access to super scheme will compound the disadvantage that women experience within the superannuation system."
Ms Hunter also noted that Australia's most vulnerable people are more likely to have to withdraw from their super funds.
"Some of Australia's most vulnerable are being forced to make the choice between food on the table today, and a comfortable retirement. The superannuation system in place isn't working for the people, and will have a significant knock-on effect by the time they retire," she said.
"The data that we're seeing shows that those with the lowest super balances are those that are withdrawing their super early. Of Future Super members who have withdrawn their funds, the median balance after withdrawal is only a little over $6k.
"This is exposing a broken system that places profit before people."
'These people aren't the villains'
Much of the narrative around these super withdrawals is that many of them have been unnecessary - the government initially predicted 1.6 million people would use the scheme, but the numbers have far exceeded these expectations.
However, Ms Hunter said it isn't the fault of those making withdrawals.
"Superannuation was never intended to be used as a national relief fund. The villain of this story isn't those that have withdrawn their super, it's the broken system that has forced them to make that decision," Ms Hunter said.
"Australians are being asked to make a decision between food on the table now, or a comfortable retirement.
"Instead of forcing Australians to make this choice, the Australian Government should use the money it gives in corporate subsidies to invest those funds into the future of Australians."
Future Super describes itself as a new breed of super fund and says it builds funds with zero fossil fuels.
When asked what alternative the government could turn to instead of allowing super withdrawals, Ms Hunter it could stop taxpayer-funded subsidies to fossil fuel companies.
"The fossil fuel industry alone receives $12 billion a year, going to coal, oil and gas companies," she said.
"The reason this figure is larger than any other industry is not because of this industry's size. It's because the industry is failing, and we saw proof of this last week when oil prices were negative for the first time ever."

"Now is the time for the Australian government to start divesting from the fossil fuel industry, and investing some of those subsidies back into its people to safeguard their retirement and future.
"It's heartbreaking to think if the government wanted to pay back every person who accesses their super, they could do it tomorrow."
---
Latest Articles