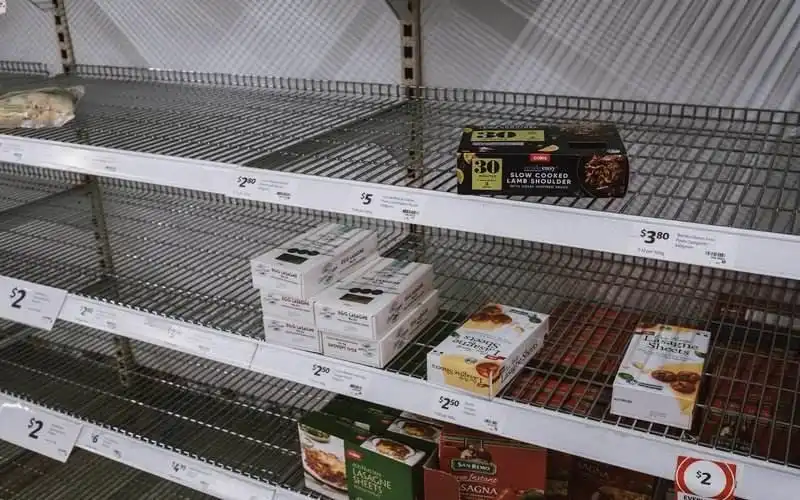 Photo by Kate Trifo on Unsplash
Australia retail turnover rose 8.2% in March, seasonally adjusted, the highest ever monthly rise in spending.
The Australia Bureau of Statistics (ABS) released the figures on Wednesday and said the result surpassed the increase of 8.1% in June 2000 when households brought forward expenditure ahead of the GST implementation.
The rise was mainly driven by the food retailing industry, with supermarkets and grocery stores, liquor retailing, and other specialised food retailing all recording increases in demand as a result of COVID-19 panic-buying.
The food industry rose 23.5% in March and the supermarket and grocery store group rose 22.4%.
Monthly turnover for canned food, medicinal products and cleaning goods increased by more than 50%, with home office equipment also recording a strong result.
The rises were only slightly offset by strong falls in industries including cafes, restaurants and takeaway food services, and clothing, footwear and personal accessory retailing, which were impacted by new social distancing regulations introduced in March.
The result is off the scale in contrast to what economists predicted: NAB for example predicted spending would marginally rise by 0.2%.
Need somewhere to store cash and earn interest? The table below features introductory savings accounts with some of the highest interest rates on the market.
Wild swings across retail industries
NAB cashless retail sales numbers for March showed a much smaller increase in retail trade from 1.6% in February to 3.8% in March, however the major bank said there was little to celebrate.
Supermarkets and grocery store spending was up a staggering 34.5% year on year (y/y), while liquor and other specialised food grew by 40.2% y/y as consumers stockpiled supplies.
With numerous stories of toilet paper and hand sanitiser hoarding and profiteering, pharmaceuticals, cosmetics and toiletries were also up 34.6% y/y.
While essential spending grew, clothing spending dramatically fell: Footwear fell 21.7% y/y, while clothing declined 17.4% y/y.

Source: NAB
NAB Chief Economist Alan Oster said the headline ABS retail sales rate, as well as NAB's, was becoming increasingly irrelevant due to the highly divergent consumer response to the pandemic.
"Furthermore, there is good reason to think that many of the areas that surged represent essentially one-off increases to stockpile food supplies, or make purchases of home computer or exercise equipment," Mr Oster said.
"Supermarket purchases are already returning somewhat towards normal levels for example."
"Efforts to contain the virus are having a very sharp impact on the economy, with many businesses essentially unable to trade due to restrictions."
Mr Oster added that the effect of the coronavirus would be seen in the unemployment rate and retail spending more in the foreseeable future.
"We now expect unemployment to reach 11.75% by mid-year and remain over 7% (by) the end of 2021," he said.
"Consumers are unlikely to make many discretionary purchases in this environment and we expect weak retail spending prints for some time."
---
Latest Articles