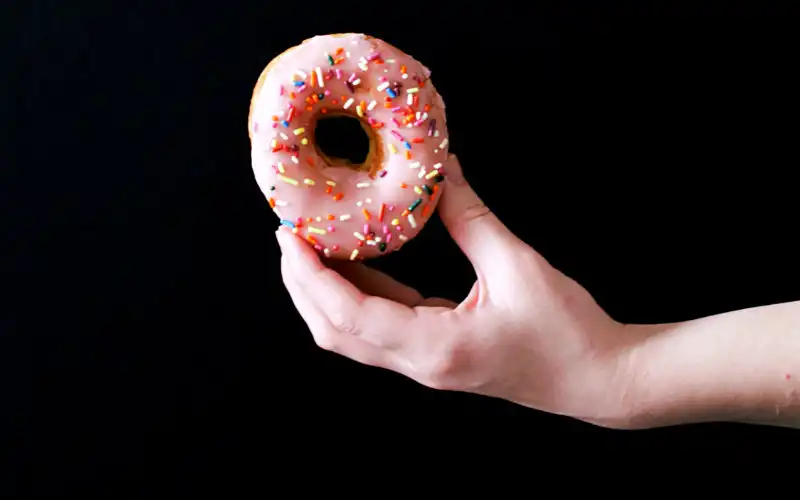 Photo by twinsfisch on Unsplash
More than $88 billion of savings and transactional deposits with NAB are at or near earning 0% interest.
This is according to the major bank's 2019 end of financial year results, which shows nearly 27% of its $331 billion in customer deposits are earning roughly 0% in interest.
According to the report, during the 2018-19 financial year:
$45 billion (13.5%) earned less than 0.01% in interest;
$43.3 billion (13%) earned between 0.01% and 0.25%;
$18 billion (5.5%) earned between 0.26% and 0.50%;
$10.2 billion (3%) earned between 0.51% and 0.75%;
$23.5 billion (7%) earned between 0.76% and 1.00%;
$191.3 billion (58%) earned more than 1.00%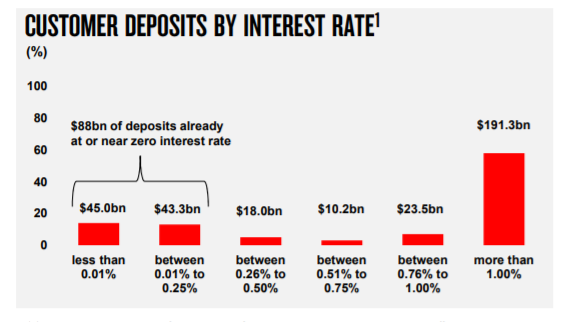 Source: NAB
Now not all of these deposits are in term deposits and savings accounts; the data also includes deposits in transaction accounts (which usually earn 0% interest) and excludes home loan offset accounts.
But the fact remains that at least 43% of NAB's customer deposits are earning well below the rate of inflation, which as of last week is 1.70%.
This number is likely higher too, since 58% of deposits earn interest above 1.00%, which isn't necessarily above inflation.
Based on a quick search of NAB's term deposit products, the average across its term deposit range (one month – five years) is a mere 1.14% p.a. – more than 50 basis points below inflation.
NAB's primary non-introductory savings account, the NAB reward saver, has a total interest rate of 1.61% meanwhile, so NAB customers are hard-pressed to find a decent interest rate on deposit products.
Of course this doesn't just apply to NAB – the big four in general seem to offer some pretty dismal rates on their deposits.
Comparison of the big four's term deposit rates
Comparison of the big four's savings account rates
NAB CEO Philip Chronican said there are winners and losers in a low interest rate environment.
The losers in this scenario are depositors.
"What we are acutely conscious of is that while we've been able to reduce the costs to our borrowers by a certain amount, that's come at a significant cost to both depositors and to our shareholders," Mr Chronican said.
He isn't the only major bank representative to say as much.
Following October's Reserve Bank rate cut of 25 basis points, Commbank Group Executive Retail Banking Services Angus Sullivan said the bank was attempting the difficult task of balancing the needs of all stakeholders, after the big four were taken to task by the Treasurer.
"As the Reserve Bank cash rate has reached record lows, we face a difficult balancing act between the multiple, valid interests of our stakeholders," Mr Sullivan said.
"Particularly given it is currently not feasible to pass on the full rate reduction to more than $160 billion of our deposits which are at, or near, zero rates."
Commbank maintained its position as having the highest share of household deposits in Australia.
According to its annual report, Commbank's deposits contributed 69% of its total funding, up 1% from last year.
Big four profits fall
Each of Australia's major banks – ANZ, CBA, NAB and Westpac – have reported lower profits for a second consecutive year, with customer compensation bills, a low credit environment and increased competition seemingly taking a toll.
NAB reported a 13.6% drop in full-year net profits today to $4.8 billion.
ANZ's profits were down 7% to $5.95 billion, Commbank's fell 8% to roughly $8.5 billion, while Westpac was the hardest hit, as profits fell a whopping 16% to just under $6.8 billion.
Westpac CEO Brian Hartzer said 2019 has been a disappointing year for the major bank.
"Financial results are down significantly in a challenging, low-growth, low interest rate environment, he said.
Overall the big four posted a collective profit of $26.9 billion, down 7.8%.
According to their respective reports, a major reason for this was the $5.7 billion spent on customer compensation following the banking royal commission.
---
Latest Articles