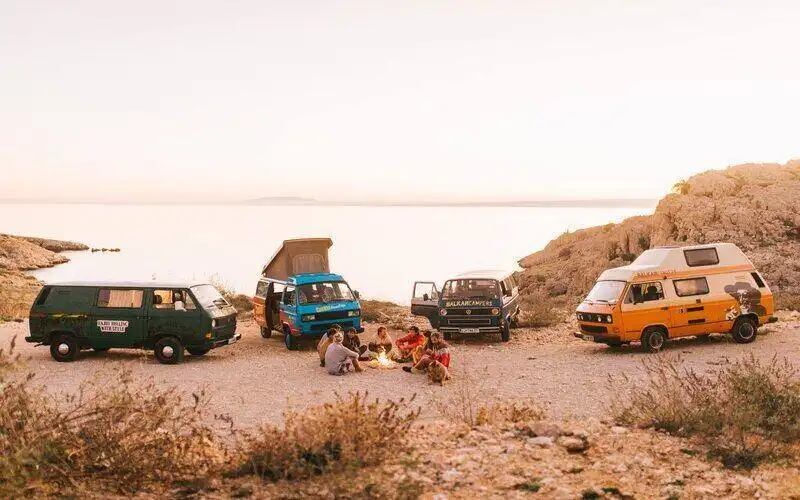 The classic Australian summer calls for beach trips and family getaways, yet with petrol prices at record highs how can Aussies beat the bowser and save on fuel this summer?
There's nothing quite like spending an Aussie summer outdoors. Whether its the smell of sunscreen and tanning oil that smacks you in the face as soon as you hit the beach or the chirping of crickets in the evening at a remote campsite some 200km from home, getting there requires fuel.
The past year has seen petrol prices skyrocket with the Australian Competition and Consumer Commission (ACCC) reporting October 2021 saw a seven-day rolling average price across the five major capital cities of 172.4 cents per litre - the highest in seven years. More recently, November 2021 saw motorists in these cities paying on average 48 cents per litre more for petrol than 12 months prior.
In this article, we'll discuss:
---
In the market for a new car? The table below features car loans with some of the lowest interest rates on the market.
Approval in 24 hours
Balloon options to reduce repayments
No ongoing fees, no discharge fee
Rates based on a loan of $30,000 for a five-year loan term. Products sorted by advertised rate. *The Comparison rate is based on a $30,000 loan over 5 years. Warning: this comparison rate is true only for this example and may not include all fees and charges. Different terms, fees or other loan amounts might result in a different comparison rate. Rates correct as of January 17, 2022. View disclaimer.
---
What factors influence petrol prices?
Australia is dependent on imports to meet domestic demand to fuel our holiday journeys. This exposes fuel prices to the impact of production decisions made by the Organisation of the Petroleum Exporting Countries (OPEC), which the ABS notes generates approximately 40% of the world's total crude oil production.
With the OPEC in one hand, in the other the Australian Institute of Petroleum notes the Singapore price of unleaded petrol, MOGAS 95, is the key pricing benchmark for Australian fuel. Changes in Singapore prices can take around two weeks to work their way through the supply chain to Australian cities and longer in regional areas.
The retail side of the coin
Combining supply determined by OPEC and benchmarks set by Singapore, retail prices in capital and larger cities typically follow a discounting cycle known as the petrol price cycle. This petrol price cycle is a set of deliberate pricing policies employed by petrol retailers and are not directly related to changes in wholesale costs.
Retailing costs and pump prices can vary greatly between towns according to The Australian Institute of Petroleum, reflecting differences in local competition, population, freight and handling differences, as well as different operating conditions depending on the volumes of fuel sold and store turnover. The table below details the average price of fuel offered by retailers in each capital city throughout November.

Source: RACQ Monthly Fuel Price Report - November 2021
Read more: What influences fuel prices in Australia?
Why are different types of petrol more expensive than others?
Pulling up to the petrol station where the red led lights shine bright, you are often faced with the choice of multiple options to fuel your vehicle for wherever life may take you next. Some fuels dubbed 'premium' products may be more expensive than others and with that premium price tag comes potential benefits - or detriments if you use the incorrect fuel type.
Generally E10, an ethanol based fuel, is the cheapest alternative for motorists based on what's inside. Its make up means ethanol is less energy dense than oil, which could result in hampering fuel economy over a long journey. This means more stops at the service station and more hits to the back pocket in what is meant to be a relaxing time of year. Based on its make up, E10 is generally priced an average of five cents cheaper than regular unleaded petrol, 91.
Premium fuels generally range across two categories, PULP 95 and 98 with both designed for foreign, imported and high performance vehicles. Considered premium based on their make up of ethanol and oil optimising engine performance, their price point also sits at a premium. Figures from RACQ's Monthly Fuel Price Report for November 2021 detail the price for PULP 95 peaked at an average of 184.8 cents per litre across Brisbane, more than 14 cents per litre dearer than it's Unleaded 91 little brother.
Choosing the right fuel type
Determining the right type of fuel for your car can be as simple as looking under the petrol flap of your vehicle, reading the manual or asking your mechanic. If you aren't in a financial position to fuel your car with more premium fuels, that's okay! Both E10 and Unleaded 91 are great options, that still maintain sufficient engine performance. You may just have to pull into the bowser more often than not.
Read more: Different fuel types explained
Tips and tricks to save at the bowser this summer
There are a number of ways to save cash at the bowser over the course of the summer, leaving you to focus more on your tan lines and less on the petrol pump.
Apps
A great way to save on fuel this summer is to use a variety of applications readily available at your fingertips. Apps available on both the Apple App Store and Google Play store for your mobile devices include:
PetrolSpy

MotorMouth

Fuel Map

GasBuddy

My 7-Eleven

Everyday Rewards
Apps like PetrolSpy, MotorMouth, Fuel Map and GasBuddy will scout your location to assist in finding the best price fuel available.
The My 7-Eleven app is unique to the list above as it allows the user to search across local 7-Eleven stores to find the best fuel price and 'lock-in' that price for a period of seven days. Speaking from personal experience, this app has saved my back pocket on multiple occasions - timing a 'lock-in' to just before a petrol cycle price rise to secure a price per litre in some cases 15-20 cents per litre cheaper than advertised.
Petrol price cycle plateaus
Waiting for drops or plateaus in the petrol price cycle is the optimum time to purchase fuel. Generally across major capitals, petrol prices rise steadily before reaching another peak every 10 days based on ACCC data. From this peak it takes an average of 20 days for prices to reach another significant fall.
Maintenance
Maintaining the mechanical functionality of your car has the potential to go a long way in maximising fuel efficiency and helping you save at the bowser. Ensuring regular mechanical checks, oil changes and optimal tyre function including tread and air can assist in saving fuel.
Air conditioning
On 30 degree days, there's nothing better than blasting the cold air-con to save yourself and your fellow passengers from the dreaded humidity. Some will even pre-cool their vehicle before setting off on an extensive journey. It's things like this that can be detrimental to overall fuel efficiency and leave you scratching your head as to why you chew through fuel so quickly. Cutting back on the temperature of air-conditioning and the timing of its use, can help save fuel over the duration of a lengthy journey.
Reducing total car load
Sure it's inevitable to need to take quite a few things on a summer getaway, but distributing loads evenly or in some cases, across multiple vehicles, can aid in saving fuel over the course of a lengthy journey.
Pooling the cost
If you are travelling with mates or even family, pooling the cost of fuel can be a great way to save on the overall cost of a journey. By asking them to chip in to the total cost of fuel, particularly if you have to fill-up more than once along the way, will mean you alone don't have to fork out a significant amount of cash for your trip.
---
Image by Balkan Campers via Unsplash.