The latest credit and debit card spending analysis from Commonwealth Bank shows that while total spending is down significantly from a year ago, spending for the fortnight ending 1 May 2020 shows improved spending momentum.
Certain areas of spending such as online sales have lifted sharply, with online retail spending increasing by 110% compared to the same period one-year earlier.
Commbank Head of Australian Economics Gareth Aird said these results offer a "glimmer of hope" that we may have moved past the lowest point of consumer spending.
"Although people are continuing to spend less, the rate of decline is slowing," Mr Aird said.
"It looks to be the case that households have stepped up their rate of expenditure over the second half of April compared with the first half of the month."
Total spending over the fortnight to May 1 is still down by 10% on a year ago, but is faring much better than mid-April spending figures, which were down by almost 20% year-on-year.
"Our latest data comes before any easing of restrictions, so it may be that households are feeling more confident to spend at businesses that have not had to shut their doors," Mr Aird added.
"It also looks like households have been more eager to get online, click the mouse and fill up the virtual shopping basket."
Spending remains down on non-retail goods and services like transport, travel and personal care, but the rate of decline has eased:
Recreation spend is down 29% year-on-year (includes travel and travel services)
Transport spend is down 34% (includes things like fuel and public transport)
Spend on apparel (clothing) is down 50%
Spend on personal care is down 41% (includes things like massage parlours and hairdressers)
Spending is still up strongly on household goods and furniture, up 35%.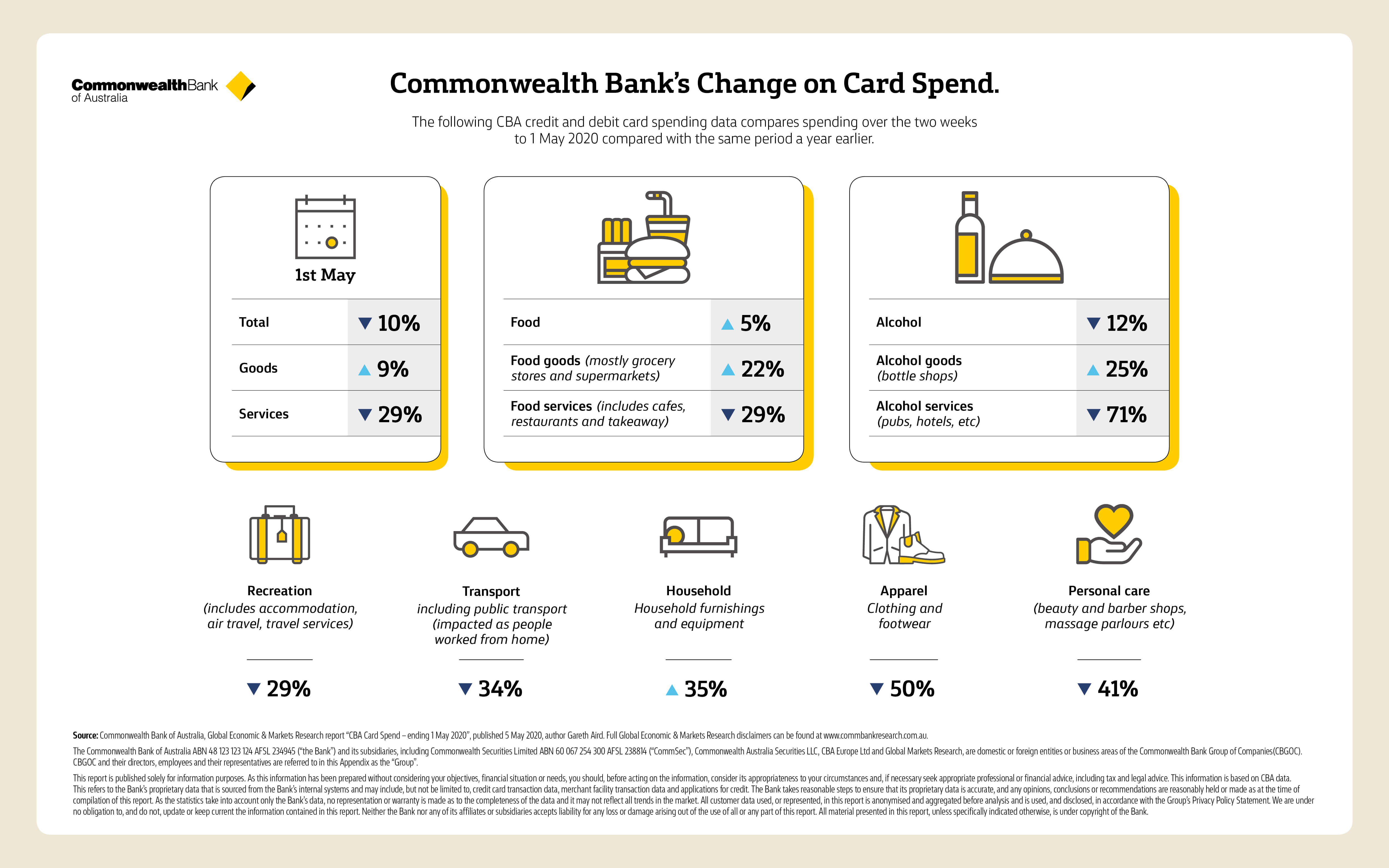 Source: CBA
"The spending pulse looks to have picked up in all states and territories over the past fortnight," Mr Aird said.
"Tasmania is the outperformer with spending down two per cent on year ago levels, NSW and Victoria continue to see large falls in spending levels against the other states, with their overall spending down by 10% and 14% respectively on the same time last year.
"Spending in the ACT is now down 15% over the year."
Many Australians have the wrong credit card
It seems many Aussies have used this period of isolation to reflect on their credit card use, with a sizable chunk of them saying they no longer have a card that meets their needs.
The J.D. Power 2020 Australia Credit Card Satisfaction Study found 42% of customers are spending less since the pandemic started, with COVID-19 creating increased financial hardship and altered spending behaviour.
According to the data, 27% of cardholders plan to acquire a different credit card, while 16% of respondents say their card no longer meets their needs and 11% say they need more credit.
Only 34% of cardholders say the annual fee they pay (62% pay an annual fee on their credit card) is less than the value they receive from the card.
According to the research, those with higher annual fees are less satisfied and redeem rewards less often than lower-fee customers.
Bronwyn Gill, head of banking and payments intelligence at J.D. Power Australia, says it's very important people have a suitable card at the moment, especially if they rely on them to help alleviate cash flow issues.
"While a strong mismatch was occurring before the pandemic, the change in spending habits is heightening this disconnect, affecting reward accumulation and perceived value," Ms Gill said.
"Cardholders are evaluating the existing cards they hold, and issuers need to ensure they are creating value for their customers to weather this storm."
Credit card customers with Bendigo Bank were the most satisfied, according to the research, with American Express (Amex) not far behind.
Citi customers on the other hand were the least satisfied.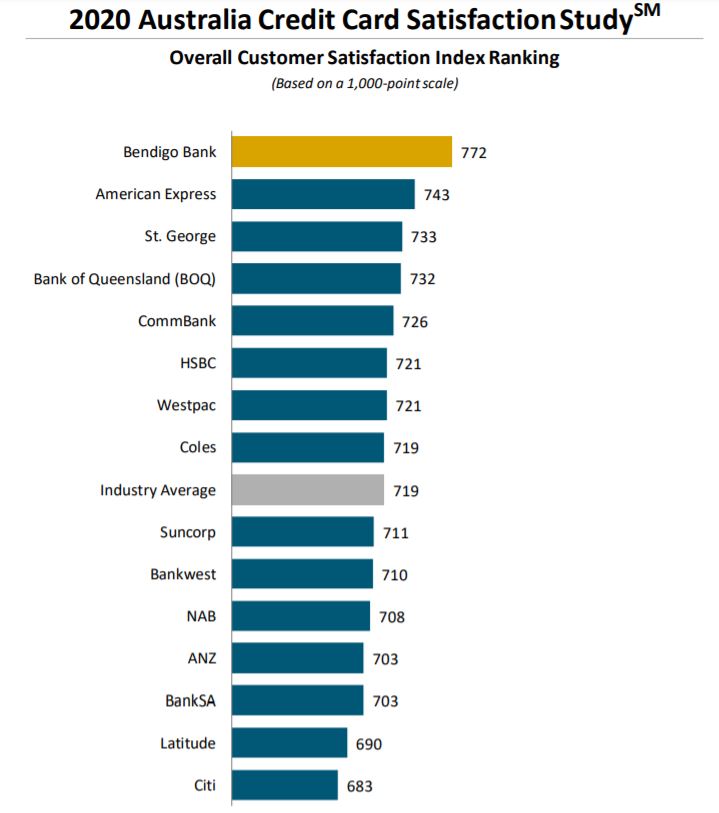 Source: J.D. Power
Cardholders facing increased hardship
J.D Power's survey also found nearly one in five (19%) of credit card users are facing financial hardship during the pandemic, and cannot meet their minimum monthly credit card payments.
Other key takeaways from the survey include:
27% of respondents are using their card more for household necessities, 23% are using it more often to pay household bills
Of the 14% of cards aligned with airline rewards, 63% of those cardholders have spending and usage habits that don't align with card
Only 38% of customers were contacted by their issuer in the past 12 months.
Nearly three-fourths (71%) of communications are received digitally, and this method has the highest positive influence on overall satisfaction (+41 points).