Figures released by the Australian Financial Security Authority (AFSA) reveal the September 2019 quarter had the lowest level of bankruptcies since the March quarter in 1995.
There were 3,692 bankruptcies filed in the September 2019 quarter, representing a 6.4% drop compared to the September quarter in 2018.
The decline in credit card usage could be helping to assist the fall in bankruptcies. Credit card debt fell to an eight-year low in May, according to CommSec data.
Most states and territories saw falls in bankruptcies with the exception of the Australian Capital Territory (ACT), the Northern Territory and Tasmania.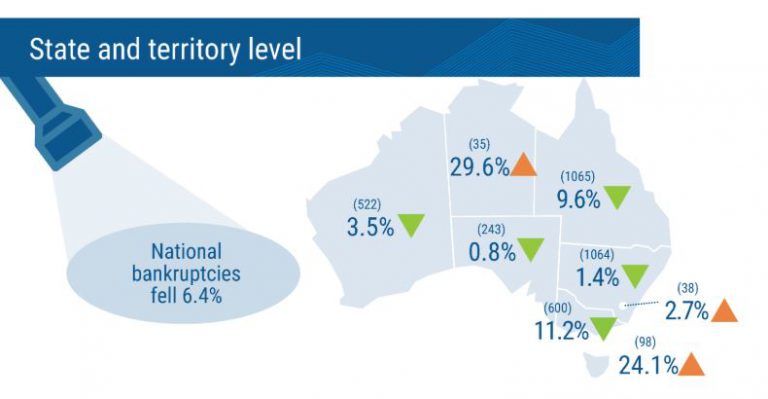 Source: AFSA
The ACT saw a 2.7% rise in bankruptcies while the biggest gains were in the Northern Territory (up 29.6% to 35) and Tasmania (up 24.1% to 98).
The state to record the biggest drop in bankruptcies was Victoria, down by 11.2% to 600. This was followed by Queensland (down by 9.6% to 1,065), Western Australia (down by 3.5% to 522), New South Wales (down by 1.4% to 1,064) and South Australia (down by 0.8% to 243).
In the September 2019 quarter, 24.8% of all bankruptcies entered into were business-related.
Commsec senior economist Ryan Felsman said many states had hit record low bankruptcy rates.
"Some Aussies are struggling at the moment with financial pressures, but new personal bankruptcies are at the lowest level since March 1995. Insolvencies have been falling over the past decade," he said.
"In fact, bankruptcies in Victoria are at 29-year lows and insolvencies have hit 15-year lows in Queensland."