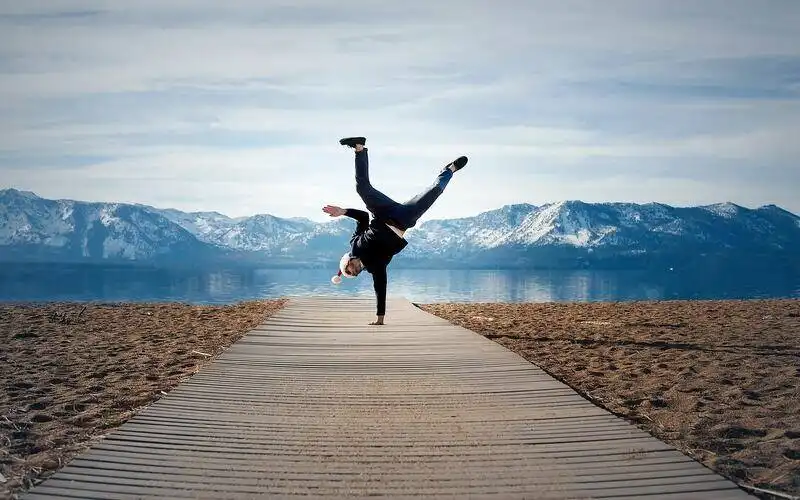 Consumer confidence increased 2.6% from February to March, and is more than 20% higher than March 2020 at the onset of coronavirus.
The Westpac-Melbourne Institute Index of Consumer Sentiment increased by 2.6% to 111.8 in March from a month prior, well above the long-term average of 101.3.
This is just 0.2 points below the ten-year high seen in December, and is up 21.6% from the index score recorded 12 months prior, when coronavirus restrictions first hit the economy.
According to Westpac, driving this increase is Australia's success in containing COVID-19, the impending vaccine rollout, and "improving economic conditions and prospects, both domestically and abroad".
---
Buying a home or looking to refinance? The table below features home loans with some of the lowest interest rates on the market for owner occupiers.
Fast turnaround times, can meet 30-day settlement
For purchase and refinance, min 20% deposit
No ongoing or monthly fees, add offset for 0.10%
Consumers generally remain confident in their ability to spend and save:
'Family finances vs a year ago' is up 10.4% yearly
'Family finances next 12mths' is up more than 14% yearly
'Economic conditions next 12mths' is up 3.7% monthly and almost 50% yearly
'Time to buy a major household item' rose 3.7% and 11% monthly and yearly respectively

However, house price expectations continue to rise, increasing more than 3% on the month as February recorded the largest monthly price rise in 17-years, according to CoreLogic.
With the 'Time to buy a dwelling' index falling 3.6% monthly, Westpac's chief economist Bill Evans said the survey shows "evidence of tensions emerging in the housing market", something similar to what it said last month.
"The tensions in the housing market are likely to be evidence of an emerging squeeze on affordability from rising prices," Mr Evans said.
"While optimism around house prices is surging, respondents are becoming more hesitant around the attractiveness of buying and remain wary about real estate as an investment option.
"The decline suggests resurgent prices are already starting to curb buyer interest and that we may see some easing in the recent surge in demand from owner occupiers, particularly from first home buyers who are the most sensitive to affordability."
See also: RBA watching housing market boom 'carefully', may intervene
"Safe" investment options still dominating
Despite confidence increasing, Aussies still appear to be taking a conservative approach with their cash, keeping it stashed in their bank accounts instead of investing it.
With more than $200 billion added to deposit accounts last year, the survey found 30% of consumers nominated deposits as the safest place for savings, similar to the 30.3% seen in the GFC.
'Pay down debt' was nominated by 18% of respondents (20.3% GFC), while just 9.3% of consumers nominated 'real estate', the third lowest result in 47 years.
Shares were chosen by around 10%.
Need somewhere to store cash and earn interest? The table below features savings accounts with some of the highest non-introductory and introductory interest rates on the market.
Mr Evans said the Reserve Bank board will be pleased with Australia's economic progress, but remain unlikely to make any changes to interest rates in the near future.
"Enthusiasm for spending and comfort with job prospects and security will be reassuring to the Board. But markets and some commentators have been warning against damaging housing bubbles," he said.
"The survey points to rising house prices although investors still appear cautious. Owner occupiers, including first home buyers, may already be becoming deterred by the associated deterioration in affordability.
"We can be confident that if the [Reserve] Bank does become concerned about over-heating the likely policy response will be to impose regulations on bank lending rather than to increase interest rates."
ANZ also reports high consumer confidence
The ANZ-Roy Morgan Consumer Confidence increased by 1.6 points to 111.9 this week, which is now above the 2021 weekly average of 110.4 and a significant 11.5 points higher than the same week in 2020.
According to Roy Morgan, this was driven by "increasing confidence about the performance of the Australian economy over the next year and next five years".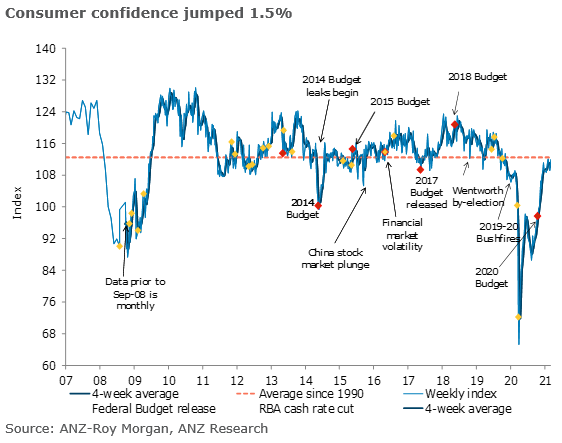 This index shows 39% of Australians expect their family to be 'better off' financially this time next year, while 41% say now is a 'good time to buy' major household items.
ANZ Head of Australian Economics David Plank said these numbers reflect the strong gains registered by ANZ Job Ads and the GDP numbers last week.
---
Photo by Blake Weyland on Unsplash