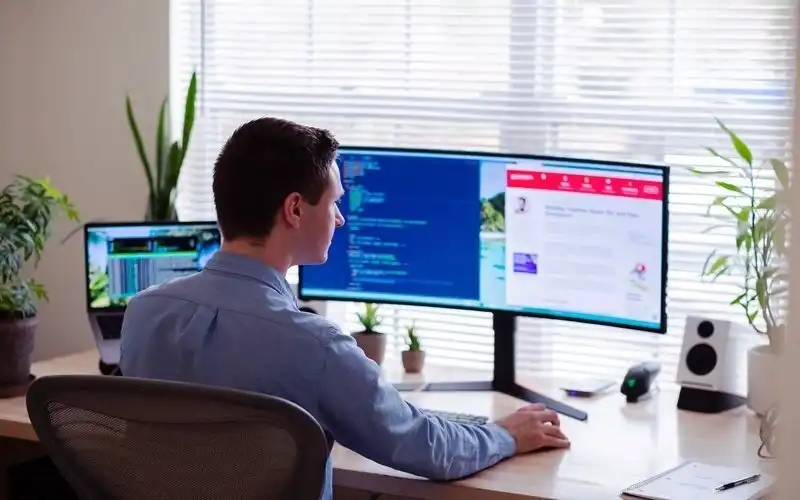 Working from home looks set to stay, even after COVID-19 is done for good (if that ever happens).
With the COVID-19 pandemic forcing many businesses to shift to working from home (WFH), a good portion of businesses and employees have found they quite like it, and may just keep doing it after the pandemic, at least semi-frequently.
In response to this demand, many Australian employers plan to implement 'hybrid' working arrangements according to a report by global technology research and advisory firm Information Services Group (ISG).
Employers want activities such as negotiations, staff training, coaching, brain storming, and collaboration to be in-person, in order to allow employees to do their computer-based work from home.
Lisa Borden, partner and head of ISG Australia-New Zealand, said the employee experience will play a major role in the future of the Australian workforce.
"Employers will seek to attract and retain talent by offering mass personalisation and the freedom to work anywhere, at any time, with seamless security," Ms Borden said.
The report says that many Australians are already leaving their current jobs for the flexibility of hybrid working arrangements.
Australian architecture and interiors firm Bates Smart commissioned a survey of more than 1,000 Australians and found that 74% feel they are working as or more productively than they were in the office. Moving forward:
Only 12% said they want to go back to working in the office full time;
32% want to do half a day to one day per week WFH;
28% want to WFH 1.5-2 days; and
28% want to WFH half the week or more
Working from home can have its benefits. Source: YouTube.
While there is a desire to do more working from home moving forward, a key find in the report is that there's a lack of work/life balance separation, and a lack of dedicated working space (e.g. a home office or study) is a key factor. Of those surveyed, 65% believed a key priority for future residential design was to have a dedicated home study room, and 48% wanted a greater number of spaces to work in.
"It's not that we need more space at home, just more dedicated and separate work or study spaces," Bates Smart Director Kellie Payne said.
"The home of the future may need to incorporate a home study area or spaces that are designed more flexibly to react to a work from home scenario."
So if you're one of the many Aussies looking to do more working from home once we emerge from the other side of the COVID crisis, you might want to consider building a home office, or renovating an existing one.
With this in mind, let's try to answer some of the key questions you might have about building and using a home office to work from home in.
Buying a home or looking to refinance? The table below features home loans with some of the lowest variable interest rates on the market for owner occupiers.
Fast turnaround times, can meet 30-day settlement
For purchase and refinance, min 20% deposit
No ongoing or monthly fees, add offset for 0.10%
What does it cost to build/renovate a home office?
Unfortunately, building a new home office or renovating an existing room into one isn't cheap, although as far as renovations go it isn't too expensive either.
MCQ Quantity Surveyors provided Savings.com.au with a breakdown of the costs associated with two different home office renovations done in Sydney:
One was the renovation of an existing bedroom that was turned into a place to work from home and home school children
The other was an entirely new room built into a larger lounge room, and included a new window, door and walls.
In these scenarios, the existing room renovation cost $552.23 per square meter, while the new room was more than twice as expensive at $1,206.65 per square meter (both inclusive of GST). In the end, the two cost around $6,000 and $16,000 respectively.
Below is a simplified cost breakdown of the two different renovations - factoring in different costs like electrical work, contractor margins, painting costs, demolition and more.
Bear in mind that these are just two examples, and home office renovations can cost more and less than this depending on their size and scope.
| Task description | Existing renovation ($) | New renovation ($) |
| --- | --- | --- |
| Preliminaries | $602.43 | $1,607.54 |
| Contractor's Margin | $803.24 | $2,143.38 |
| Demolition | $920.00 | $836.00 |
| Electrical | $675.00 | $1,200.00 |
| Internal Linings | $280.00 | $1,549.80 |
| Joinery | $1,384.00 | $1,020.00 |
| Painting | $757.20 | $1,045.60 |
| Floor Finishes | - | $720.00 |
| Mechanical | - | $2,500.00 |
| Carpentry | - | $1,694.30 |
| Sound Insulation | - | $151.20 |
| GST | $542.19 | $1,446.78 |
| Total | $5,964.06 | $15,914.60 |
Source: MCQ Quantity Surveyors
So you can see that renovating a home office can cost several thousand dollars at the minimum end, and closer to $20,000 at the other. And if you're going to be renovating a home office, the current conditions mean now could be a good time, according to MCG Quantity Surveyors founder and director Marty Sadlier.
In Mr Sadlier's words, there has been an increased demand for such projects recently.
"In many cases, we are seeing builders that do not touch renovations and just solely concentrate on new builds, now submitting tenders and taking on renovations," Mr Sadlier told Savings.com.au.
"The positive to renovation work is that it is usually completed over a shorter time frame. Where a new house may be a 26 – 52-week construction, a renovation would usually be a much shorter program duration.
"Therefore if a builder or subcontractor has to take a hit on profit margins, they do not have to feel the pain of this lack of profit for many months or years to come."
So in summary, it might be a good time to start renovating in the next six months or so, with construction activity facing a 50% fall.
"Working from home one day a week for a short period of time would not see much of an increase in the need for a home office. This does not really impact the daily lives of a household," he said.
"However, with the current situation where families may be forced to have parents both working from home for some 6 months, a more permanent location within the house is required.
"With international travel cancelled for the foreseeable future, we are seeing the money earmarked for that holiday being utilised for the renovation of home spaces to provide a home office or schooling area."
Read: Full details of $25k HomeBuilder scheme announced
Need somewhere to store cash and earn interest? The table below features introductory savings accounts with some of the highest interest rates on the market.
How can you finance a home office renovation?
Given a home office renovation can easily cost many thousands of dollars, you may not have the money set aside to pay for it with cash. Although if you can pay for it with cash you can avoid paying interest and fees on any loan, so go for this option if you have it available.
If you don't have the cash with you, then you could use either of the following options to pay for your renovations:
Use a personal loan: Once you've got a cost estimate for your renovation, a personal loan lets you borrow a certain amount at a potentially higher interest rate than a standard home loan. Depending on the cost, this loan can be secured against the property, or unsecured, which usually results in even higher interest rates.
Refinance to tap your home's equity: For more expensive renovations, tapping into your home's existing equity can help you pay for it. You can refinance your home loan (if you still have one) to add the cost of the renovation to the loan. Lenders typically let you borrow up to 80% of the value of the property, so you'll probably need to leave at least 20% of your equity in the home.
Use a redraw facility: If your mortgage has a redraw facility and you've made extra repayments, you may consider withdrawing from those funds to pay for your renovations.
Use a construction loan: Major renovations, like adding a new room, can be paid for with a construction loan. A construction loan typically allows you to withdraw whatever amount you need in order to pay the latest renovation-related invoice that has come in.
Use an overdraft/line of credit loan: A line of credit loan essentially works as a kind of 'credit card for your house'. It's a revolving line of credit that can be accessed at any time. Generally, lines of credit are better used when you don't have a specific value of money you need to borrow, and might need a little bit of lee-way.
If you aren't sure which type of loan you should use to pay for your home office renovation, speak to a mortgage broker or financial adviser who can help make the decision for you.
Compare construction loans
Interest Only during construction
No monthly, annual or ongoing fees
Get Australia's lowest rate construction loan when you go green
Read: How to save on house renovation costs
What does it cost to fit out a home office?
Once you've renovated your new office, the next step is to pay for everything in it, which again isn't cheap. Unless you want to sit on a cardboard box with a single old laptop on the ground, you'll probably need to shell out a decent amount of cash on the following things:
A scanner and/or a printer (may not be necessary depending on your line of work)
A good computer
A good monitor (some people get two for the dual-screen effect)
Cord organisers and extension cords
A good headset if you'll be having virtual meetings or external calls
Fast internet
A comfortable chair
A view (optional)
A 2015 report by Regus (a multinational provider of serviced offices and co-working spaces) found the Average Australian with a home office spends $240 per-month to run it, which includes the cost of equipment, and works out to be around $3,000 per year. Other small business workers say running and setting up a home business can cost as much as a third of their monthly salary!
It's not hard to see why:
Laptops can cost anything from a few hundred dollars to a couple of thousand dollars, and desktop computers can easily cost upwards of $500
A cheap printer can cost between $100-$200
Cheap scanners can cost around $50, better ones can cost around $150
Cheap monitors can cost around $150-$200, better ones can cost $400-$500
A high standard office chair can cost upwards of $200-$300
Mitchell Kelly, who owns small business Pathfinder Alliance, a digital marketing agency, said he spent $2,000 all up on fitting out his home office.
"First things first, your chair. You're going to be sitting in it for 8 hours a day, investing in a quality chair will have the biggest return on investment of anything in your fit-out," Mr Kelly told Savings.com.au.
"I use a Battlebull gaming chair. It has soft leather, memory foam cushioning and steel belt elastics. It's orders of magnitude better than what I used to use and I can categorically say it was worth every cent."
Cost: $250
"I use a lot of tabs and browser windows during the day, so I need 2 monitors in addition to my laptop," he said.
"As with the chair, quality makes a big difference in this case too. I got 2 monitors at $250 a pop. Both 24 inch with high-quality resolution.
"The last thing was the monitor mounts which allows me to easily adjust the positioning of the monitors. This cost $100."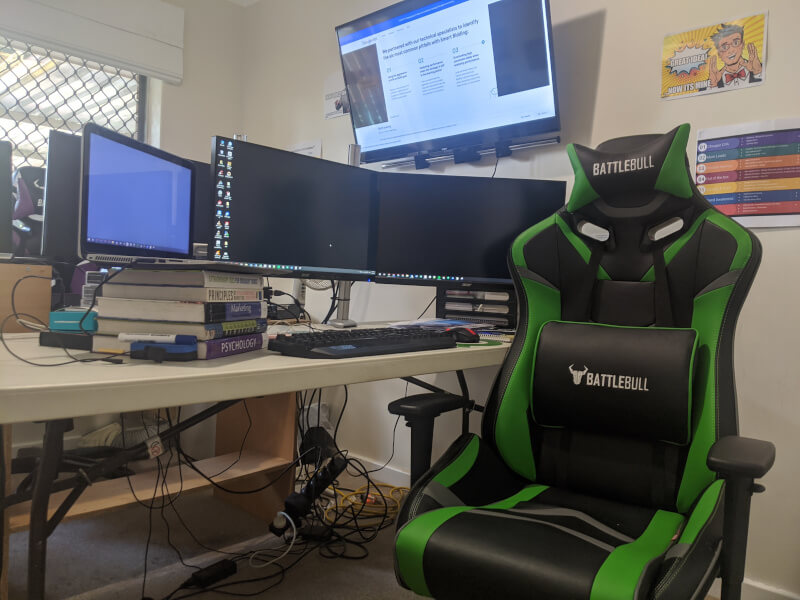 Mr Kelly's home office setup. Image provided.
Of course there's nothing compelling you to spend all this money on equipment, but if you're going to be working from home for a long time, you need to be at least somewhat comfortable and productive.
How much does it cost to run a home office?
Another cost to factor in is how much extra it can cost just to run your home office, in terms of power. Working from home can lead to higher electricity bills, phone bills, internet bills, water bills and other bills, since you're physically at home more.
Think about what your usual power bills were before you started working from home because of COVID: According to Ergon Energy, their average customer spends about $381 per quarter, or about $1,500 per year, on energy. Most of this is spent on air conditioning and heating (40%) water (21%) and powering appliances (21%). Factor in the extra time you're spending at home, and that's more you're using the lights in your home, more you're using the aircon, more phone calls you're making, and potentially more phone data as well.
Mr Kelly told Savings.com.au that he has seen an increase in his power consumption by about 30% since he started working from home.
"There absolutely has been an increase in my consumption since working from home. I was at around $180/bimonthly and now I'm at $250," he said.
That average energy bill increasing by 30% would result in a $381 quarterly bill rising to just under $500.
So in addition to paying for and fitting out a home office at the cost of thousands of dollars, you also need to factor in the higher power bills you're likely to face.
Read: Rising energy costs a major concern for 96% of Australian households.
Tax deductions of working from home
Running costs
So the bad news is, running a home office and setting one up is expensive. The good news is, a lot of the expenses are tax-deductible. The recent increase in work-from-homers has seen the Australian Taxation Office (ATO) change the rules for the better.
In April 2020, the ATO announced that people will now be able to claim a rate of 80 cents per hour for all their running expenses, up from the previous level of 52 cents per hour, instead of having to calculate specific costs. This is for running expenses such as internet and electricity bills incurred between 1 March 2020 and 30 June 2020, as well as:
Cleaning costs for a dedicated area
Phone bills
Depreciation of home office furniture and equipment
Unfortunately, rent and mortgage repayments don't count.
ATO Assistant Commissioner Karen Foat said the new shortcut method will make it easier for those who are adjusting to working from home for the first time.
"The shortcut method provides a rate of 80 cents per hour and will only require you to keep a record of the number of hours worked from home," Ms Foat said,
"This recognises that many taxpayers are working from home for the first time and makes claiming a deduction much easier.
"If you choose to use this shortcut method, all you need to do is keep a record of the hours you worked from home as evidence of your claim."
Alternatively, you can use the 'diary method', which is generally more complicated but tends to result in greater deductions. With this method, you work out how much of your household running expenses relate to doing work in your home office over a four week period, which can then be extrapolated.
For more information on how this works, consult the ATO itself or a registered accountant, and consider using the ATO's home office expenses calculator.
Purchasing costs
As well as ongoing costs, you can also reduce your taxable income by claiming some of the purchase price of work-related items, like your computer, your monitors, headsets and more.
According to the ATO, small capital items such as furniture and computer equipment costing less than $300 can be written off in full immediately, while other more expensive items allow you to claim up to $300 - if it costs more than that, you can deduct the decline in value using the ATO's depreciation tool.
So if you had to buy a laptop, two monitors and a chair for your home office, and want to work out your deductions the easy way, you could simply write off $300 for each of these items, assuming they cost more than that. In this case, that'd be another $1,200 you could reduce your taxable income by, and we're not even factoring in a lot of the smaller purchases (like stationery) that you can also include in your next tax return.
Again, you should contact an accountant or qualified tax adviser, or the ATO itself if you need help working out what you can and can't deduct from your home office.
Read: Things that aren't tax-deductible
Can a home office add to the value of your property?
There's an argument to be made that yes, a home office can add value to your property if you plan on selling it in the future. Research by Domain back in 2012 found that a good home office could add as much as $100,000 to the value of a property, and that was years ago, well before the coronavirus onslaught of workplaces transitioning to working at home took place.
So will a home office add to the value of your property now? Jane Slack-Smith, Director of Investors Choice Mortgages and Founder of Your Property Success, said that the typical in-demand house is one with three bedrooms, and a potential demographic shift to add an extra room (such as a home office or a bedroom that can be used as an office) might become the new must-have, which will lead to increased demand.
"Supply and demand dictates property prices and the initial indication is that more and more people are considering working from home," Ms Slack-Smith told Savings.com.au. "With this convenience will come a price tag for those who want to continue their COVID-19 quarantine and it might just bump up the demand of four-bedroom properties or those with bigger backyards that can accommodate a small studio."
According to Ms Slack-Smith, it isn't so much a dedicated home office that can increase the value of a home, but a full wi-fi mesh enabled home or smart home with energy efficiencies, in addition to an extra room.
"This may well be the way savvy property owners can position their home for sale to the new market," she said. "If a potential buyer looks at a fully meshed property and one that isn't it may become the deciding factor. The investment could have a 200%+ return on what the value uplift could be."
David Hyne, Director at Herron Todd White, also said that COVID-19 could lead to an increased demand for the four-bedroom house in the family home space.
"I don't believe there to be a landslide towards working from home in the future," he told Savings.com.au. "Other trends we may see emerge is an increase in demand for genuine lifestyle properties (larger acreage, coastal areas) that are further removed from employment centres."
So to summarise, there's no guarantee that having a home office can add value to your property, but having an extra room in general can - it all depends on who is buying.
To give you an idea of the sort of things you should bear in mind when designing a home office for a future sale, Bates Smart's survey found the following things were the most important:
Natural Light (75%)
Technology setup – large and multiple screens (72%)
A dedicated space (72%)
Good Ergonomics (65%)
Environmental Conditions: ventilation /airflow/temperature (45%)
View to Nature (44%)
Acoustic Privacy (43%)
Savings.com.au's two cents
Building a home office won't be cheap, but if you plan on working from home from here on out, hopefully this guide has given you a rough idea of what it will cost, what you need to put in it and the tax write-offs that come with it. Plus, as mentioned above, having a home office could be a desirable feature in a home among the masses, so it could increase the value of your property too.
However you decide to build your home office, make sure you do the proper due diligence beforehand and know exactly what you want. That means knowing how big it will be, where it will go, the colour of paint it will be, everything. You may need to consult experts for this, such as architects, quantity surveyors, interior designers etc. The most important thing though is making sure that you can afford it, and won't overstretch your budget.
---
Article first published by William Jolly, June 2020, updated by Aaron Bell, February 2022
Photo by Luke Peters on Unsplash