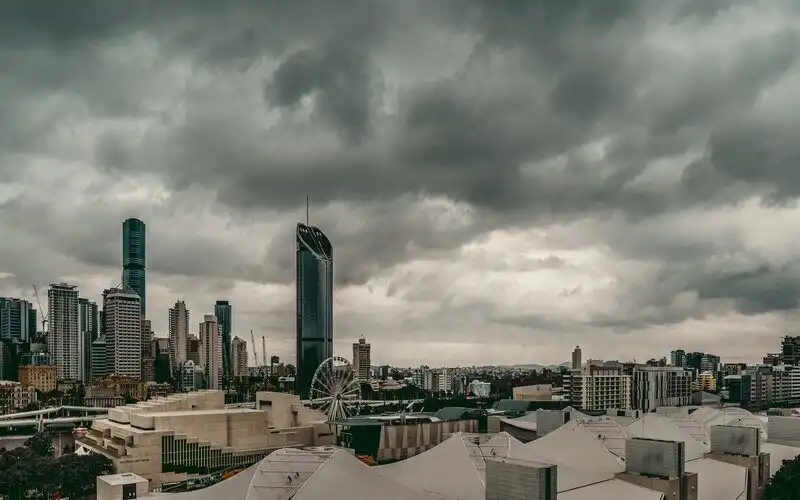 Owning your own home is one of life's greatest achievements, yet for most Australians with it comes the commitment of a mortgage.
Before a bank or home loan lender agrees to lend you money, they ensure you can meet lending criteria and the commitment of regular mortgage payments. Yet sometimes life happens, circumstances change, and your financial position takes a hit. As a result, you may be placed under significant financial pressure and are unable to make your scheduled mortgage repayments.
In this article, we'll discuss:
Buying a home or looking to refinance? The table below features home loans with some of the lowest variable interest rates on the market for owner occupiers.
Lender

---

Variable

More details

FEATURED

UNLIMITED REDRAWS

SPECIAL OFFER

Smart Booster Home Loan Discounted Variable - 2yr (LVR < 80%)

Fast turnaround times, can meet 30-day settlement
For purchase and refinance, min 20% deposit
No ongoing or monthly fees, add offset for 0.10%

Variable

More details

FEATURED

100% FULL OFFSET ACCOUNT

NO APPLICATION FEE OR ONGOING FEES

Low Rate Home Loan - Prime (Principal and Interest) (Owner Occupied) (LVR < 60%)

No upfront or ongoing fees
100% full offset account
Extra repayments + redraw services

Variable

More details

NSW/VIC/SA METRO & INNER REGIONAL AREAS

Variable Home Loan (Principal and Interest)

$5000 Cashback. T&Cs Apply.

Variable

More details

REFINANCE ONLY

Variable Rate Home Loan – Refinance Only

A low-rate variable home loan from a 100% online lender. Backed by the Commonwealth Bank.

Variable

More details

NO ONGOING FEES

FREE REDRAW FACILITY

Live-in Variable Loan (Principal and Interest) (LVR < 90%)

Rate Match Guarantee. Tic:Toc will match the rate on identical variable P&I home loans. T&C's Apply.
Fast turnaround times, can meet 30-day settlement
For purchase and refinance, min 20% deposit
No ongoing or monthly fees, add offset for 0.10%
Base criteria of: a $400,000 loan amount, variable, fixed, principal and interest (P&I) home loans with an LVR (loan-to-value) ratio of at least 80%. However, the 'Compare Home Loans' table allows for calculations to be made on variables as selected and input by the user. All products will list the LVR with the product and rate which are clearly published on the Product Provider's web site. Monthly repayments, once the base criteria are altered by the user, will be based on the selected products' advertised rates and determined by the loan amount, repayment type, loan term and LVR as input by the user/you. *The Comparison rate is based on a $150,000 loan over 25 years. Warning: this comparison rate is true only for this example and may not include all fees and charges. Different terms, fees or other loan amounts might result in a different comparison rate. Rates correct as of June 25, 2022. View disclaimer.
What is a mortgage default?
A mortgage default occurs when you fail to make and ultimately fall behind on your mortgage repayments. Once you fall behind on repayments, lenders have the option to send you a default notice on the day a repayment becomes overdue or they may wait until your repayment is overdue for 90 days or more. With a default notice, you receive 30 days to make payments including both what's outstanding and any regular repayments owed.
Some credit agencies will record a default on a credit report if the repayment is more than 60 days overdue, provided the lender has sent written notice to the borrower seeking payment and a separate notice warning that the debt may be reported to a credit agency.
Default & arrears: What's the difference?
You might often see the words 'arrears' and 'default' used interchangeably, but there's an important difference between them. Arrears refers to a loan being behind in payments at any point. Most lenders offer a one to two-week 'grace period' once you miss a payment. This means any payment made during this period is still considered to be on time. After this, you are considered to be behind on your repayments and will be classed by the lender as being in arrears.
There's any number of reasons why someone may fall into arrears. They might have lost their job or fallen ill, or interest rates may have increased to a point where they can't keep up with higher repayments.
After some time in arrears, the lender will send out a 'notice of default', which will give you 30 days to catch up with the repayments schedule. Lenders are restricted by law from offering a shorter notice period. A lender may send out the notice of default immediately after a repayment is missed, but most lenders won't take this action until you reach the 90-day mark.
Mortgage stress and mortgage defaults
Another term often used interchangeably with arrears and defaults is
mortgage stress
. Mortgage stress occurs when a household finds it difficult to pay their bills and also cover their home loan repayments. Generally, mortgage stress arises when a household is spending more than 30% of their gross (pre-tax) income on their mortgage repayments.
Not only can mortgage stress hamper finances, with the cost of living continuing to rise year-on-year, but mortgage stress also has the potential to bring with it detrimental effects to your mental health. If mortgage stress carries on for an extended period of time, ultimately it can lead to arrears and then mortgage default.
The latest mortgage stress statistics captured by Roy Morgan found during the height of COVID lockdowns, an estimated 584,000 mortgage holders (15.8%) were at risk of 'mortgage stress' in the three months to September 2021. The level of mortgage stress is down on results from a year ago, particularly during Victoria's long second lockdown, when an estimated 668,000 mortgage holders (18.3%) were considered at risk. This is due to government stimulus packages, action by lenders and record-low interest rates.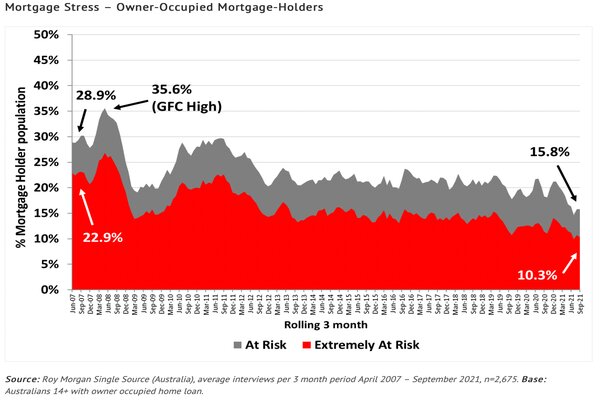 What happens when you default on your mortgage?
There are some fees that come with missing a mortgage payment, which can cost as much as $200 depending on the lender. Aside from being slapped with fees, the interest on your loan can increase as you have to make up lost payments over time. A mortgage default can also appear on your credit report, which can negatively impact your credit rating and significantly hamper your lending capabilities in the future should you choose to access another form of finance.
By far the worst consequence of mortgage default is losing the roof over your head. If you fail to pay your overdue repayment by the strict deadline of 30 days after the notice of default, then the lender may repossess the property and sell it in order to recover the debt. If you're struggling to get on top of your mortgage you may be able to sell it yourself before the lender does, as this would likely be more financially beneficial for you.
Lender steps when you default
Selling the house is usually the last step the lender will take. In most cases, they will contact you multiple times, send you a default notice and will refer you to their financial hardship team.
Usually, when you're under default or are about to default on your mortgage, the lender will take the following steps:
Notify you of a missed or late repayment.

Provide information and assistance regarding financial hardship.

Issue a notice of default with 30 days to repay the overdue component.

File a 'statement of claim' to begin legal proceedings for repossession of the property - if the overdue component isn't paid within 30 days.
Under consumer credit law, the lender does not have to give the borrower 30 days to repay if:
If none of these scenarios is applicable, then the lender is legally required to give you 30 days to pay the missed repayments before issuing a Statement of Claim. If you fail to file a defence against the court order within 28 days, the lender can obtain a judgement against you. After securing a judgement, the lender will typically give you a Notice to Vacate, informing you to move out.
If all of this seems too much, and you want to be aware of what your rights are when a lender tries to repossess your home, check out various websites like Consumer Action Law Centre or speak to your lender's financial hardship team or a dedicated financial information service officer for free financial information.
Steps to take if you default on your mortgage
If you're defaulting on your mortgage, or are just struggling to meet repayments, you have a number of options to choose from in order to make ends meet.
The Financial Rights Legal Centre sample letter generator can help you write a letter to send to your lender. The lender must inform you of its response to your hardship request within 21 days. If it decides to reject your request, it must give you a written reason why, and if you aren't happy with their rejection:
The lender must take it to its own internal dispute resolution team; then

You can contact the Australian Financial Complaints Authority (AFCA) to make a complaint and get a free and independent dispute resolution
You also don't have to go via the hardship team if you don't want to, although it is generally recommended. You can try and make cutbacks wherever necessary to save money for your home loan repayments, or you can even try refinancing your home loan, although this will probably be hard to do if you've defaulted.
How to avoid defaulting
Financial positions shift every day - such is life. Defaulting is sometimes unavoidable in specific financial circumstances, yet there are ways you can avoid it if you are to act quickly. To prevent defaulting, try the following either before taking out a home loan or during.
Savings.com.au's two cents
Defaulting on your home is never a good thing, yet every financial situation is different. Defaulting has the potential to leave a black mark on your credit file or in a worst-case scenario, result in your house being repossessed and having to find somewhere else to live. This is a worst-case scenario for both you and the lender, which is why it's imperative you contact your lender's hardship team to find a solution.
In addition to contacting your lender, you can also find free legal aid via the National Association of Community Legal Centres website. You can also get credit help by calling the following numbers:
| | | |
| --- | --- | --- |
| NSW | Consumer Credit Legal Centre | 1800 007 007 |
| VIC | Moneyhelp | 1800 007 007 |
| QLD and NT | National Legal Aid | (03) 6236 3813 |
| WA | Consumer Credit Legal Service | (08) 9221 7066 |
| TAS | Consumer Credit Helpline | 1800 232 500 |
Default and eviction can be very stressful, and if you're experiencing financial or emotional distress because of it, you can call:
Remember that it might not be too late to avoid going into mortgage default if you take the appropriate steps to remedy the situation.
Article originally published September 16, 2020 by William Jolly. Updated December 24, 2021.
---
Image by Michael Marais via Unsplash