The data collected by the Australian Banking Association (ABA) from the four major banks shows 91% of deferred loans now have partial or full repayments being made on them.
There are fewer than 80,000 loans still in deferral, down from a peak of more than 800,000 in June.
Back then, 11% of home loans had been deferred to the value of $195 billion, whereas the latest data shows just 0.5% of loan facilities are still on paused repayments.
This is promising news as the March 31 deadline for mortgage deferrals draws nearer, with most banks now no longer accepting new payment freezes for customers not in financial hardship.
To help customers still in need and to reduce the risk of any fiscal cliff beyond March, the ABA has launched an industry-wide Financial Assistance Hub.
"Australia is in a good place as we overcome this pandemic, but it's not smooth sailing for everyone. Far from it," ABA CEO Anna Bligh said.
"That's why Australian banks are launching the next phase of COVID-19 assistance, designed to help customers still in financial difficulty.
"For the first time, banks are unveiling an industry-wide Financial Assistance Hub. The site aims to inform and assist bank customers so they know exactly where they stand, and the support their banks will provide them."
See also: Have a mortgage deferral? Here's how your lender is expected to help
Westpac, ANZ deferrals on the way down
The ABA's release today coincides with several major banks' financial results, including Westpac and ANZ, as well as Bendigo Bank.
Westpac's update for the December quarter 2021 shows it still had $11 billion worth of mortgages still in deferral as at 31 January, worth about 19% of its total number of deferred loans during the pandemic.
However, that $11 billion accounts for just 2% of its total mortgage book.
According to Westpac it expects most of these remaining deferrals to expire before the end of February or March,
"I am particularly proud that our focus on supporting customers has contributed to a high proportion of customers being able to manage the impacts of COVID-19 and return to repayments," Westpac CEO Peter King said.
"While this year will continue to bring challenges, Westpac is well placed to assist customers and support the path to Australia's economic recovery."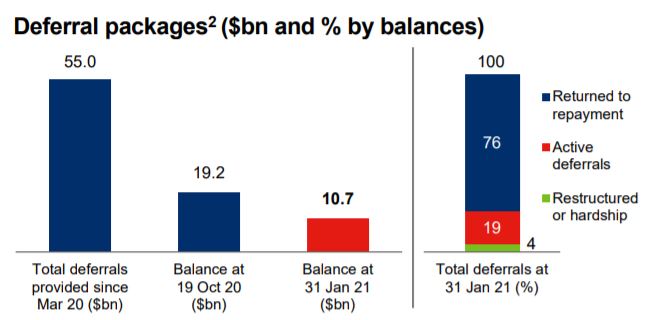 Source: Westpac
ANZ's first quarter results, released today, show only 1% of its home loan book remains in deferral, with about 16% of the initial 145,000 deferred loans still requiring assistance.
However, 98% of those deferred loans have at least partial repayments being made on them, a strategy recommended by the ABA to reduce accrued interest costs.
Commonwealth Bank released its own figures last week, revealing the value of its home loan deferrals was down to just 1.4% of its portfolio at $9 billion.
It reported 25,000 active deferrals, a far cry from the 158,000 it had at one point.
In terms of the larger non-major banks, Bendigo Bank's latest figures from today show the total number of loans on deferral arrangements as at 31 December 2020 was below 1% of its loan book.
Just over 3,000 Bendigo customers remain on deferral, an 86% decline to around $1.1 billion worth.
"The personal support we offered customers in 2020, underpinned by our customer and community connection and our enduring purpose, saw us rated as one of Australia's top 20 most trusted brands - in all categories," Managing Director and CEO Marnie Baker said.
"We also continued to support customers through COVID-19, while playing our important role of providing credit to support the economy.
"Deferrals significantly reduced from their peak in May, including in Victoria, and our strong capital position ensures we are well positioned to manage through the pandemic."
Photo by Austin Distel on Unsplash
---
---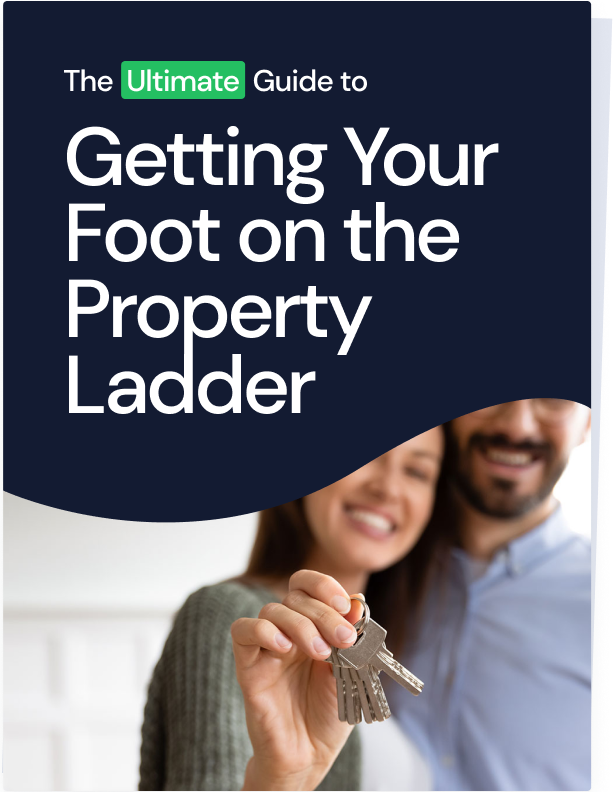 Ready, Set, Buy!

Learn everything you need to know about buying property – from choosing the right property and home loan, to the purchasing process, tips to save money and more!

With bonus Q&A sheet and Crossword!