The ABS Living Cost Index (LCI) data for the December 2022 quarter revealed a 3.2% increase.
This was in contrast to the official December quarter inflation figure of 1.9%.
Across demographics, 'employee households' was the hardest-hit category.
Further, the ABS revealed to December living costs for employee households recorded an annual growth of 9.3%, compared to annual inflation figures of 7.8%.
ABS Head of Price Statistics Michelle Marquardt said employee households have recorded their largest quarterly rise since the September 2000 quarter which followed the introduction of GST, and the largest annual rise since the series commenced in 1999.
"Mortgage interest charges for Employee households rose 26.6% over the quarter, and 61.3% over the year, with banks passing on the Reserve Bank of Australia's cash rate rises to interest rates for both variable and new fixed rate home loans," Ms Marquardt said.
Despite employee households bearing the brunt of living costs, all household types recorded quarterly increases ranging between 1.7% and 3.2% in the December quarter.
Key factors to this increase as outlined by the ABS included higher food and utilities prices over the past 12 months.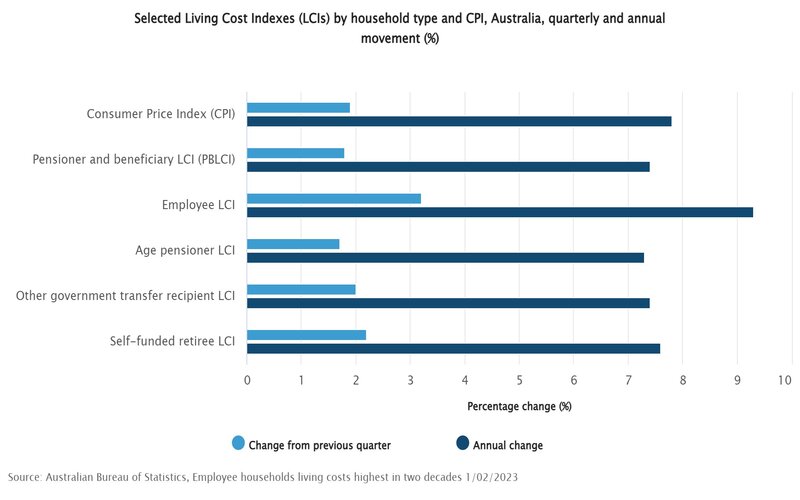 "Annually, food prices rose between 9 and 10%, driven by rises for meals out and takeaway foods, and fruit and vegetables," Ms Marquardt said.
"Utilities prices rose between 8% and 10%, driven by higher wholesale prices for gas and electricity being passed on to consumers."
ubank Chief Product and Growth Officer Andrew Morrison said these figures are a reminder for Aussies to look closely at their financial habits and get creative about ways to gain momentum with money.
"For some, this will mean switching to a high-interest savings account or refinancing to a home loan with a lower interest rate," Mr Morrison told Savings.com.au.
"For others, a quick budget refresh, skipping takeaway coffees or offloading unused subscriptions and memberships may feel more realistic."
Mr Morrison noted it's important to make sure you have complete visibility into your own spending and saving habits when faced with cost of living pressures.
See more: Which banks offer savings account rates above 4%?
Lack of real wage growth fails to ease pressures
Speaking to the Senate Select Committee on the Cost of Living, Reserve Bank Head of Economic Analysis Department Marion Kohler said that different groups in society have different patterns of spending, so their experience of cost of living can vary from the national average.
"Lower income households typically have the most constrained budgets," Dr Kohler said.
"These households, including those on the age pension and other welfare payments, tend to spend more of their income on essential items such as food, utilities and rent. Higher income households tend to spend more on items like owner-occupied housing and so-called discretionary items such as recreation and consumer durables."
Dr Kohler noted that despite the cost of living in Australia increasing significantly, it does not paint the full picture.
"What matters also is whether people's means to pay these costs – their incomes – have kept pace," she said.
"Over the past year or so, consumer prices have grown faster than households' disposable incomes, meaning that real incomes have declined overall.
"We (the RBA) understand that some people are finding the rise in interest rates difficult to manage and others will have to cut back on discretionary spending. However, higher interest rates are necessary to ensure that the current period of higher inflation and cost of living pressures does not persist too long."
---
Advertisement
Need somewhere to store cash and earn interest? The table below features savings accounts with some of the highest interest rates on the market.
Provider

---

0

1000

0

$product[$field["value"]]

$product[$field["value"]]

$product[$field["value"]]

More details

FEATURED

Savings Maximiser (<$100k)

Deposit at least $1,000 + each month from an external source
Make 5 or more eligible transactions
Grow your savings balance each month

Savings Maximiser (<$100k)

Deposit at least $1,000 + each month from an external source
Make 5 or more eligible transactions
Grow your savings balance each month

4

0

0

0

$product[$field["value"]]

$product[$field["value"]]

$product[$field["value"]]

More details

FEATURED

High Interest Savings Account (< $250k)

Bonus rate for the first 4 months from account opening
No account keeping fees
No minimum balance

0

1000

0

$product[$field["value"]]

$product[$field["value"]]

$product[$field["value"]]

More details

3

0

0

0

$product[$field["value"]]

$product[$field["value"]]

$product[$field["value"]]

More details

0

20

0

$product[$field["value"]]

$product[$field["value"]]

$product[$field["value"]]

More details

Bonus Saver Account (Amounts < $250k)

No fees or penalties for withdrawing money
Savings guaranteed up to $250,000
Maximise your savings and reach your goals faster with Auto-Savings

3

0

0

0

$product[$field["value"]]

$product[$field["value"]]

$product[$field["value"]]

More details
Important Information and Comparison Rate Warning
Image by Ketut Subiyanto via Pexels