Afterpay's new card, pictured above, is available for customers to use in physical stores by opening their phone's digital wallet app, either Apple Pay or Google Pay.
Having initially been created as an alternative to the traditional credit card, this is the closest the buy now, pay later (BNPL) leader has come to matching the credit card product, although this card is unavailable in physical form.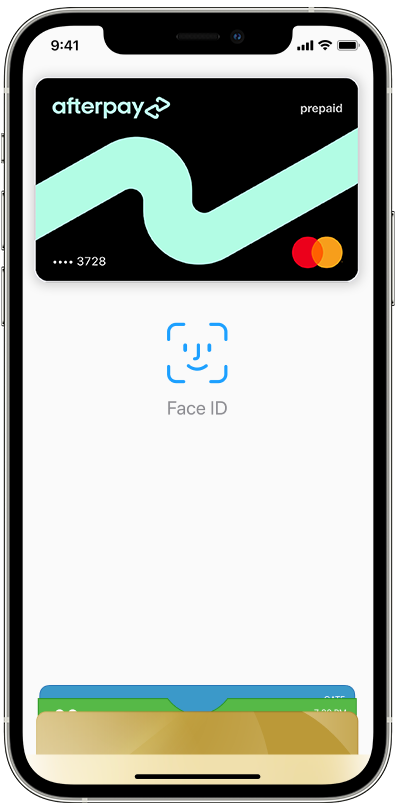 Image source: Afterpay
It works the same way as other Afterpay payments, with four interest-free installments paid fortnightly, the first-off which is paid upfront.
With in-store purchases accounting for 22% of Afterpay purchases in Australia and New Zealand, CEO and Co-Founder Nick Molnar said it is an exciting revolution for the company.
"The new Afterpay virtual card, which will sit in a customers digital wallet, is an evolution of our offering, making it even easier for millions of our Australian customers to split their in-store payments in four instalments without incurring interest - ever," Mr Molnar said.
"There is enormous opportunity to reach a new customer, who out of habit or preference, opts to shop in-store, to easily and seamlessly utilise Afterpay at the point of checkout.
"We are committed to continually innovating our product and find new ways to be more accessible to our customers and add increased value to our merchant partners."
Afterpay customers can activate this card by simply going into the Afterpay app and selecting 'Add Afterpay card to Apple/Google Wallet'.
---
The table below features personal loans with some of the lowest interest rates on the market.
Lender

---

Fixed

Unsecured

N/A

More details

APPLY ONLINE

Low Rate Personal Loan Unsecured (Excellent Credit)

No ongoing or early exit fees
Flexible repayment options
Get quick decision. Funds in 24 hrs if approved

Variable

Unsecured

N/A

N/A

More details
Simplified Borrowing - 100% online process makes it easy to apply for a loan anytime, anywhere
Personalised Rates - Get a fair interest rate that's personalised to you
More than a loan - Behind the scenes is a friendly and dedicated team ready to answer your questions
Important Information and Comparison Rate Warning
Is this card a response to the newest BNPL competitors?
The timing of Afterpay releasing its card is interesting given recent market developments.
Earlier in March, Commonwealth Bank rocked the industry by announcing it would launch its own BNPL service, in addition to already part-owning another platform Klarna.
A week prior PayPal also announced PayPal Pay in 4, set to roll out here in June 2021.
CommBank's move is the more impactful of the two however: It will work in the same way Afterpay does (four installments, no interest or annual fees), but will not charge retailers a fee to use it, which Afterpay does (around 30 cents plus 3-7% of the transaction).
"Additionally we know transaction costs are important considerations for businesses. Unlike some other BNPL providers which may charge a high fee, there are no additional fees to businesses when customers choose to pay with CommBank's BNPL," CBA's Group Executive Retail Banking Services Angus Sullivan said.
PayPal will also charge a lower merchant fee of 2.5%.
Savings.com.au asked Afterpay if its card release is a direct response to this new competition, but a spokesperson said that it was not.
"Afterpay Card has been in the works for some time having launched in the US in October 2020, with Australia being the second market to go live," Afterpay told Savings.com.au.
A recent analyst report by Macquarie suggested these new entrances from larger players, as well as potential regulatory threats, future interest rate rises and retailer sentiment could make things difficult for BNPL platforms.
UBS also said Commonwealth Bank's cheaper merchant offering would be a direct challenge to Afterpay, but Mr Molnar doesn't appear to be too worried.
"BNPL is a low interest rate play, giving providers access to cheap money. This won't last forever," the report said.
Speaking to Business Insider, he said larger players like CommBank would struggle to attract younger demographics.
"Our core customer is a very different core consumer to other payment providers in market that haven't been able to engage with the next generation so I feel that we're really well placed to compete and scale on the same trajectory as what we have to date," he said.
"Our core consumers have a lot of distrust for many financial institutions but a huge amount of trust for Afterpay."
Afterpay grew its customer base in the ANZ market from 3.1 million to 3.4 million in the latter half of 2020, while debt on credit cards fell by a quarter over the whole year.
"Companies that started life as financial providers and then try to come down into our space have an inherently difficult time to build the uniqueness and simplicity of our value proposition," he said.
"From our perspective it's certainly a validation that there's a real shift from credit to debit."
Related: CommBank & NAB's 'no-interest' credit cards reviewed.
Image via Afterpay