Grocery price comparison app Frugl has released its first Frugl Grocery Price Index (GPI), analysing price changes over time on everyday grocery items at Coles and Woolworths.
The new research is released quarterly ahead of the ABS Consumer Price Index (CPI) to track grocery price changes at the topline level while revealing inflationary trends for a range of shopper personas and grocery categories.
Frugl CEO Sean Smith said there are limitations to the ABS calculated CPI as an indicator of shifting costs of living.
"For example, the CPI does not take into account the different spending patterns of different household types and its underlying inflation measures omit price changes due to supply disruptions as a result of unusual weather events," Mr Smith said.
"The Frugl Grocery Price Index is a separate index which now aims to take a more focused look at what is really happening to households at a grocery level, as an additional indicator of the real cost of living changes."
Frugl GPI revealed the most significant quarterly increases to June 2022 were seen in the fruit & vegetables and pantry categories, up 7.48% and 6.08% respectively.
For fruit and vegetables, adverse weather events have been a significant factor in driving large quarterly price increases, with Frugal GPI revealing green beans, zucchinis, strawberries and broccoli are the key products responsible for increases.
In the pantry category, Frugal GPI revealed significant price increases were evident in some rice products, wheat based meal kits and pasta off the back of the war in Ukraine as Ukraine is a major global supplier of wheat, vegetable oils and fertiliser.
Beef remains the category that has experienced the most significant yearly price growth at 14.60%, despite recording a quarterly price index decrease of -1.58%.
Read more: Aussies spending more than $100 per person, per week on groceries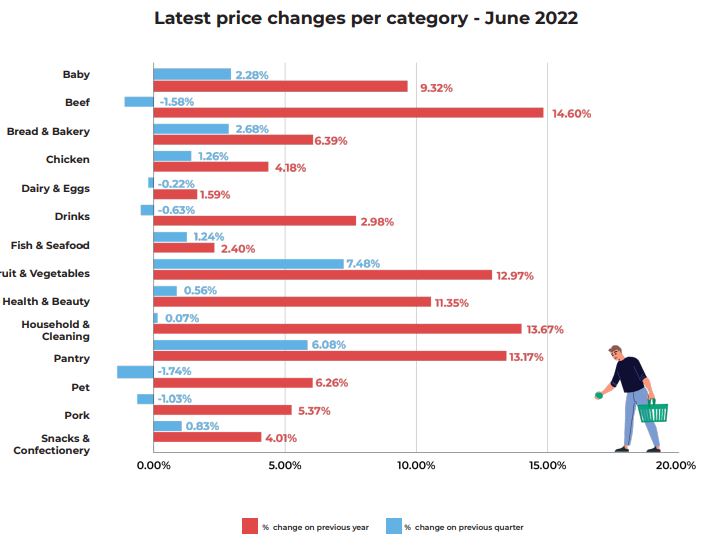 Source: Frugl Grocery Price Index
Single professionals and new parents experience greatest price pain
Analysing five groups, single professionals and new parents experienced the greatest quarterly grocery price growth of 5.59% and 3.29% respectively.
Single professionals had the most substantial quarterly increase of 5.59%, driven by increases in the price of fresh produce such as zucchini, carrots, and salad mix, along with deli products including salami and kalamata olives.
The Sunday afternoon charcuterie board just got more expensive.
Additionally, the segment had price increases in rice, meal kits and pantry staples such as crackers and chickpeas.
Frugl GPI identifies single professionals as those aged between 25-35, earning a medium to high income with no children and living in metropolitan areas.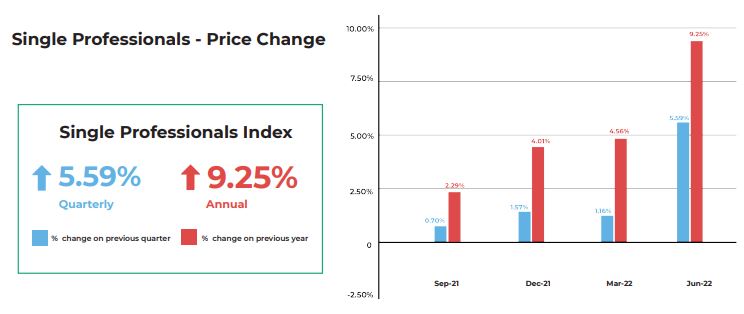 Source: Frugl Grocery Price Index
For new parents, an increase of 3.29% was in part due to a steady rise in the price of nappies, pre-prepared infant food pouches, and fruit and vegetable prices.
Frugal GPI identifies new parents as those who live in the suburbs and have experienced a shift in their grocery needs since welcoming their baby with a preference for nutritious options, organic or homegrown produce.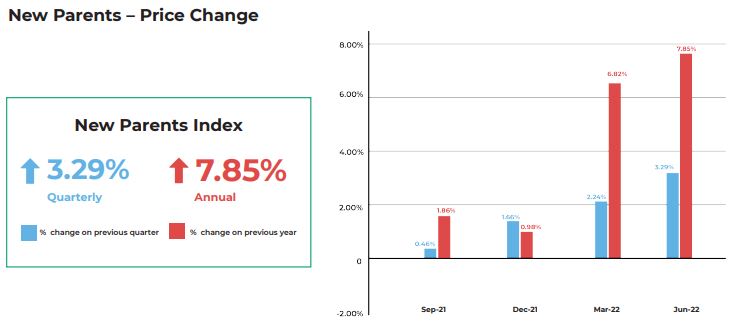 Source: Frugl Grocery Price Index
Image by Michael Burrows via Pexels
---
---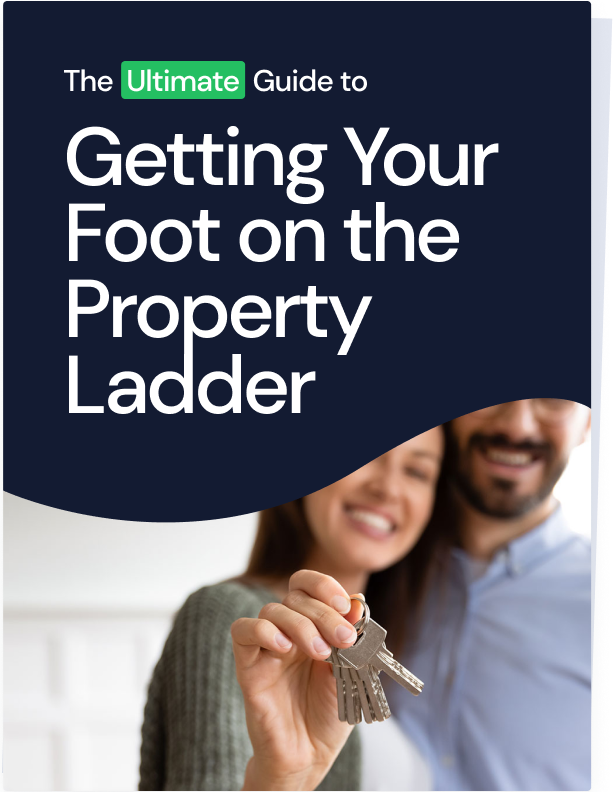 Ready, Set, Buy!

Learn everything you need to know about buying property – from choosing the right property and home loan, to the purchasing process, tips to save money and more!

With bonus Q&A sheet and Crossword!