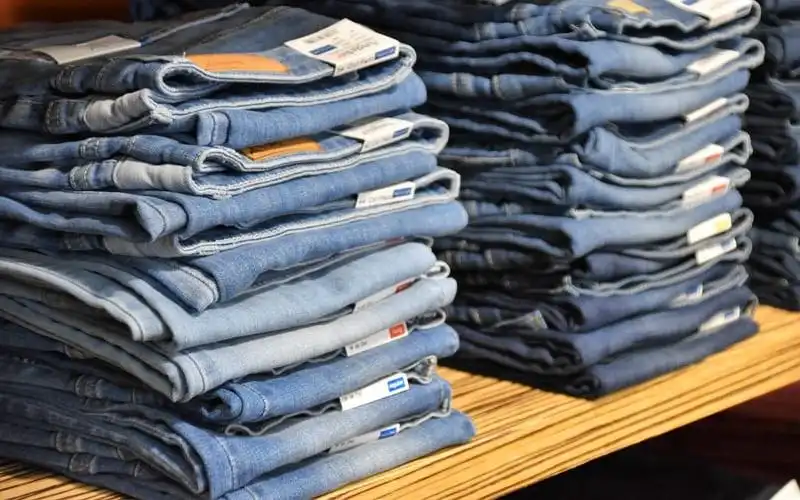 The Reserve Bank of Australia has called for surcharges on BNPL payments to shift from merchants to customers.
Buy now pay later (BNPL) providers typically charge merchants anywhere from 4 to 7% to process payments, compared to 1 to 1.5% for credit cards.
On say, a $100 pair of jeans, that would cost the merchant up to $7, compared to $1.50 when processed via Visa or Mastercard.
The RBA today recommended in its annual report that BNPL platforms should remove their no-surcharge rules.
"BNPL services are often free or inexpensive for consumers to use if payments are made on time, but tend to be expensive for merchants to accept," the RBA's latest Review of Payments Regulation paper said.
"Despite this, providers of BNPL services typically have 'no-surcharge' rules that prevent merchants from passing on these costs to the consumers who benefit from using the BNPL service.
"Taking these factors into account, the Board has concluded that it would be in the public interest and consistent with its mandate to promote competition and efficiency in the Australian payments system for BNPL providers to remove their no-surcharge rules, so that merchants have the ability to apply a surcharge to those payments if they wish.
"This approach is consistent with the Board's longstanding principle in relation to no-surcharge rules."
This recommendation would see fees switch to customers using BNPL platforms from businesses and retailers.
The move has been backed by Consumer Action Law Centre and CEO Gerard Brody, who has campaigned for better transparency for consumers.
"The truth is these costs have been hidden from users of buy-now-pay-later credit products for far too long," Mr Brody said.
"Now businesses will be able to pass on the cost of these products, and people will be better informed about the cost of these services, and therefore choose if they want to use them or not.
"People should be able to choose not to be burdened by the cost of this payment system, which can be especially expensive for retailers."
The RBA's call also raises questions about whether BNPL can no longer benefit from the loophole in National Credit Law for credit products that don't charge.
"Without this loophole, BNPL products would have to comply with important consumer protections like the responsible lending laws," said Mr Brody.
BNPL barely a blip on the radar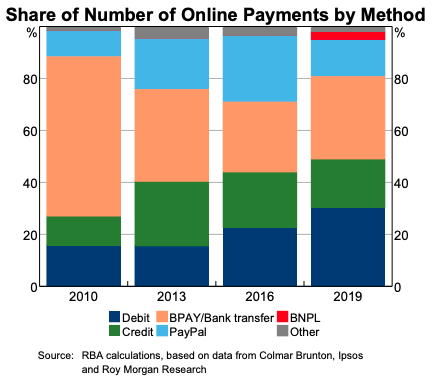 According to the RBA, despite a growing number of providers in the BNPL space, it represents just 1.7% of Australian card purchases.
According to data collected by the Bank, BNPL providers processed around $11.5 billion of purchases in the year to June 2021.
"BNPL accounts for a relatively small, though growing, share of payments in the Australian economy. The value of BNPL transactions was equivalent to 1.7% of Australian card purchases in the year to June.
"These changes have been driven by ongoing advances in technology and changing expectations of end users for convenient and safe payments."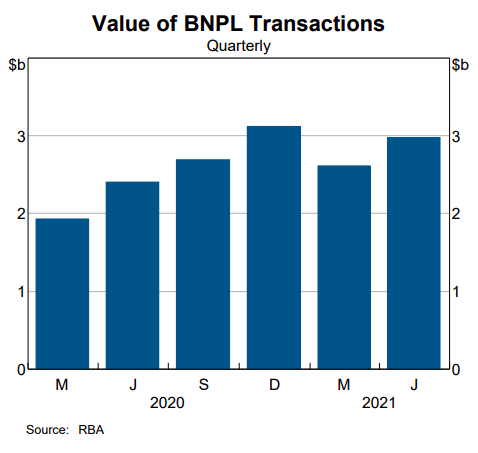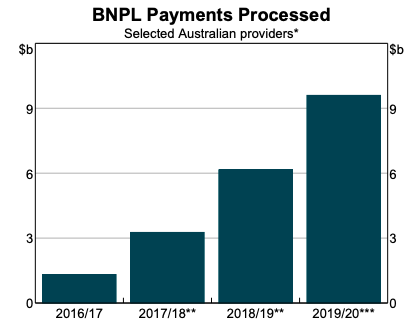 Source: RBA
This small percentage of the market has also been noticed by LimePay CEO Willie Pang, who reinforced to Savings.com.au that BNPL has only broken into a fraction of the market in Australia.
"One of the things that has really been driving us around is people talk about, it's been a very busy space," Mr Pang said.
"And so I think when people think BNPL, they think that it's incredibly saturated.
"But if you look at if you look at Afterpay's publicly available information they put out there around the penetration into the addressable Australian consumer base, we're still only 15%.
"So there's lots of people who will either have not used or will never sign up to a third party sort of financial service, or what they would view as a lending service in that way."
According to payments expert Grant Halverson, there are nearly 30 BNPL providers in the market - 12 are publicly listed in Australia, yet have made no profit despite an average individual market cap of nearly $36 billion.
All the major players now in the game
With ANZ Joining the BNPL space this month, the big four banks all now find themselves competing in the same space one way or another.
ANZ is now effectively the last of the big four banks to join the BNPL train in some guise.
Commonwealth Bank (CBA) partnered with Swedish BNPL 'Klarna' to launch into the Australian and New Zealand markets early last year; the BNPL is offered to both CBA and non-CBA customers.
Additionally, CBA recently launched its own BNPL 'StepPay', which essentially competes with Klarna in the BNPL space.
Through NAB's acquisition of Citi in August 2021, the big bank is set to take ownership of Citi's BNPL offering 'Spot'.
Westpac has also teamed up with Afterpay to offer white-labelled transaction accounts to offer 'Money by Afterpay'.
---
Image by Waldemar Brandt via Unsplash