Speaking at the party's national conference on Wednesday, Federal Opposition leader Anthony Albanese and shadow climate change minister Chris Bowen revealed their plan for electric vehicles.
According to the ALP, it will cut the import tariff (aka the luxury car tax, or LCT) on electric vehicles worth less than $77,565 and exempt them from the fringe benefits tax, a 47% tax on cars provided through work for private use.
This plan is designed to cut purchase prices on electric cars and increase Australia's fleet size: Australia continues to lag behind other countries thanks in large part to its lack of EV infrastructure and government assistance to buy them.
Electric vehicles (EVs) account for 0.7% of total Australian car sales, whereas in market-leading countries like Norway and Iceland they represent 75% and 32.2% of sales respectively.
"By reducing upfront costs, Labor's Electric Car Discount will encourage uptake, cutting fuel and transport costs for households and reducing emissions at the same time," the party said.

"Labor's Electric Car Discount will encourage car makers to supply more affordable electric vehicles to Australia which will in turn increase competition, drive down price and give consumers more choice."
Chris Bowen meanwhile said this policy will cut government taxes on electric vehicles and reduce day-to day transport costs and emissions for Australian families.
Related: Can you save money with electric cars?
In the market for a new 'green' car? The table below features car loans with some of the lowest interest rates for fuel-efficient vehicles on the market.
Lender

---

Fixed

New

1 year

More details

FEATURED

Approval within 24 hours

Green Car Loan Fixed

Save the planet. Save thousands on your car loan.
1% discount on qualifying electric cars
Required: Good credit history, stable employment history. Aus citizenship or PR.

Green Car Loan Fixed

Save the planet. Save thousands on your car loan.
1% discount on qualifying electric cars
Required: Good credit history, stable employment history. Aus citizenship or PR.

Fixed

New, Used

7 years

More details

Hybrid and Electric Car Loan

Fixed

New, Used

99 years

More details

Electric Vehicle Loan (Fixed)

Variable

New

99 years

More details
Important Information and Comparison Rate Warning
Automotive bodies welcome the policy proposal
These tax changes, which are budgeted to cost around $200 million in lost revenue over three years, could be a significant election influencer after what happened in 2019.
Then-opposition leader Bill Shorten promised half of all new cars sold in Australia by 2030 would be electric, and the government in response claimed this proposal was a "war on the weekend".
But some members of the government may have changed their tune on electric vehicles lately, although the EV roadmap released by energy minister Angus Taylor still provides very little in the way of financial incentives.
Outside of the two major parties however, automotive bodies have so far welcomed Labor's proposal.
The Federal Chamber of Automotive Industries (FCAI), Australia's peak automotive body, said such a proposal is critical right now, and that the sector is "ready and willing" to grow its low-emissions fleet.
"Australia is lagging the rest of the world when it comes to a long-term vision for the continued penetration of low emission vehicles," FCAI Chief Executive Tony Weber said.
"The automotive sector has seen around the world that strong signals around targets, good infrastructure policy and incentives from national governments contribute to positive outcomes on low emission vehicle introduction.
"Positive signals like this can encourage global car brands to increase the choice of low emission vehicles available in our market which in turn increases the adoption of electrified vehicles available to customers."
Electric Vehicle Council (EVC) chief executive Behyad Jafari said it was a win for the environment and for fairness.
"Electric vehicles are cheaper to run, require less maintenance and are better for the environment. This policy would encourage car manufacturers to import and supply more affordable electric models in Australia," Mr Jafari said.
"This is the type of sensible action that has been taken by world leaders from all sides of politics. It is proven to work by making electric vehicles more affordable for more Australians."
No direct incentives for customers - yet
While this proposal has been hailed by certain industry bodies, it still doesn't have any direct incentives for customers to buy EVs, although senior party figures have said more announcements may come.
Direct incentives include things like government cash grants to buy electric cars or cheaper loans, and are generally regarded by experts as the key way to grow electric vehicle uptake.
The ACT government for example offers two years of free registration and 0% loans up to $15,000.
They're also very popular, with research from the Australia Institute showing two in three Australians (62%) agree that the government should introduce subsidies for the purchase of EVs.
This wasn't split along party lines either, at least in the major parties: 65% of Coalition voters and 64% of Labor voters supported these incentives.
"The Government might be dragging its heels on electric vehicle policy but Australians, including Coalition voters, are ready to make the switch," said Richie Merzian, Climate & Energy Director at The Australia Institute.
"Australians want the government to make it easier for them to get behind the wheel of an EV and for the sale of petrol cars to be phased out sooner rather than later.
"It's time to turbo-charge electric vehicle policy in Australia but, when it comes to supporting the transport technologies of the future, this government has its foot firmly on the brake."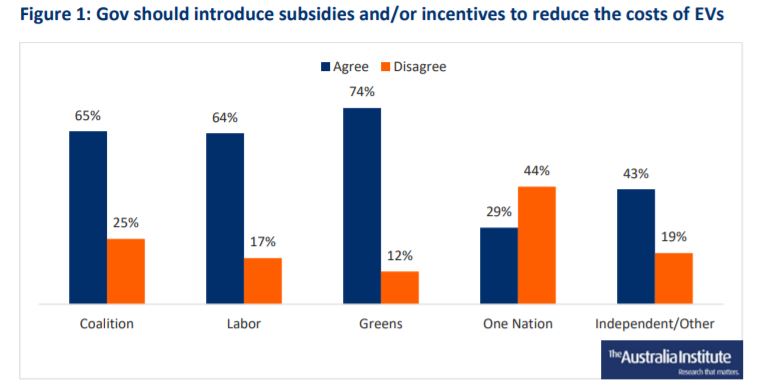 The Victorian State Government recently did the opposite of this, announcing a so-called 'electric vehicle road tax' that Mr Jahari labelled "uniquely hostile".
"Unlike Victorian Labor, which is making electric vehicles more expensive with an unnecessary and premature electric vehicle tax, the federal ALP has steered in the right direction," he said.
Photo by Vlad Tchompalov on Unsplash
---
---